We may earn money or products from the companies mentioned in this post.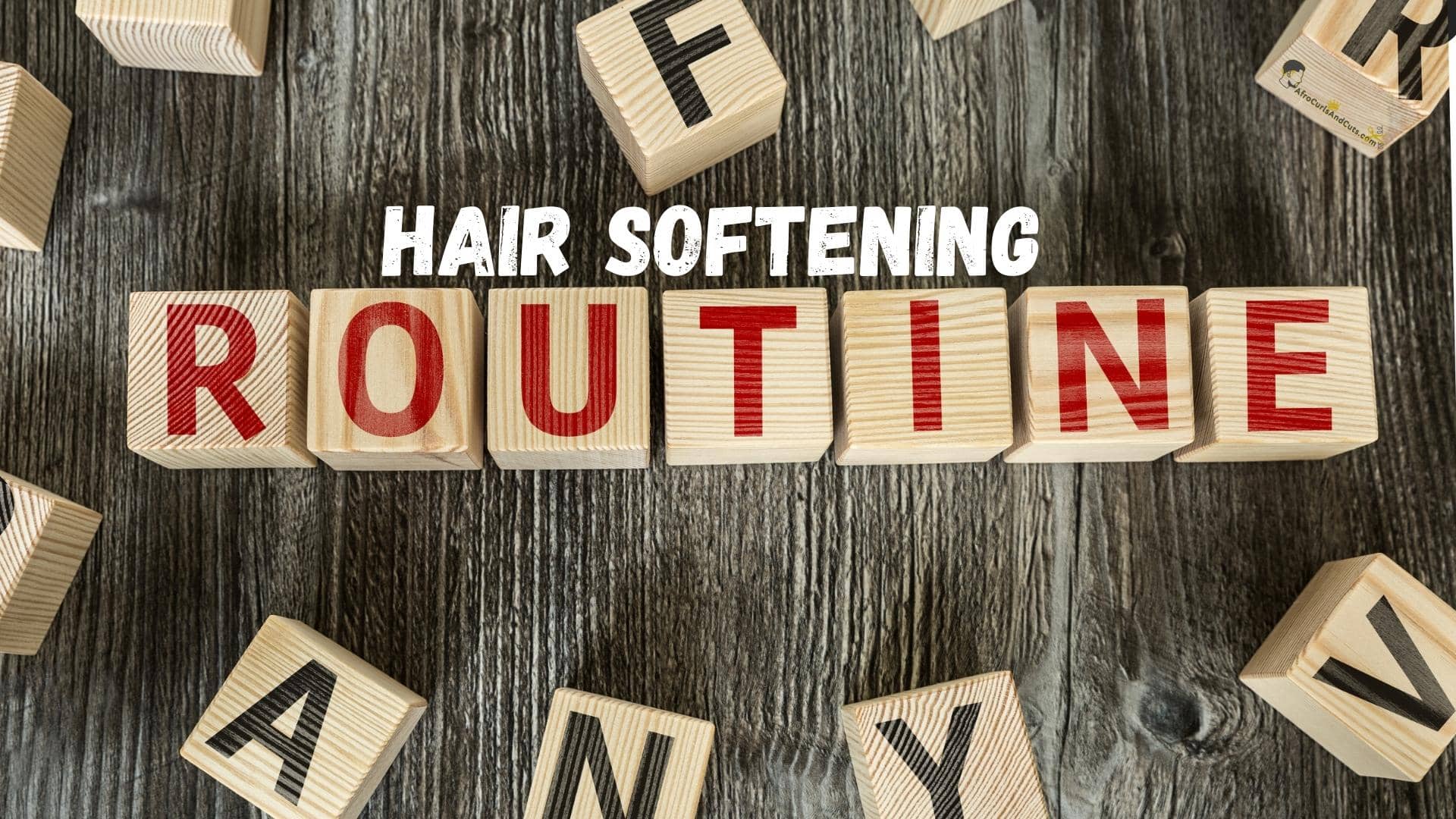 Hey, you… yeah, you! Are you having trouble figuring out how to soften coarse African American male hair? You are not alone, most men waste money and time on products that claim to do it all and soften a black male's hair, just to be disappointed. If you're losing hope and ready to take a clipper to your afro, this article is for you! Before you cut that mighty afro, let me share my secret of how to soften thick coarse hair with you!
I mentioned in the previous blog posts that my afro hair look is still new to me… I had to learn and adjust quickly, or else I'd go back to low-cut 360 waves Wil. That's what the streets called me when I had my waves spinning like a fresh flushed toilet bowl… My waves were nasty! Enough of that let's get back on track.
The biggest issue I faced since growing my afro was constantly dealings with dry hair. I hated browsing useless hair softening products on Amazon, claiming they do it all, then realizing they're ineffective. Seriously, I'd be better off cracking an egg over my head and getting better results.
Like I was, I am sure you are frustrated with your dry afro hair, and you are at your last wit… I have the answer, and I want to help! I feel it is important to pass along useful information and ensure it's accurate! Soften coarse African American male hair takes special care and specific attention to detail. With that being said, let me walk you through the best way to soften a black male's hair.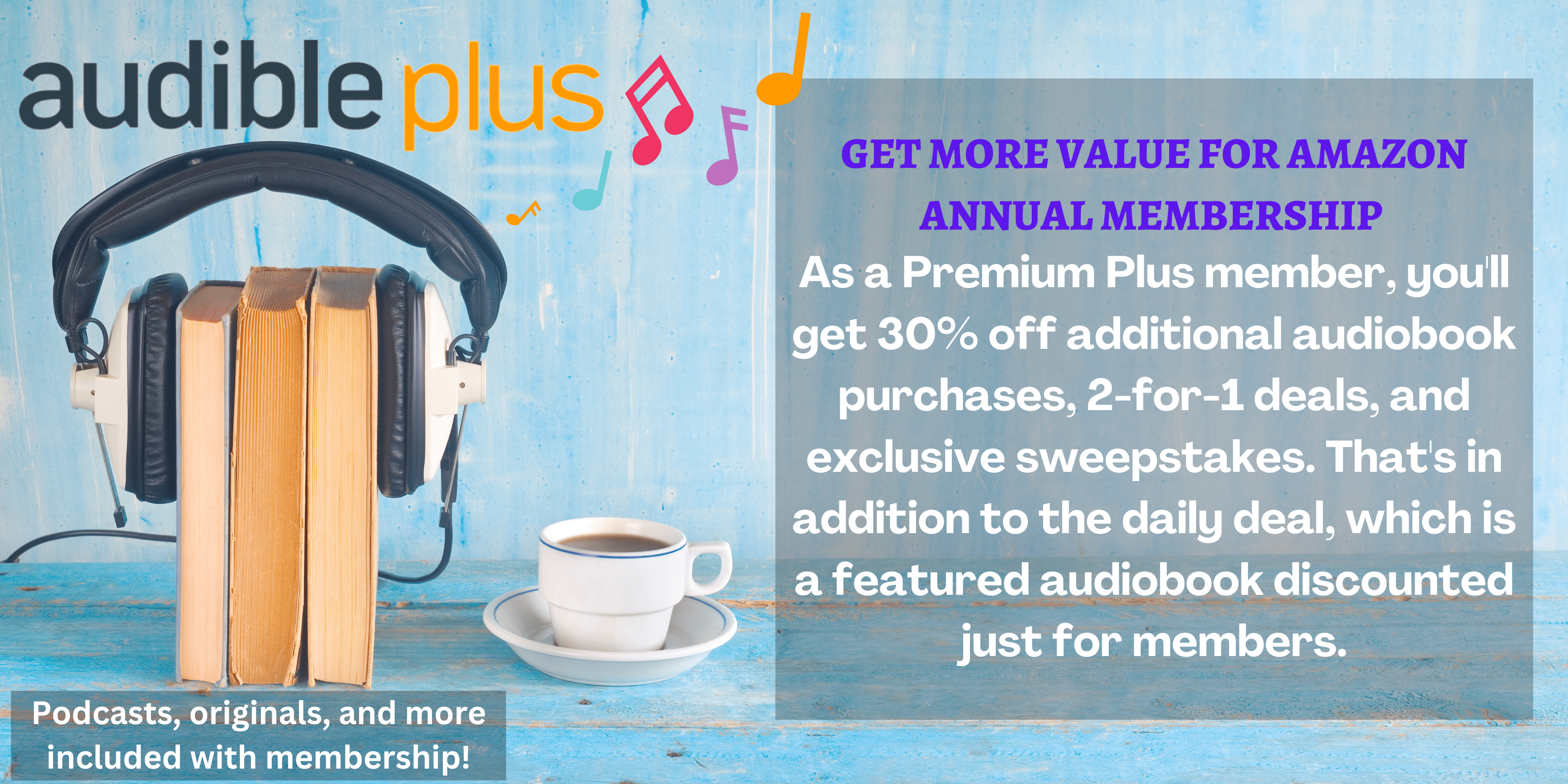 Amazon Audible Premium Plus Annual Membership is the way to go if you're looking for an affordable way to enjoy your favorite books.
Click here for Amazon Annual Audible Membership!
Here's how to quickly make your hair soft for black guys
If you want to keep your hair healthy and hydrated, it's important to follow a proper hair care routine. First, apply a water-based moisturizing product to your hair. This will help to add moisture to your strands. Next, seal in the moisture with oil.
Oils are thicker than water, so they will help to keep the moisture in your hair from evaporating. Finally, layer on a cream. Moisturizing creams or leave-in conditioners will work well for this purpose. By following these steps, you can ensure that your hair stays hydrated and healthy all day long.
I will go into further detail about each of these steps later in the article.
What exactly do I mean by dry black male hair?
Dry coarse male hair is when the hair looks and feels dehydrated due to the lack of moisture and proper nourishment. The hair then becomes weaken which could lead to afro hair males experiencing complications such as breakage and even bald spots.
Following the right regiment and moisturizing black men afro hair correctly could solve dry hair problems.
I will share my experience with dry hair and how I soften my hair through this article "5 step guide routine to soften African coarse hair". Strap in as I take you through my journey and help you solve your dry hair problems!
My personal battle with dry afro hair…
As some of you know, I've been on my journey of growing an afro for about a year and a half ago. When I began growing my afro hair, I didn't realize how much I had to do to keep my kinky hair soft.
Caring for black men hair is understated within my community, many people assume Vaseline is enough to soften male kinky hair. I thought the same when I had short hair… Let be honest, how many of you guys used Vaseline or wave grease in an attempt to soften your coarse hair? I know I did!
I'll tell you… If you have thick coarse hair, wave grease, and Vaseline will not help soften afro hair! I had to learn that the hard way, every morning before work I struggled to comb out my kinky afro. Trust me, it is not a fun experience! If you're a thick coarse afro you've literally felt my pain and know exactly what I'm talking about. For five months, I literally contemplated cutting off my afro. The thought of wanting to cut my hair is unimaginable today, I love my hair now… After this article, you will too!
In what I called "last blank blank chance for my thick afro" … I decided to do some research to figure out ways of softer hair for black men. In my quest for options, I realized what I was doing wrong and the best method to soften my thick kinky hair. Once the lightbulb lit up, I came up with a phenomenal routine guide for softer hair for black men!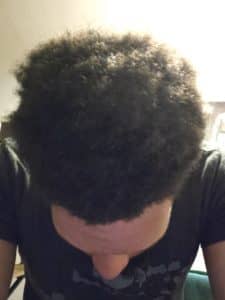 In this article, I want to answer the most common questions and share my routine to soften your hair! Dude, thank me later, I haven't given you the information yet. Now, let's get to it!
What causes black males' hair to dry?
Kinky dry hair plague some black men and is most noticeable in hairstyles such as afro, frohawk, and high drop fades. I mentioned earlier that I never had a problem keeping my hair moist when I had short hair. My method back then for keeping my short fade hydrated was impractical but it worked. I did not start having real issues softening my hair until I grow out my afro. If you're a male with dry coarse hair, you're wondering why is it such a struggle to soften a black man hair?
A black man with coarse hair has different hair texture from white, Asian, and even most biracial males. Our hair strand is slightly thicker than that of other ethnic hair that I mentioned. Coarse hair texture has the widest and largest circumference of any other race. Coarse hair contains all three layers of the hair shaft — cortex, cuticle, and medulla.
The reason African American male hair is dryer than other male races is because it is curled. The oils naturally created in the hair follicles have a harder time reaching the ends of coiled hair, which causes dryness. In straight hair, it is easy for the oil to travel down the hair shaft, coating the strand with oil protection. Nothing with that, it just means we have to add a little extra care to our hair!
Other reasons for dry kinky hair
Besides hair texture, there are plenty of factors that cause coarse hair men to experience a lack of moisture needed for softer hair. Keep in mind that environmental conditions and haircare practices may reduce softer hair for black men. Check out the below list of some of the factors that cause dry hair in men
Some of the environmental conditions that could cause lack of black male soft hair include:
living in a dry, hot climate
spending a lot of time in the sun or wind
frequently swimming in chlorinated or salty water
Poor hair care practices that often contribute to dry male hair include:
washing your hair way too often
using harsh shampoos, conditioners, or styling products that contain harmful ingredients
dying or chemically treating your hair
hair dye
regularly blow-drying your hair
Some of the factors listed above are environmental conditions and daily routines that play big parts of our lives. The nighttime routine that I will suggest promoting softer hair for African American males will keep those factors into consideration.
Keep in mind there are many other factors that makes soften kinky African American male hair near impossible. The other reasons aren't so common and would take an eternity to list. So, for article sake, I've only listed to most common ones. Feel free to contact me for more information!
Why is black hair care important?
The goal of an Afro hair treatment is to avoid negative practices while still keeping your hair clean, moisturized, and simple to style and maintain. A good afro hair care routine will help you develop healthier, thicker, and longer-lasting afro hair than you ever imagined. The main cause of hair breakage in afro textures hair is a lack of moisture.
Hair breakage in coarse hair men could be minimized by finding the right routine that will prevent your afro hair from drying out. Prevention of coarse black male hair break could simply be solved with set washing and gentile afro hair conditioner to keep elasticity and bounce. Note, a coarse hair softener regimen can help reduce dry hair, but time and repetition is necessary to make black male hair softer.
Could a lack of moisture in hair cause damage in your hair?
You should know that the lack of moisture could indeed cause damage to your hair. This is because when the hair coil becomes dry, stiff, and lose its elasticity. The dry hair coil becomes brittle and fragile which causes breakage.
Afro hair loses moisture because of heat and rapid changes in temperatures, as well as minimal scalp production of oil. If you're prone to dry hair, embrace a hair moisture regimen that includes hydrating shampoos, conditioners, and leave-in products.
With that being said, hair strands that are stripped of lubricants are detrimental when caring for black men's hair. Lack of moisture in the hair could lead to more problems like spit ends if left unsolved. The months I spent figuring out a routine to soften my afro, I spent that time testing products. Don't worry, I'll throw some amazon links for those products I found most effective later in the article!
What are the benefits of soften a black males hair?
There are many benefits to keeping your hair as soft as possible. You should know that softer hair for black male reduces the risk of hair breakage in the afro. That breakage usually occurs when the hair strain become stiffened and lack moisture.
The best way to achieve soften coarse African American male hair is by routinely moisturizing two to three times a day. Healthy African American men hair care practice such as afro hydration promotes strong hair strands, elasticity which reduce breakage.
It goes without saying that when you soften a black man afro hair it looks and feels so much better! When the afro is dry it may cause discomfort by way of itchiness and even sores on the scalp. Trust me, it is not a good look when people constantly see you scratching your head all day. The right hair conditioner to soften black men's hair will put an end to your scratchy afro hair.
The benefit of softer kinky hair recap
Reduce hair breakage
Stronger afro hair
Minimize itchy coarse hair
Reduce scores on the scalp caused by scratching
Afro feels and looks better
Those are just some of the great advantages of someone take the right steps to soften a black males hair.
How often should black men soften hair with Moisturize?
It is important to keep your thick afro moisturized as much as possible, doing so promotes healthy and strong male hair. Keep in mind that there are many factors that lead to how often you moisturizer in your afro.
I'll give you an example, I am pretty active during the week, I also have thick and coarse hair… My lifestyle and hair attribute requires that I hydrate my afro more often. I usually moisturize my hair three times a day.
I moisturize my afro once in the morning, once in the afternoon and once at night before bed. This routine is essential when you take care of black men hair! The rules for maintaining an afro are much more complex and different than it is for a short cut.
Breakdown of factors leading to more moisturizing for softening kinky men's hair.
Lifestyle – Your lifestyle may require that you use more moisturizer on your hair. For example, if you're physically active (running, cycling, MMA cardio, etc.), you'll need to use more moisturizer than someone who isn't active.
Hair texture – One of the key aspects of hair softener for coarse hair is… Hair texture! Coarse hair requires more hydration than someone with fine or straighter hair.
Environmental conditions – When you're caring for black men's hair, you'll have to take environmental conditions as a factor for dry hair. Conditions such as dry summer days will cause your afro hair to lose its moisture. In such weather conditions, it's wise to hydrate your afro more than once a day.
Hair density –If you didn't know, the more hair you have and the thicker it is, the more your hair runs the risk of drying out. As I mentioned before, I didn't have as much a problem keeping my hair soft and hydrated when I had short hair. I didn't have a problem hydrating my hair until I grow out an afro.
Remember, it is not always just products but understanding how often and how much you use can dictate its effectiveness. Yes, there are many factors that may impact black men's soft hair, but there are plenty of solutions out there as well! Once you find the right method to take care of your afro, it will be a satisfying feeling… Don't give up, man!
What is a leave-in afro hair conditioner?
Leave-in conditioner is made with fatty acids, surfactants, fatty alcohols, proteins, silicone, plant oils, and high molecular weight silicones. You should also know that leave-in conditioners contain a high concentration of humectants that attract moisture into the hair.
Hair softening leave-in conditioners are thick liquid solutions intended to moisturize human hair. The hair softener substance reduces breakage, dryness, and lasting damage to the hair. If you have issues with hair tangling, a leave-in conditioner helps with detangling hair as well.
The ingredients of leave-in hair conditioner are important for soft hair for black men. Some conditioners come with added biotin, which helps reduce hair loss and promote hair growth for black men. I should also mention a good hair conditioner usually offers a combination of B-Complex vitamins, amino acids, and proteins. The Hairfinity Revitalizing Leave In conditioner on amazon offers just that!
Leave in Afro hair Conditioner ingredients to avoid
Sulfates
Parabens
Phthalates
Mineral Oil
Petroleum
Leave-in hair conditioners for black men that contain the list above could be harmful and slow the rate of hair growth.
Keep in mind that hair softening conditioners can come in the form of either spray or cream. Both forms are equally effective and choosing one form over the other is a matter of preference.
The leave-in hair conditioner is a key part of my nighttime routine for softer hair. I use the soft hair conditioner both at night before bed and in the morning before work.
How do you use a leave-in conditioner on black hair?
You really do not need a whole glob of hair conditioner for the product to do its job. All you really need is about a nickel size amount in your palm; it will be more than enough… trust me! Applying too much or more than .835 inches diameter of conditioner becomes messy and leaves a white substance in the hair. You do not want that… your friends will have a field day making fun of you.
Apply the conditioner in a circular motion into your hair, and massage the hair conditioner until it's no longer visible.
Also, remember that Leave-in conditioners, sprays, and creams are applied after you've shampooed, conditioned, and dried after a shower.
Can washing your hair too often cause dry male hair
I will flat out tell you… daily hair washing does nothing to improve softer hair for black males. I had to learn that the hard way… When I had a low Caesar 360 wave haircut, I washed my hair with every shower, then grease my hair… That was my daily routine, and I didn't really have any issues; then again, none that I noticed at the time.
Daily hair washing is no longer an option with my afro… It's time-consuming to wash my afro after every shower and it dries out my hair. So, think of it like this… Short black male hair requires less maintenance, and long black male hair more upkeeping.
Here is a breakdown of how often you should shampoo to promote black male soft hair and avoid dryness.
Short hair males – Like I mentioned, short hair in black men do not require as much effort to keep hair moisturized. Which is why washing often does not usually cause dry hair. You can wash your hair daily with short hair; I suggest washing it four times a week if you want to maintain 360 waves progression.
Long hair male – Black males with longer hair usually have a harder time maintaining moisture if they wash their hair often. I suggest washing with shampoo three to four times weekly to soften black males' hair. This will reduce the stripping of essential oils needed to keep moisturize and soften coarse African American male hair.
The suggestion is in no way set in stone… depending on your lifestyle and schedule; you may have to wash your hair more or less than what's suggested.
Consider your shampoo options!
If you are planning to wash your hair more than the suggested week, then you should consider a couple of things. You will need to think about the right shampoo as well as the right combination of after-shampoo conditioner. The goal is to soften kinky hair not to dry it out even more.
Shampoo – You want to find a shampoo that is free of sulfates that is harmful to the hair that causes damage. When you are choosing the right shampoo, look for brands that contain coconut milk that help with hair hydration. One of the shampoos that I find to be effective is WOW Coconut Milk Shampoo doesn't contain sulfate, silicone, or salt that dries and damages hair. In addition to the coconut milk that softens dry hair, it also contains DHT blockers that slow down the balding.
After shampoo conditioner – Finding the right conditioner is as important as using the right shampoo. Using the right conditioner could enhance the way the male hair looks and feel! It's usually best to select conditions that match the shampoo to maximize effectiveness! Just like the shampoo version Wow Coconut Milk Conditioner moisturize, protect, and doesn't contain harmful ingredients that dry the hair.
No one said caring for black men's hair would be just a wash, dry, and be done with it. You actually have to take special care and especially more so if you're a black male with an afro. I'll tell you, in order to achieve softer coarse hair, I took the extra steps and provide next-level care.
Consider organic oils to lock in moisture to soften coarse African American male hair!
There are so many people out there who underestimate the benefits of using organic edible oils in the hair. Not only are the organic oils great for keeping the hair healthy it's also suggested in promoting heart-healthy living. That's saying something, isn't it?! It's good for the heart and it's great for the hair… Afro hair! Let's take a look at some of the organic oils that help soften kinky male hair.
Coconut oil – Coconut oil is one of the natural ways to help afro hair grow longer, thicker, softer, and faster. The vitamins and essential fatty acids naturally found in coconut oil nourish the scalp and help to eliminate sebum build-up from hair follicles.
The oils from coconuts penetrate the hair strand to preserve the moisture within the hair shaft, and in turn, prevent breakage from dryness. You can find Extra virgin coconut oil on Amazon.
Avocado oil – is rich in vitamins A, B, and D. Just like coconut oil, avocado oil has been shown to penetrate the hair shaft because of its straight-chain glycerides. According to Scientist from NCBI.com, "avocado oil is the bee's knees for to coarse hair, as it effectively protects against moisture loss.". Amazon offers pure Avocado oil for hair for a fairly reasonable price.
Sweet almond oil – The protein, fats, and vitamin content of sweet almond oil will help keep hair coils looping and keep it strong. The moisture capturing properties of sweet almond oil also helps to fight breakage and split ends. Sweet almond oil helps soften coarse African American male hair and eliminates dry hair.
Hair softeners for coarse hair do not always have to come from a lab… Some everyday organic products found in the grocery store could help achieve your soft hair goals. Many people are unaware of alternatives to take care of black male hair, don't worry… I'm here to help!
how to soften coarse African American male hair?
There are many methods that allow hydration and softer hair for black men. The tricky part is finding the right routine that works best for your lifestyle and your type of hair. I was able to come up with the best black male soft hair night routine that works for most kinky male hair.
Remember, that my hair softening routine can be adjusted to fit your liking! That means you can add or subtract to fit what works best for you. If you do decide to modify let me know what you changed in the comment section! I am all about sharing information and would love to hear from you all!
Best 5 step nighttime routine to soften black men hair
This is the coarse hair routine that I use every night. Not only does the softening kinky hair method produce great results, it feels amazing on your scalp! Without further ado, let's get to the overnight routine steps that will change the way your coarse hair feels.
Step 1: Coconut oil as pre routine for male coarse hair softening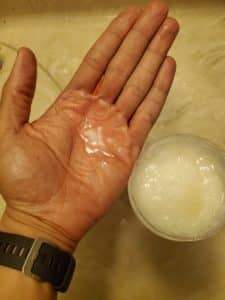 To soften thick coarse hair, start by rubbing a dime-size amount of coconut oil through your hair. As a quick tip, I suggest letting the coconut grease sit and absorb for a couple of hours before washing it out. This will allow the coconut oil to penetrate the hair strands providing natural vitamins that help with strengthening and hair growth.
Attention:
Make sure that you rub the coconut oil in your hands prior to applying to your hair. You must remember that organic coconut oil in hair doesn't melt on its own, friction is needed to dissolve into the oil. If you neglect to apply friction to the coconut oil and apply it directly to your hair, you'll have clumps. Trust me, you don't want to walk around with clumps of coconut oil in your afro… it's a terrible look!
I should mention, the coconut oil treatment to soften thick coarse hair should not be done more than twice a day. Using the organic coconut oil more than twice a day before overnight hair routine is overkill. Over saturating the hair with coconut oil may cause your afro to feel grimy and look weird.
As I mentioned hydration is key when combating dry hair and is important in improving male kinky hair care! I can't stress the point enough when talking about softening coarse hair.
Again, you don't want to use too much coconut oil when applying to your afro, a dime size amount is enough. Rub the coconut oil through in your hands before applying it to your hair. Leave it in for about 15 to 20 minutes before you wash it out. This will assure the natural coconut oil penetrates the coarse hair strands.
Once you've don't the prewash routine don't be afraid to apply a small amount into your scalp. Massage a small amount of coconut oil (half dime-size amount) into your scalp. The coconut oil scalp treatment will be effective in fighting against dandruff.
Step 2: Spray hair with H2O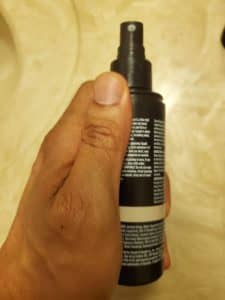 Keep in mind that the hair-softening routine for black men heavily relies on water for the treatment to work. If you are doing the treatment after washing your hair feel free to skip this step, if not wet your hair with water. I usually fill a spray bottle with water then squirt water on my afro to moisten it.
Fun fact about my relationship with spray bottles… Don't judge me, but I totally keep a small spray bottle of water in my car and in my backpack. I usually spray my afro with water before picking it out with a hair pick then patting it down evenly. I do this for a couple of reasons… One is to keep my hair moist throughout the day and secondly, to reduce hair breakage while combing my afro.
Consider doing the same to protect your hair from damage and continue to keep your hair looking nice.
Step 3: Leave in conditioner for coarse hair men
Most coarse hair men assume that leave-in conditioners are enough to soften their hair. I hate to be the bearer of bad news but leave in hair conditioners is not enough by itself. This is why I suggest using the hair softening conditioner with other products to maximize results.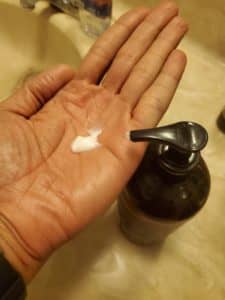 The leave-in hair conditioners should be applied to the hair after the coconut oil has been applied and rinsed. Again, it is okay if you reapply a small amount of coconut oil in combination with the conditioner in the hair.
When the leave in conditioner is applied to soften a black males hair it should be a dime-size amount. After you have the right amount of hair leave-in conditioner, rub the product into the palm then apply to your afro. The combination of coconut oil and conditioners will certainly soften African coarse hair!
I don't want my point about stand-alone conditioners that claim to soften male kinky hair be misunderstood as they are completely ineffective. That is not what I'm saying at all! The point that I am conveying is that you're better served if you use other organic products with conditioners.
I'll tell you… I can feel the difference in my hair when I use the conditioner and coconut oil combo. My hair feels moist and soft five hours in vs a couple of hours if I use hair conditioner alone.
Step 4: Haitian black castor oil
I wrote an awesome article about all the benefits of Haitian castor oil… This is my secret weapon when combating kinky coarse hair! The black castor oil from Haiti provides essential Vitamin E natural antioxidant that reduces hair loss in men. Haitian oil also helps promote hair growth, this is especially advantageous for men growing interlock dreads.
The castor oil will not only soften a black male hair, but it also adds an additional layer of protection against damaging hot summer sun.
If you know anything about Haitian black castor oil, you know it's a little difficult to apply right out of the bottle. Let me tell you, applying Haitian oil to your afro takes some finessing. In room temperature castor black oil is a thick consistency, terribly similar to molasses. To apply the castor Haitian oil, you must heat the oil until it thins out.
Haitian black castor oil warming methods
Running hot water – One way that I warm my Haitian black oil is by running hot water from a faucet over the bottle! This will assure that the oil maintains a safe temperature and doesn't get too hot and burn the scalp.
Zap it – Another technique to warm your Haitian oil is to put in the microwave for a few seconds. Three to five seconds should be more than enough, you don't want the castor black oil to be scorching hot.
Once the castor Haitian oil heated to a safe temperature, first you must apply the oil to the scalp while it's still thin. The easiest way to do this is by parting your afro into section and applying the oil with your fingertip. Follow along the parted hair then massage the Haitian oil into your scalp.
Step 5: Pick your afro
I bet you're wondering how does combing your afro help soften it? And where does picking out your hair fit into the routine? These are both fair questions!
It's true, combing afro hair help in softening hair process! Like anything that's left unmaintained, you'll surely run into issues… The same thing goes for unkempt afro hair. You should know that combing and picking your hair help with untangling your afro.
Combing your afro helps to get rid of chemicals, dust, grime, and loose hair strand. Dust, grime, and old chemicals in the hair that isn't properly maintained lead poor hair conditions and afro hair forming dry locs.
Another benefit of picking out your afro is the boosting up of the pores and glands of the scalp. It also increases the blood circulation in the scalp which is pivotal when caring for black men's hair.
Keep in mind when soften African American coarse male hair with a comb, it is important to wet the hair before combing. Doing so will certainly reduce hair pain while combing and reduce hair breakage as well.
Take a look at the video below of how to properly pick your afro out!
There you have it… My soft hair for black men night routine! I do the five easy steps before bed every night to soften my thick coarse hair.
Conclusion:
I gave you my secret routine to soften coarse African American male hair and keep it moisturized under any circumstance. By keeping your hair moist you will reduce your experience of afro hair breakage and allow your hair to grow faster.
The steps that I provided above make soften a black males hair so much easier and produce results virtually instantly. Keep in mind that male kinky hair care is important whether your goal is to soften your afro or not. Without proper hair care, you'll surely experience afro hair damage!
Remember, conditions such as weather and physical activity could factor and have a negative impact that softens coarse African American male hair. It is also necessary to consider lifestyle as a key factor when determining how much conditioner to use for your afro. To take care of black men hair it takes a dedicated routine like I provide to soften thick coarse hair!
Now you can thank me for tips to soften coarse African American male hair! Feel free to like, subscribe, and share this post… Let's keep building our community together! Also, read the other article from AfroCurlsandCuts.com
Newsletter
Sign up for Afrocurlsandcuts.com newsletter to be first notified of events, promotions and most importantly fresh blogs articles!