We may earn money or products from the companies mentioned in this post.
I've often wondered what it would be like to dye 360 waves. Here's the thing, I have coarse hair texture and I am nervous that if I dyed my hair it would potentially I'd lose my wave progression or worst damage my hair. I never mustered enough courage to take the leap of dying my wavy hair, but I do know a lot of people who have. So, with that being said, is dying 360 waves bad for coarse hair?
So, here's the deal, whenever you bleach, color, and lighten your hair, it affects the hair cuticle. The chemicals in the dye can cause damage, dryness, and dullness in coarse hair texture.
Let's take an example and say that you decide to go from very dark hair to very light hair, this would then cause your hair to dry. If you naturally have coarse hair, you would experience some breakage and some damage. This is a terrible scenario for 360 waves. In this article, I will explain what to expect, look for and how to safely dye your 360 waves.
---
Sign up for our awesome Newsletter!
Newsletter
Sign up for Afrocurlsandcuts.com newsletter to be first notified of events, promotions and most importantly fresh blogs articles!
---
What are 360 waves?
360 waves are a hairstyle that generally applies to African Americans males and some women. The hairdo consists of curly hair in which the curls are brushed and/or combed and flattened out. When the hair is brushed flat it creates a ripple-like pattern, which hints the name waves or 360 waves.
Most people who want to achieve deep 360 waves usually wear a do-rag to preserves moisture while also compressing the hair and holding it in place.
360 waves can consist of multiple levels.
Short tight waves
Medium waves
Long wolfing waves
All three wave levels are pretty popular within the black community. The lengths of waves depend on individual preference. I sported short 360 waves and wolfing waves, for me, it depended on the seasons. During the summer, I kept my hair short and during the winter I sported 360 wolfing waves.
What is the hair dye?
Here's a fun fact for you, did you know that hair dye is one of the oldest known beauty preparations? It's true, I was shocked when I learned of this bit of information. Hair coloring was a method used by ancient civilizations in many parts of the world.
The ancient civilizations that practiced hair coloring included the Egyptians, Greeks, Hebrews, Persians, Chinese, and early Hindu people who were known to have used hair colorings.
Today hair dyeing or hair coloring is the technique of changing the hair color. Unlike our Egyptian ancestors, we have access to a lot more color than they did.
The main reasons people change their hair color today is to cover the gray or white hair, to change to a color regarded as more fashionable (like dying your 360 waves), or to restore the original hair color after sun bleaching.
What does coarse hair texture mean?
If you have the same type of hair as I do you know all too well what coarse hair looks and feels like. If you are unfamiliar with the term, coarse hair can be identified by a thick hair shaft.
This type of hair texture has a wider circumference of the other types of hair texture. Compared to the types of hair such as thin or medium hair, coarse hair contains all three layers of the hair shaft.
The three different layers are cortex, cuticle, and medulla. So, If the hair strand is thicker than the thread, you then are considered to have coarse hair as I do.
If you have coarse hair, your hair will feel rough in texture and it may even feel like you have a lot of it. Coarse hair isn't black hair like most people assume, it can be straight as well. For example, Middle Easter hair, Asian hair, curly or frizzy hair also fall under this category.
Can men dye 360 waves?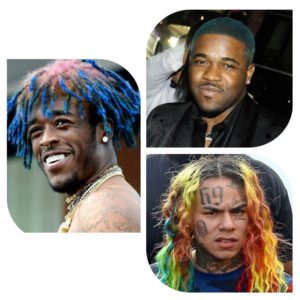 Yes, men can dye their 360 waves. In 2019 it is not uncommon to seen men with color in their hair, especially with the younger generation.
It is considered as trendy and a way to self-express. Due to the popularity of hip-hop and open-minded youths rappers who embrace hair colorings such as Lil Uzi Vert, ASAP Ferg, and Tekashi 6ix9ine. Hair dyeing for men has become more visible than ever.
All three men sport hair dye and are trendsetters right now. They are just a few among many other rappers who dye their locs, waves and loose hair.
What are the side effects of dying your 360 wave hair?
There can be side effects that come along with coloring your hair. This is solely based on individual reactions to the chemicals that are in the hair dye solution. Some allergic reactions can be more severe than others.
For example, even if you apply the hair dyes correctly, they can cause harmful reactions. Some of the effects can lead to skin damage, loss of hair and allergic reactions.
Eye exposure to the dye should be avoided at all costs. The chemical in the dye can cause a range of harmful from mild irritation to loss of vision.
Keep in mind that injuries can be even greater with semi-permanent and permanent dyes. The FDA reports eye injuries, including blindness, from permanent hair dye. Please be careful when applying dye 360 waves!
Does hair dye take longer to dye coarse 360 waves?
I was unsure of the answer to this question, so I decided to call around to a few beauty salons and unisex barbershops as part of my research. I asked does it take longer to dye coarse hair as apposed to thinners or straight hair.
The answer was unanimous yes! The way it was explained to me, hair length and texture are the key factors. I then asked how long does it take hair dye to work on short coarse waves, how long would that take? I got a ranger of answers but the most common answer for coarse hair dyeing typically takes about an hour.
Which makes a lot of since the coarse hair is thicker in circumference. If you have coarse hair as I do, you can expect an hour wait time before your 360 waves dye to completion.
I want to send much love and shout out to the beauty salons that participated in my phone survey! Special shout out to Consquilla at "Affordable Styles Hair Salon" in Baltimore Maryland for her patience and fully explaining the hair dyeing process to me.
Does dying hair cause you to lose wave progression?
The quick and short answer is no, you will not lose your wave progression as long as you apply the hair dye correctly. Let me explain better!
The process of dyeing 360 waves is very similar to washing your hair while you're in the wolfing 360 waves phase. I'll explain the process of how to properly dye 360 waves in the next section of this article.
Hair coloring does not cause loss of wave progression. This is because unlike hair perms, hair dyes do not chemically change your hair texture. This is the reason you are able to change the color of your 360 waves and keep your waves spinning!
What is the process of dying 360 waves?
The process of applying hair dye to your 360 waves is quite similar to washing your hair while trying to maintain your wave progression. I briefly mentioned this in the previous section of this article.
Shout out to 360Jeezy for an awesome demonstration video! As you can see from the video, before you apply the dye to your 360 waves, you need to apply the Vaseline like substance to your hairline. The Vaseline like substance will keep the hair coloring from dripping and sticking to your forehead and neck.
Be sure to use a small mirror opposite of a large mirror so you can see the reflection of the back of your neck, so you don't miss any spots!
Once you've applied the protective measure along your hairline and the back of your neck, you will then apply the hair dye.
You will want to wear a pair of disposable hand gloves for this step. When you apply the hair dye to your 360 waves, you will need in a straight line going across your head. When you do this be sure to finger the color in the same direction as your waves.
Do NOT scrub it in or go in the opposite direction of your waves as that will cause you to lose your wave progression. Make sure to cover your entire head with the hair coloring for the best results. Use the two-mirror technique to make sure you haven't missed any spots.
If you have thick coarse hair texture, let the dye sit in your hair for 45 minutes to an hour. Once the time is up, it's time to rinse then condition your hair. Again, rinsing, conditioning, and brushing need to be in the same direction as your waves.
Conclusion:
In current times it is not uncommon to see men with dye 360 waves, it is considered trendy and eye-catching. Keep in mind that if you have coarse hair texture the process of dyeing your waves takes longer.
Be sure to carefully real the chemicals in the dye product you plan to use and make sure you are not allergic to any of the ingredients. Also, make sure to follow the instruction in this article for the best dye 360 wave results.
Now that you know what to expect when you dye 360 waves, how do you feel about what you've learned about dying coarse textured hair? I would love some feedback from you guys.
If you enjoyed this article and found it useful, please like, subscribe and share! Also, read the other article from AfroCurlsandCuts.com
Newsletter
Sign up for Afrocurlsandcuts.com newsletter to be first notified of events, promotions and most importantly fresh blogs articles!