We may earn money or products from the companies mentioned in this post.
Let's be honest, the curly afro for men is one of the trendiest hairstyles among the younger generation. Most people rocking curly taper afro hairstyles isn't your grandpa Clifford… Let's face it, in the United States men under 21 are dictating pop culture and the current trends.
With the curly afro in men are making a comeback, it is easy to transfer into a trendy taper look. The youths dictate the trend in fashion, music, and culture. The taper hairstyle is among the top haircuts in barbershops in America.
What qualifies as taper hairstyles?
The Tapered haircuts are cuts when the hair is longer at the top and then progressively gets shorter going down the back and sides of the head.
Usually, in a typical taper hairstyle, the top is left about 2-4 inches long while the rest of the hair is gradually cut to the skin. In this article, I will talk about what a taper haircut and the 5 trendiest taper hairstyles for men under 21.
---
Sign up for our awesome Newsletter!
Newsletter
Sign up for Afrocurlsandcuts.com newsletter to be first notified of events, promotions and most importantly fresh blogs articles!
---
What is a taper haircut?
I briefly motioned what a taper haircut is, it the section I'll get in the nitty-gritty of what the taper really is. The taper haircut is not only trendy, but it is also a clean and neat look. You can find the taper within a vas group of people, from Asian, Caucasian and of course African American men.
So, what does taper the hair mean? The term basically means to reduce the hair length gradually from longer to shorter.
If you think about it, the majority of the modern men's haircuts, have at least minimal tapering influence. Like I mentioned in the intro, a taper haircut, the length of hair is fairly long (about 2-4 inches) on top of the head. The taper slope begins around the temple and ends at the natural hairline (back of the lower head and sideburns).
By adjusting the clipper guard while cutting the hair, you will slope the hair too gets very close at the hairline and fading to blend levels of the hair until down to the skin.
You should know, there is a difference between taper and fade haircuts. It isn't the same haircut and the term is not interchangeable. If you ask for a fade but expect a taper then you'll be highly disappointed, I just wanted to throw that out there.
The taper cut is a hairstyle that allows men to have long hair, while still maintaining a clean-cut and fashionable look.
Why is taper hairstyles popular among men of color?
If you are a man of color and were born after the late 1990s, chances are you've had or currently have a tapered hairstyle. Let's face it, it's a good look and timeless hairstyle.
Why is the taper haircut so popular among young men of color? Let's dig a little deeper than the surface to answer this question.
Timeless – Usually when a haircut is timeless, it never goes out of style for all throughout time. The first sighting of the tapered hairstyle appeared in the 1920s and is still present today.
The classic taper hairstyle offers men of color a haircut that appeal across multiple generations and offers an opportunity to experiment with their own spin to the haircut!
Trendy – A haircut that trendy is up to date and approached by the masses. The downfall of trends is they may be relevant today and gone within a month.
The Taper haircut seems to be immune trend inflex and has kept steady incline in popularity. The taper hairstyle has been able to achieve its trendy relevance by spicing up the due by combining height, texture or detail that sets these looks apart from other hairstyles.
Clean look for curly afro men – The taper hairstyles offers curly afro men with the of keeping their hair looking neat, clean and fresh look. I can tell you firsthand, it isn't easy growing an afro and keeping it looking tame. The taper hairstyles are the perfect solution!
How long does taper hairstyles for black men last?
From what I gathered through my research from Disease Control (CDC), the scalp hair grows at a sluggish rate of 0.50 inches (1.25 cm) rate per month. So, about one-eighth of an inch per week. In other words, most people grow about 6 inches of hair per year.
I say all of that to get to my next point… everyone's hair grows at a different pace. For example, whenever I go to the barbershop and get a taper haircut it usually lasts about three weeks to a month. For me, this is a comfortable time frame with my current hair length. When I had a low 360 waves, I used to cut my hair every couple of weeks.
You know your comfort level better than anyone when it comes to your hair. If you're one of those people who prefer to cut your hair every week than you should visit the barber as often as you like.
How long does it take to grow a curly afro for men?
I'm sure your search of "how long does it take to grow a curly afro", led you to many different answers. That's because there isn't a one length fit all answer… Pun intended!
What I'll do is, I'll give you my experience with growing an afro. When I decided to embark on my afro journey a year in a half ago. It took me quite some time before I was considered in the afro phase.
There are many factors that can cause afro hair to grow faster or slower than others. For example, my hair grows a lot faster than my cousin Web's hair. But, compared to my best friend "Cornball Nick" his hair grows way faster than mine.
The top three factors that determine how fast your afro hair grows are:
Nutrition – Your diet is one of the key components to growing an afro fast. The right vitamins, minerals, and proteins help promote hair growth. A balanced diet of vegetables, grains, and lean meat increase your bodies functional productions and essential nutritional distribution, which your hair benefit from. So, in other words, a diet of chips and fries just isn't going to cut it.
Stress Levels – Like anything that involves stress and humans is never a good mix. Stress can cause hair follicles to fall into a "resting" stage. In other words, when you're in this phase you don't produce new hair strands, which slows down hair growth.
If stress high level of stress continues, over time hair can start to fall out. You'll see the signs of hair loss when you're washing, combing, or touching your hair.
Genetics – According to ScienceDaily.com, genetics plays a huge part in how your hair grows. The genetic known as "P2RY5" causes the hair to be woollike, tightly curled, dry and or coarse. The "P2RY5" genetic makeup can cause hair to grow slower.
The more course your hair is the slower it will grow… It sucks but unfortunately, it is true. This is because coarse hair texture is thicker in circumference than fine hair or "good hair" which cause hair strand to push through the skin slower.
Afro Curls and Cuts top 5 picks for Trendy Taper Hairstyles
Here are my top 5 trendiest Taper haircuts that will transform your curly afro into a stylish hairdo to keep up with the times. My picks are no way in ranking order. I would love to hear what your favorite taper haircuts are, please drop your favorites picks in the comment section!
Mohawk Taper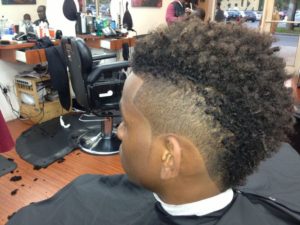 The Mohawk taper is an interesting looking haircut, but if able to pull it off it will pay dividends within your social groups. It's an edgy but clean look that most people will appreciate. Some of the top celebrities have rocked a taper mohawk at some point in their careers.
The tapered mohawk tapers both sides of the head while leaving longer hair on the top and back of the head.
The trendy Mohawk haircut derivative of the taper hairstyles. The Mohawk taper is a mixture of a faux hawk (fohawk) and an old-style mohawk haircut.
Curly Undercut Taper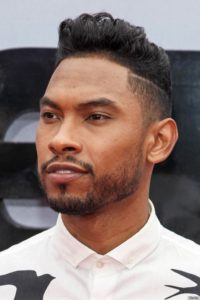 The Undercut is a modern twist to the taper haircut. With the undercut taper, you get a disconnect of the sides and back from the hair on top of the head. Basically, this means really short hair on both sides and back the back of the head. As you see, there is a little bit to no taper, with much more length on top of the head.
A tapered Undercut can be picked out into hybrid afro and styled into a variety of styles. Prior to his transition to locs taper, songwriter and record producer, Miguel was often spotted rocking an undercut taper.
Taper Blowout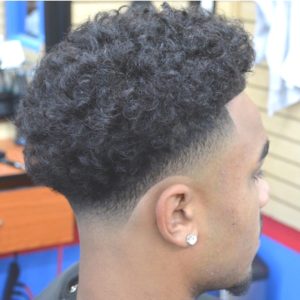 I am currently sporting a blowout taper; I can honestly say I get at least six to seven compliments a day on my hair. The tapered blowout offers a feeling of nostalgia for me. Based on what I've read and watched in movies, the '60s and '70s was pretty dope… Why wouldn't I want to pay some tribute to the time period?!
The blowout is a short taper around the sideburns to lower part of the temple, and longer hair all around. The tapered blowout should not be mistaken for the classic afro hairstyle, they look similar but are different hairstyles.
Whenever you're getting a haircut and want a blowout taper, ask your barber to leave at least 3 inches of length on top for a short blowout.
What I like about the tapered blowout is that you can easily transition the haircut into a curly afro for men. This would save you time and money at the barbershop since all you would need is an edge up! The worst part about this hairstyle is the alcohol the barber use after the haircut.
Dreads with taper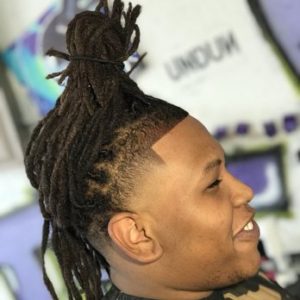 Don't worry, Afro Curls and Cuts hasn't forgotten about the brothers who have locks… The taper haircuts accommodate men with dreads as well.
The tapered modifications offer a sophisticated twist to the classic dreadlocks. It's just all-around a fresh look. The tapered dreadlocks taper similar to the blowout taper, as it tapers the sideburns to lower temples and lower back of the head.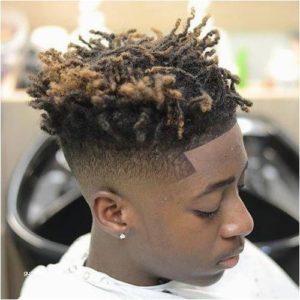 It should be noted that locs taper can also be a high taper as well. In the case of a high taper dreadlocs, the sides and the back of the hair are cut low leaving the locked hair on top. You will have to specify which look you are going for when you visit your barber.
In both hairstyles, the lock taper may taper a little bit in the front of the hairline in order to exaggerate the edge-up or line-up after a haircut.
The dread taper is sweeping the nation with young men of color who are 21 and under. Thanks to the wave of new artists in music and it is trending all over social media.
The dreads with taper hairstyles are also quite easy to maintain.
Drop taper fade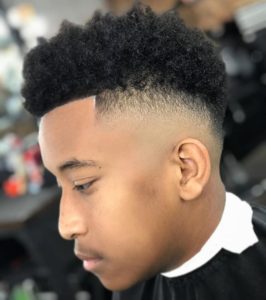 The drop taper haircut is a popular and modern variation of the renowned undercut taper haircut and taper fade.
The drop taper is low behind the ear and down to the back of the neck. Drop taper hairstyle is easily achieved with men who have afros. In this case, the hair will be lowered evenly to give is a clean look, the drop taper just doesn't look right if you attempt without lowering the hair.
Conclusion
There you have it, my top 5 trendy taper hairstyles inspired by curly afro for men under 21. Although each taper haircuts lasted above can be worn by men older than 21 this article was dedicated to the youth.
The tapers hairstyle transforms the classic curly afro for men into modern, clean, and stylish to keep up with present times. Men of all ages can enjoy the taper so long you have enough hair to accommodate the look! I haven't seen or heard of a bald taper… shrugs!
Now that you have my top 5 trendiest Taper haircuts that transform the curly afro, how do you feel about what you've learned about dying coarse textured hair? I would love some feedback from you guys.
If you enjoyed this article and found it useful, please like, subscribe, and share! Also, read the other article from AfroCurlsandCuts.com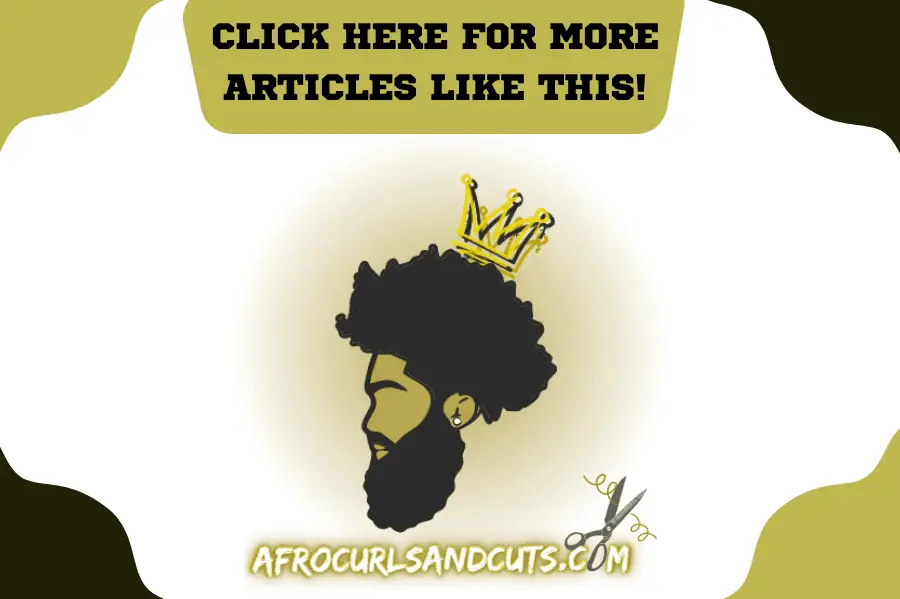 Newsletter
Sign up for Afrocurlsandcuts.com newsletter to be first notified of events, promotions and most importantly fresh blogs articles!