We may earn money or products from the companies mentioned in this post.
Have you ever wondered why people take the steps they do to prepare before getting a haircut while wolfing? That is a legitimate question… right?! Why do black men like me go throw the "hassle"? For most of my years, I refused to grow my hair and I sported a low-cut fade and got haircuts regularly.
That all changed when my current girlfriend challenged me to try something different with my hair. I think it was a combination of curiosity about how I would look and her assumption that I was incapable of growing hair.
When I decided to embark on my wolfing wave journey, I researched for weeks before starting the process. So, what is wolfing wave hair?
Wolfing wave hair is the process of growing your hair out for 4 to 10 weeks with the goal of achieving 360 waves. Your hair must grow at least ¾ inch in hair length to be considered within the wolfing stage. The process limits the number of haircuts while wolfing. During the wolfing period, you will need constant uses of wave cap, du-rag, moisturizing, and hair brushing to get deep 360 waves.
---
Sign up for our awesome Newsletter!
Newsletter
Sign up for Afrocurlsandcuts.com newsletter to be first notified of events, promotions and most importantly fresh blogs articles!
---
What does the term Wolfing mean?
The process of wolfing is when you go for a long period of time without a haircut. Essentially, the expectation of reaching wolfing status is to let the hair grows longer than you normally.
The goal during the wolfing period is to achieve deep 360 waves in black men's hair. 360 waves while wolfing is achievable by sticking to a strict routine. During this phase of the wolfing wave, it is important to keep your hair moist, brush often and wear a du-rag when possible.
The process of achieving deep 360 waves also limits your barber visits and the number of haircuts while wolfing.
During my research, I found it nearly impossible to identify an official name for short waves other than waving. I am sure this is because when waves first appeared it was more prevalent within the young black party communities. As we all know, usually the party scene tends to have little regulation, let alone designating someone as a nightlife historian.
how long in length does your hair have to before it is considered wolfing?
When I first heard of the term wolfing, I was confused and didn't really understand the method behind it. I wondered what is really considered wolfing… Was there an actual length before you're deemed to be in the wolfing phase?
In my research, I found that there is an actual hair length before you can be officially considered in the wolfing phase.
In order to be within the wolfing stage, your hair needs to be ¾ inch minimum to deemed as wolfing hair. Anything below ¾ inch hair will not qualify as wolf hair stage.
I'll be honest, it took a lot of investigation in order to find out the exact hair length requirement while wolfing. I looked all over the internet and found very little information that I felt as credible information about wolfing hair length.
In order to obtain the correct information about wolf phase hair length by interviewing multiple black barbers who or familiar with the term wolfing hair. During the interview, I asked 25 barbers within the black community how long in length does your hair has to be considered wolfing.
I got a unanimous answer, they all said the hair must be at least ¾ inch in length. The reason for the ¾ hair length requirement is because the hair strand will have more than one curve giving your head the 360 wave appearance.
Can black men get a shape-up edge-up or line up during the wolfing period?
During my research, I wanted to know if is common for black men to get shape-up (line-up or edge-up) during the wolfing phase.
Line-up, edge-up or shape-up is the process of cutting along the natural hairline, sideburns, and hair on the back of the neck to make it straight.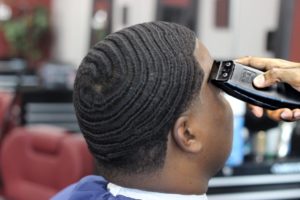 Shape-ups, line-up or edge-ups are basically the basic frameworks for a black man's haircuts in the modern era. The shape-up grew in popularity during the 1980s, typically with those who have Afro-textured hair.
How long is the wolfing period before 360 waves appear?
Well, let's talk about it… So, how long do you have to wait in the wolfing hair period before 360 waves show up? It depends on how deep you want your 360 waves to look. Here is the breakdown of each 360 wave levels.
Short waves – it usually takes about one in a half to two weeks before waves start to appear. The curves in short waves do not need as much time compared to deep 360 waves.
Medium waves – usually medium 360 waves take right about three to four weeks, again the time frame depends on each individually. Medium waves length has more curves than the shorter waves. These curve actions give your head a more pronounce wave look.
Long wolfing waves – For longer waves during the wolfing period usually take about a month in a half to 2 months. The curve in the long wolfing waves has three times as many bends as the short waves and twice as many as the medium waves. Wolfing waves give the appearance of spinning 360 waves.
You should consider that each 360 wave level growth time depends on individual bases. There are many factors to consider while approaching the wolfing 360 phase such as genetics, nutrition, and personal grooming practice.
The estimation is based on the research majority, which means the time frames are not written in stone.
Does diet affect 360 waves before a haircut while wolfing?
Like most things that deal with the function of human anatomy, nutrition plays a pivotal role in promoting wellness and growth. Your hair growth is not an exception to the rules!
I say all of that to say, YES, your diet affects how your 360 waves grow in. A balanced diet of proteins, grains, and fibers help promote hair growth. Not only does your hair grow with a proper diet, but a well-balanced diet help keep your hair strong and healthy.
Eating one serving Lean meat every day such as fish, chicken, and eggs are great for strengthening your hair and giving you that glow for 360 waves.
I should mention that trace minerals like iron, zinc, magnesium, and biotin also affect hair. I suggest taking a daily multivitamin. The right foods and minerals can be really good for your wolfing 360 waves.
Drinking water for natural hair growth
Aside from eating the right food, drinking water during the wolfing period is extremely important. Here at AfroCurlsAndCuts, we suggest drinking at least two liters of water a day. Not only will water help the strength of your hair, increasing growth, but it's also great for your bodily system.
It is a little-known fact that dehydration immediately stops hair growth. Hair growth is an important factor while wolfing in order to achieve spinning 360 waves.
I also want to mention that drinking hydrates the root of the hair, which will reduce problems like dandruff. Nothing worst then seeing someone with wolfing waves and having dandruff… It's just a bad look!
How often should you wash your hair during the wolfing process?
A good rule of thumb when washing your hair while wolfing your hair is two to three times a week. Of course, there is exception to every rule. You may wash your hair fewer or more times a week than suggested based on your lifestyle.
Let's say for example, that you participate in physically actives that cause you to sweat, you may want to wash your wolfing hair more than the suggested two to three times a week. In this case, washing your hair more often help eliminate head odors.
Be careful – It should be noted that when you wash your hair more than three-time during the wolfing period you run the risk of losing your waves progression.
How to shampoo and wash your hair for 360 waves before haircut while wolfing?
I feel like most people over complicate the process of shampooing their hair while trying to maintain their 360 waves… It really isn't that complicated, I promise!
You can simply start by brushing your hair in the direction of your wave pattern while washing. I use a great product that specializes in maintaining 360 waves while shampooing. The waves building shampoo is called "Wash in Waves Shampoo".
Here is how I shampoo my hair to maintain my 360 waves:
Apply a small amount of shampoo, about the size of a penny into your palm then gently apply it to your damp hair. When you do this, you will need to apply the wave shampoo in the same direction as your waves.
Once you have the 360 waves shampoo lathered and applied, you will then begin brushing in the direction of your wave pattern.  It is important that while brushing the shampoo in to make sure that your hair is kept damp during the wash.
The following step is to rinse out your hair thoroughly with room temperature water. Remember you should continue brushing in the wave direction at the same time.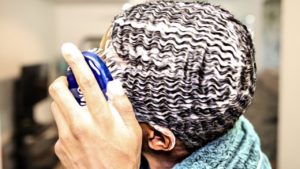 Once you've finished rinsing your hair, you will then dry your hair with a towel in the direction of your wolfing wave pattern. Keep in mind that if you decide to air-dry your wolfing hair, expect your it to become super frizzy.
The best way to avoid frizzy hair after a wash is to use a wave building product of your choice then wrap your hair in a du-rag for about an hour or two. I found that is the most effective way to maintain your 360 wolfing waves.
How long after washing hair should you wait before haircut while wolfing?
The answer to this question varies depending on the type of hair that you have. For the sake of argument, let's stick black men that that go to black barbershops for haircuts!
Ideally, if you are planning on getting a haircut while wolfing, you should wash your hair at the very least twenty-four hours before going to the barbershop. You want to keep your hair as dry as possible before visiting your barber.
The reason I do not suggest going to your barber with wet or damped hair because it is very difficult to cut and even line up. A haircut while wolfing is already a challege, imagine throwing wet hair in the equation… As a black man when you wet your hair before a haircut, it softens the hair and the hair does not stay in place. With the hair becoming soften and not staying in place, the clippers are unable to catch the hair to cut.
Conclusion
When you grow your hair at least ¾ inch in length with the intention of achieving 360 waves, it is considered wolfing waves. Keep in mind that maintaining a nutritious diet and routinely drinking water will promote healthy hair growth for your wolfing 360 waves.
Be sure to follow the instruction when you're washing your wave hair, the last thing you want to do is to wash your wave progression away.
There you have it, now you know everything you need to know in order to prepare your 360 waves before haircut while wolfing! The tips provided in this article will help keep your waves spinning all year.
If you enjoyed this article and it was helpful, please spread the word by liking, subscribing and SHARING!
Also, check out these articles:
Newsletter
Sign up for Afrocurlsandcuts.com newsletter to be first notified of events, promotions and most importantly fresh blogs articles!