We may earn money or products from the companies mentioned in this post.
Try out These Super Easy Coconut Oil Hair Repair Treatments for better-looking and feeling hair! (Full step-by-step Oil Remedy Recipes)
When it comes to hair treatment remedies, there are many options out there, but few are as organic a Coconut Oil Mask Recipes. The all-purpose Coconut oil has various benefits, making Coconut Oil Mask Recipes a popular treatment option for people with dry, frizzy hair.
Coconut oil can be used as a lotion down to cooking oil for your meals. Organic oil may be used for a variety of tasks. So it should come as no surprise that coconut oil is the most popular natural alternative, especially for hair.
Try mixing your homemade hair mask to combat problems like frizz and dryness, which store-bought products just can't address. Here are nine great DIY coconut oil treatments for your hair.
What is coconut oil?
Coconut oil is an oil-based liquid extracted from the wick, meat, and milk of coconut palms. Despite the fact that the term "nut" is in its name, coconut is a fruit rather than a literal nut. In fact, a coconut is classified as a drupe, which is an umbrella term for fruits with an inner flesh and seed encased in a hard shell. Pears, Peaches, walnuts, and almonds are all examples of fruits used in this type.
Why should you use coconut oil in your hair?
Coconut oil's advantages are used to cure just about any hair problem. According to research, the oil has antifungal, antibacterial, and antioxidant properties that treat various issues.
Lauric acid, for example, is a triple threat found within coconut oil. It works to moisturize dry spots, stimulate hair growth, and decrease protein loss due to bleaching, coloring, or using hair heat devices over time. Coconut oil also contains vitamins that help condition, nourish, and eliminate excess oil from your hair.
There's a coconut oil hair mask for every type of hair. Even if your hair strands are extremely dry, prone to breakage, or frizzing out, there's a coconut hair mask recipe for you.
When you think about the benefits coconut oil hair mask recipes offer, the choice is easy. Coconut oil has been around and used for thousands of years as a beauty treatment. Today I will go over several recipe treatments to get you started.
Is your hair brittle: Consider a coconut oil and castor oil mixture.

Coconut oil is lovely in and of itself, but combining it with another oil like castor oil increases the hair mask effectiveness tenfold. There's no objective evidence that castor oil promotes hair growth… However, it has fatty acids and antioxidants that help brittle, dry hair and reduce breakage. Keep in mind 4C hair type or coarse hair is more brittle than 3C or 2C because of higher levels of density.
The castor oil and coconut oil combination feel good too. Coconut oil is a natural conditioner, and castor oil has been used for centuries to moisturize dry hair. The soothing feeling of coconut and castor oil makes this treatment an immediate favorite.
Coconut oil and castor oil recipe
Begin by combining two tablespoons of coconut oil and two tablespoons of castor oil. Make sure before applying the oil mixture to your scalp, carefully separate your hair into sections. This will allow the oil to be used more efficiently and evenly to all of your hair.
Let it settle in the hair for about 15 to 20 minutes, or keep the hair mask on overnight. If you keep the oil hair mask overnight, remember to put on a shower cap, so it doesn't seep through onto your pillow. For optimum effects, use it two to three times each week.
Do you have oily hair: Give coconut oil and lemon juice a try.
Lemon juice is an excellent cleanser and oil controller, as well as a natural detoxifying property. The antifungal properties of lemon juice promote a healthy scalp by removing dirt, reducing oil, and keeping pores unclogged. The oil duo also helps reduces itchiness, control dandruff, and keeps hair feeling soft.
Your hair will adore you if you try this treatment. The warm lemon juice will cleanse your scalp, while the coconut oil moisturizes and softens hair. Coconut oil penetrates deep into the cortex of hair strands to moisturize without leaving a greasy residue.
Lemon juice and coconut oil hair treatment recipe
Mix 1 tsp of melted coconut oil with juice from the half lemon in a small bowl. Make sure to stir well. Apply the remedy on your hair from root to tip, and cover with a shower cap for 10-15 minutes. Rinse your hair well with warm water and shampoo once you're ready to remove the hot oil treatments. For the best results, use this mask treatment twice a week.
The simple coconut oil mask recipes above contain just two ingredients and take less than 5 minutes to prepare. The lemon and coconut oil hair mask recipes for dry, coarse hair are not only easy to make but very effective.
Deal with an itchy scalp:
 Try aloe vera gel and coconut oil.
Aloe vera gel can soothe sunburns and reduce scars from acne… However, did you know the oil combination is a helpful hair treatment? The gel's antibacterial, antimicrobial, and anti-inflammatory properties will improve the feeling and appearance of your hair. Vitamin A, C, and E remove dandruff and reduce itching, while vitamin B12 stimulates hair growth.
The enzyme and fatty acid content help reduce inflammation, balance the scalp's pH levels, and nourish hair follicles. Coconut oil also helps stimulate blood flow to your scalp. The coconut oil and aloe vera gel also increase the elasticity of your hair, making it appear thicker and more vital.
The effective hair mask will do wonders for dull, dry, and lifeless hair. Coconut oil penetrates the hair strand to provide hydration… The mask will also reduce frizziness while retaining moisture. Coarse, frizzy hair can benefit from a coconut oil hair treatment.
Coconut oil and aloe vera gel remedy recipe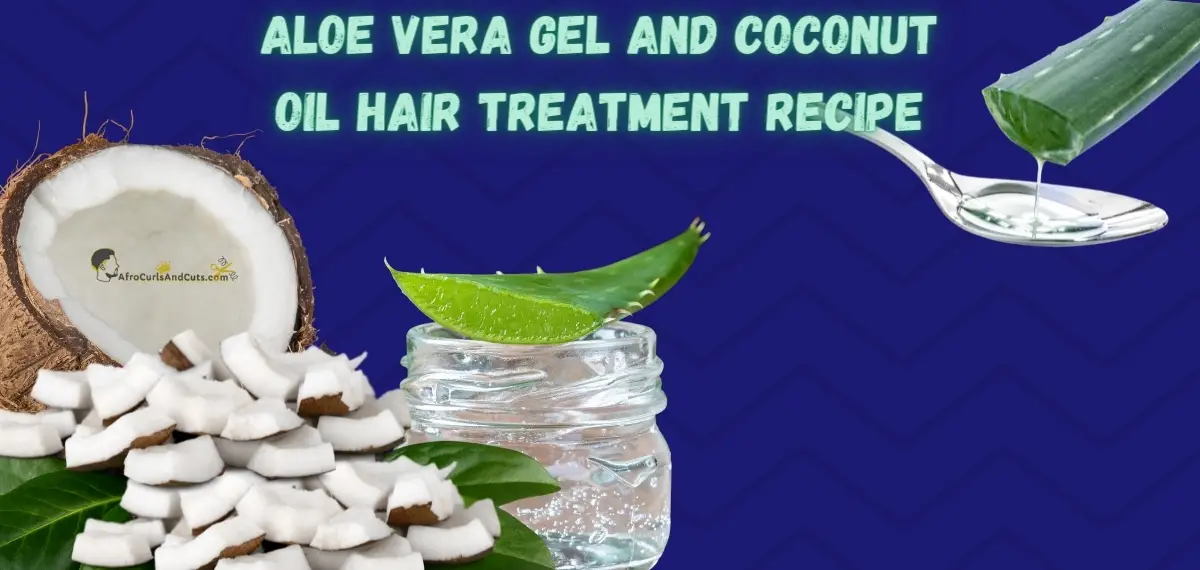 The coconut oil infused with aloe vera gel works wonders for most hair types. To make this hair rejuvenating recipe, you'll need one tablespoon each of coconut oil and aloe vera gel. Combine the oil and aloe, then stir for about 30 seconds.
Apply the combination to your scalp and target the roots before working it through the rest of your hair. Doing so will ensure the hair remedy penetrates your hair strands to provide conditioning.
Leave the coconut oil hair treatment for 15 minutes, then rinse your hair with water. From there, you can finish your hair routine by washing with shampoo and conditioner. Consider using this mask once to twice a week… Also, consider adding this treatment to your overnight routine to really get in there.
Best if your hair is dull: Try out apple cider vinegar and coconut oil
Do you suffer from dull hair? Well, say goodbye to product buildup once and for all. The coconut oil and cider vinegar hair mask will help you achieve hair that's soft and full of luster.
It is growing into a favorite wash for some, the cleaning Apple cider vinegar is recognized for being an excellent shampoo alternative. The nutrients and vitamins in ACV restore a dull hair's PH balance while giving it a soft and shiny appearance. It also strengthens your hair which will reduce breakage.
Keep in mind that coconut oil is beneficial because it contains antioxidants that reduce protein loss in your hair. Coconut oil also smoothens your hair cuticles, making them more manageable.
Coconut oil and apple cider vinegar remedy recipe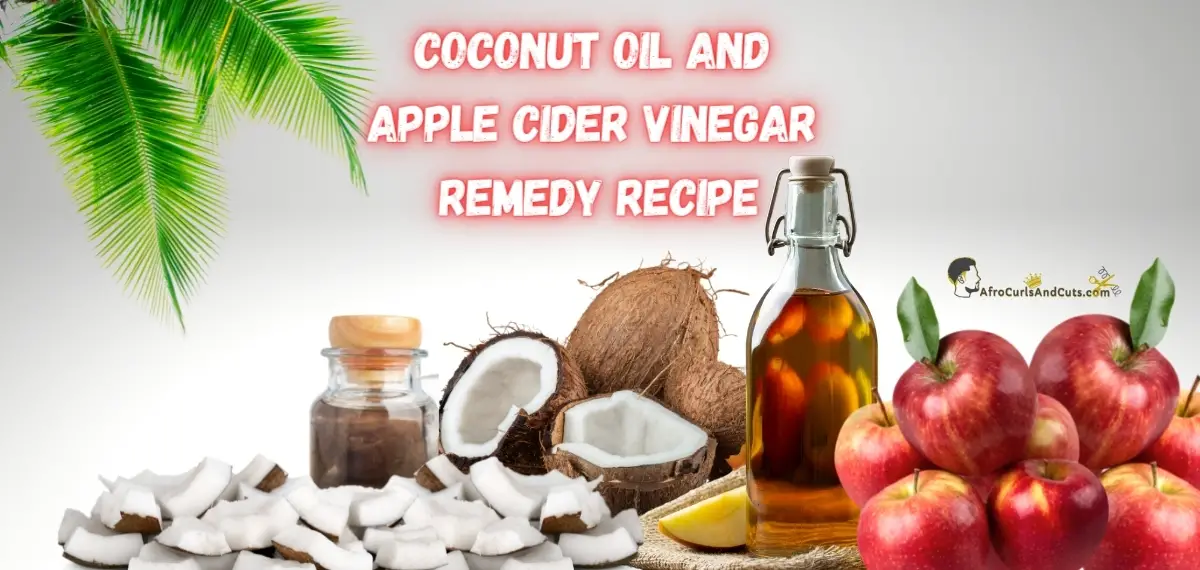 This is a pretty simple recipe for those who need a remedy for dull hair. Most of you will already have the ingredients in your home. Most kitchens contain coconut oil, apple cider vinegar, and water.
For this recipe, combine one tablespoon of apple cider vinegar, two tablespoons of coconut oil, and 3/4 cup of cool water into a bowl. The water is used to dilute acid in the mixture.
Note, the coconut oil is solid at room temperature, so you'll need to melt it first to create a more manageable solution. To keep moisture in your hair, add two tablespoons of honey to the ACV and coconut oil mix. The scent of ACV might be a little overpowering… The added flavors could help curve the odor.
Mix the ingredients for a few seconds until they're well combined. Make sure you mix them while still warm because coconut oil will harden when it cools down. Use your fingers and a wide-tooth comb for application on either dry or damped hair. After 10 to 12 minutes, use warm water to wash out the mixed remedy. Once a week, use this treatment to see results.
Your Hair is Curly: Try an avocado and coconut oil blend.
If you didn't know, avocado is a fruit that serves multiple purposes. It is one of the healthiest ingredients you can find, especially for your skin and hair. So it's no surprise that this fruit always appears on our plates and into our hair routines.
Avocado is a popular mask ingredient for strengthening, rejuvenating, and nourishing dry hair. It contains fatty acids, vitamins, and antioxidants.
Avocados have long been recognized as a natural conditioner. Coconut oil works wonders on curly hair. Its antioxidant properties help strengthen the hair shaft to prevent breakage and help your hair grow faster. The fresh ingredients, along with a very versatile recipe, make this mask a perfect choice.
Things you will need for Coconut oil and avocado natural hair remedy recipe.
You will need a mixing bowl, a fresh avocado, and a container of coconut oil. The ingredients for this curly hair remedy are simple and easy to find.
You will also need a regular comb or brush (for detangling), an old T-shirt, and a shower cap. The additional item will help in applying the treatment and also reduce the chance of possible mess.
Coconut oil-based treatments should only be used on dry hair since wet hair will cause the treatment to slip.
Coconut oil and avocado natural hair treatment recipe
To start, you will need to mash the avocado chunks with a fork in a mixing bowl. Make sure that you smash the avocado until it is puree or the consistency of baby food. You'll then need to melt the coconut oil to combine it with the avocado paste more effectively. Once the hardened coconut oil has melted, add it to the avocado paste and begin mixing.
This mixture is best applied in sections on dry hair and to already detangled hair. To fully benefit from your curly hair treatment, massage it into your scalp and cover all of your hair strands. Keep the treatment in your hair for 15 to 20 minutes before rinsing and applying shampoo and conditioner.
Best if your hair is frizzy: Consider banana and coconut oil hair treatment
For this sweet hair, recipe let's talk about bananas for hair benefits. Bananas have silica, a mineral element that helps your body produce collagen. The minerals improve the health, strength, and thickness of your hair. Bananas are high in antibacterial properties that help minimize flaky, dry scalp and head dandruff.
If your hair is frizzy or dry, consider adding a little banana with your coconut oil mix. Bananas also have a significant amount of potassium, essential for hair nourishment, softening, and protection from split ends and breakage.
If you want to add moisture to your hair, bananas and oil make a fantastic overnight hair mask. The overnight hair routine is excellent for hard-to-handle frizzy hair.
Things you will need for banana and coconut oil hair mask treatment.
This frizzy hair care remedy calls for coconut oil and one banana. As an optional addition, you can also use a coconut hair conditioner. Not only will the optional conditioner help with frizz, but it will also help the coconut oil penetrate the hair.
banana and coconut oil hair mask recipe
To begin, peel a ripe banana and chop it into chunks, then add it to a blender. Before blending, add a tablespoon of coconut oil to your banana. Once you have all of your ingredients together, blend until you have a smooth and creamy paste.
Optional addition – If you decide to add a conditioner to frizzy hair treatment, first remove the mixed paste from the blender. From there, place the batter into a bowl, then add two spoonfuls of hair conditioner to the mix. Thoroughly stir the ingredients together until you have a uniform mixture, then apply as usual.
After your banana and coconut oil blend is ready, apply the mixture to your dry hair. Section your hair and massage the treatment onto your hair scalp. To ensure that the special treatment penetrates your hair strand, leave it on for 10 to 15 minutes. Continue with your hair routine as normal after rinsing the banana and coconut oil hair treatment. This can be used one to two times a week to maximize the benefits.
Your hair is thin: Try egg and coconut oil.
You may be wondering if coconut oil and eggs work for hair health and promote hair growth. According to an unofficial claim, an egg white hair mask can improve scalp health, moisturize it, improve your hair's look, and even treat dandruff.
Eggs are high in protein, and the yolk is rich in fatty oils that help repair and nourish dry hair. You may use the egg white alone as a mask or mix it with other organic ingredients such as coconut oil. Coconut oil penetrates deep into your hair strands, locking in moisture and preventing further damage.
When the egg and coconut oil hair treatment is applied to thin hair, it adds volume, shine, and bounce. The protein of the egg and the lightweight oils in the coconut oil provide your hair with much-needed nourishment.
Things you will need for banana egg and coconut oil.
For this all-organic hair recipe, you will need some coconut oil and a single egg. Keep in mind most of the ingredients could be found right in your kitchen refrigerator. The eggs and coconut oil hair remedy only takes a few minutes to prepare.
Coconut oil and egg organic hair treatment recipe instruction
To begin the recipe, add two tablespoons of coconut oil to the egg. Remember, as always, to melt the hard coconut oil before mixing it with the egg. Coconut oil naturally softens at room temperature, but if you need to melt it in a hurry, place it in a bowl and place the bowl in a microwave safe.
Next, you'll need to combine one egg with the two tablespoons of melted coconut oil. If you want a little extra moisture to your hair, you can also add one tablespoon of honey. Whisk the hair treatment as you would your eggs… So beat the mixture until it is smooth.
To apply the oil and egg remedy, separate your hair into sections. After that, you'll need to dampen your hair and apply the mask. Be sure to cover your hair with a shower cap to avoid raw egg drip. Allow 15 to 20 minutes for your hot coconut oil hair treatment to soak in, then rinse with cool water.
Your hair is damaged… No problem: Try out honey and coconut hot oil hair treatment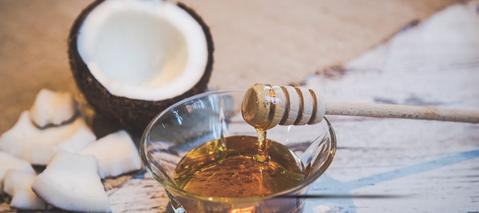 Honey is a natural humectant, while coconut oil is the low molecular weight that penetrates and nourish hair strand. It will help make damaged hair healthy, smooth, and silky. The nutritional elements of both ingredients produce the hair frizz-free by making it silky and soft.
Honey has long been beneficial for the skin, so it's no surprise that it is also helpful for your hair. The anti-inflammatory and antioxidant qualities can help your damaged hair regain its moisture. Damaged hair needs all the nourishment you can give it, and that's what honey does.
Honey is high in antioxidants, which help to prevent damage and maintain your scalp and hair health. Note that natural honey is a softener and soothing substance… Organic honey has been used for centuries as a hair care substance, and it is still widely used today. Note, honey boosts healthy hair growth by encouraging regrowth in dormant follicles.
The natural coconut oil hair treatment and honey mask are excellent hair remedies that make your hair healthy and lustrous. Coconut oil is a natural conditioner that rejuvenates damaged dry hair.
What you will need to make honey and coconut virgin oil for hair treatment
For this damaged hair home remedy, you will need a couple of easy-to-find items. Grab a container of virgin coconut oil and organic honey. The two key ingredients are what you will need for this hair recipe.
Virgin coconut oil and organic honey hair therapy recipe instruction
In a saucepan, combine a tablespoon of coconut oil and a teaspoon of honey. Bring to a simmer over low heat. Stir until the mixture has melted and simmered on low heat. Add additional coconut oil if the consistency is too thick or sticky.
Allow it to cool before applying it to wet hair, then wear the mask for 40 minutes. After the treatment settles, rinse off with water, then wash your hair with shampoo. Don't forget to follow up with a deep-conditioner and style your hair as usual. Apply the combination two to three times per week.
If your hair is all of the above: Try out tea tree oil, coconut oil, and olive oil hair mask.
When you think of olive oil or tea tree oil, do you think of an ingredient that's used on everything, from your skin to your hair? Most people don't think to combine coconut oil, tea tree, and olive oil hair mask recipes, but they should! Oil from coconut and olives complement each other perfectly.
Tea tree oil is a beneficial hair treatment. The natural therapeutic tea tree oil has antibacterial, anti-inflammatory, antifungal, and antioxidant properties beneficial for the hair. Tea tree oil promotes hair growth development by making the follicles in the scalp more receptive to nutrients.
When you add olive oil and coconut oil to tea tree oil, you get a winner! Coconut oil and olive oils are loaded with many beneficial properties for your hair. Coconut oil is highly moisturizing, while olive oil is intensely nourishing.
They make the perfect trio to repair damaged hair, soothe itchy scalp, and strengthen fine, thin follicles. The antioxidants and omega-3 fatty acids have improved dullness, prevented hair breakage, and supported all hair types.
The three oil hair mask recipes are easy to make, but the recipe below can make a huge difference.
Things you will need for tea tree oil, coconut oil, and olive oil hair treatment.
This big three oil hair remedy calls for a few things, most of which you likely already have around. You will need the base ingredient coconut oil, tea tree oil, and olive oil. It would be best if you also got a microwave-safe container (you can use glass or plastic), and a microwave is helpful too.
These are all the items you'll need to make the coconut oil, tea tree oil, and olive oil hair mask.
Virgin coconut oil, tea tree oil, and olive oil recipe instructions
Start by popping half a cup of solid coconut oil into a microwave for 5 seconds to melt it. Next, add 6 to 7 drops of tea tree oil and 3/4 cup of olive oil. Mix the three in the container or mixing bowl with either a whisk or spoon until it's thoroughly mixed.
The final step is to apply it to your hair and scalp, massage it in for a minute or two. After applying, you'll have to leave the coconut oil treatment on for 30 to 45 minutes (or even overnight). Leaving the hair remedy overnight can make a huge difference, but it's not for everyone. Rinse the oil treatment out of your hair, then proceed with the shampoo and conditioner. Use the effective hair treatment at least once a week.
Coconut oil hair mask recipes frequently asked questions.
In this section of the article, there is a list of commonly asked questions about coconut oil hair mask recipes. The treatment is helpful for those who are new to the topic or just need a refresher on certain information related to the main topic.
Can coconut oil ruin your hair?
Most people wonder whether or not coconut oil is bad for hair. Coconut oil is an excellent deep conditioner, but it isn't right for you?
Coconut oil offers many benefits; however, it isn't suitable for everyone's hair type. Some people may experience protein buildup and making their hair strands more fragile, dull, and dry. If you're someone with an oily scalp, the coconut oil can make it worse.
However, most often, it's usually user errors that are responsible for the most common issues. For example, leaving the oil treatment in hair for way longer than you should. When coconut oil is left in the hair for extended periods (days or weeks) without being properly washed, it'll cause problems. The natural remedy oil should be washed out with clarifying shampoo and warm water.
Another reason for a negative reaction to natural treatment it's likely to occur if you are using too much. Coconut oil mask recipes are intended for use once or twice. So be wish with the amount you're using!
When people say coconut oil is bad for hair, I always tell them that if done right, coconut oil is great and one of the best things you can do for your hair.
How do you remove coconut oil from hair?
There are alternative ways to get rid of excess coconut oil in your hair besides using hair shampoo. I know this may sound crazy, but dry alternatives are great ways to get rid of coconut oil without harsh chemicals. Try alternative cleaners like dry hair shampoo, cornstarch, or baby powder to remove the extra oil.
You may also use liquid leave-in treatments like lemon juice, egg wash, or baking soda. Not only are they highly effective, but they're natural and provide natural nutrients to the hair. When you wash the treatment, it should remove the coconut oil from your hair while keeping it clean and moisturized.
These are some safe alternative ways to get rid of coconut oil in your hair without using shampoo. Your hair should remain just as clean and moisturized without any damage.
How long does it take for coconut oil to work on hair?
The problem with home hair treatments like coconut oil recipes is they don't come with detailed instructions. Often people are left to guess how much to use or how long to keep the treatment on… This could be very problematic because the right amount of time to keep coconut oil on is crucial. Coconut oil treatments can be good for hair if done right.
Depending on what the coconut oil is paired with will dictate how long you should keep the oil on. For example, if you use coconut oil and apple cider vinegar, you should only keep in on for about 10 minutes. The vinegar treatment is highly acidic, and the high acidity level could damage hair. In comparison, coconut oil and avocado are less harsh and could be left on the hair overnight.
However, for the most part, coconut oil hair remedies only require 20 to 30 minutes in the hair. This is enough time for the coconut oil to settle in your hair after application. If your hair is extremely dry or porous, you may leave it on for longer; some individuals like to use it overnight.
Does coconut oil speed up hair growth?
The number one question you will probably ask yourself during your hair growth journey is: Does coconut oil help grow hair faster? Coconut oil hair mack benefits include moisture, protection from breakage, and improved hair health overall.
Coconut oil for natural hair can also speed up growth by reducing the number of split ends. When applied to dry hair, coconut oil helps rehydrate your locks and gives elasticity.
During an interview with Dr. Alverez, head of the Dermatology department from one of the top Universities in the country. He said that coconut oil had been a time-tested remedy for psoriasis. Dr. Alvarez says that using coconut oil in your regimen helps create the optimum environment for hair development.
Coconut oil for hair growth is the way to go if you are looking for natural hair growth. The oil hair mask made from coconut has benefits that are abundant and very rewarding. Coconut oil is the only natural ingredient that can penetrate your hair follicles and help with hair protection.
The natural hair oil itself does not make your hair grow fast. Still, coconut oil is the most beneficial for strong, healthy natural hair growth, which is ideal for hair growth.
Benefits of coconut oil treatment for hair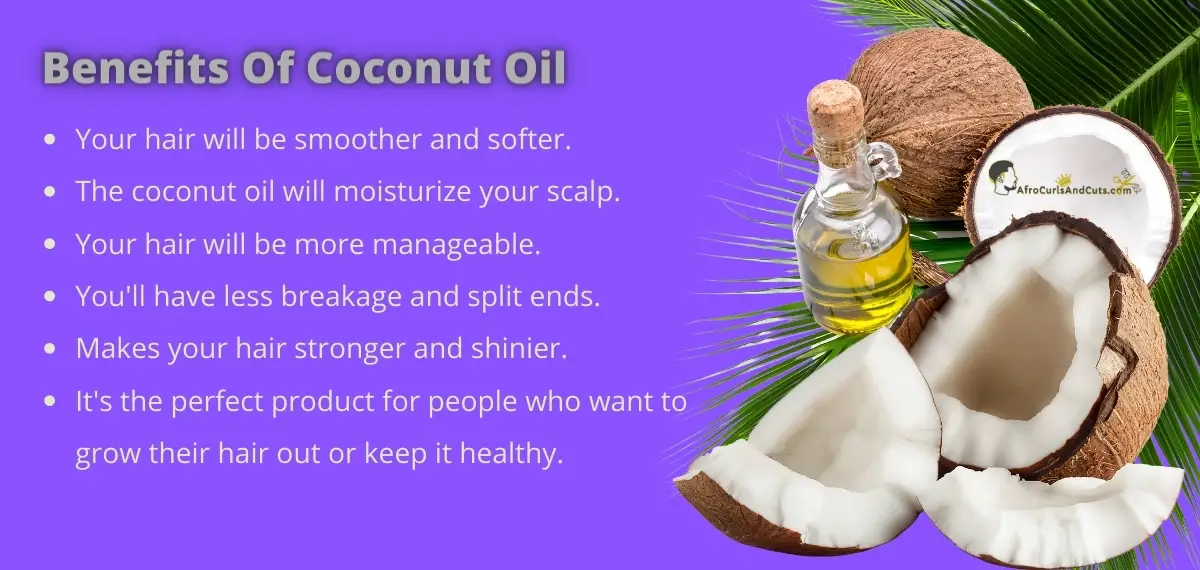 Does coconut oil make hair white?
As we all age, one of the things we try to preserve is our natural hair color. Coconut oil will not make your hair white, but its ability to penetrate may affect dyed hair.
The oil penetrates deep into the hair strand, and its antioxidant and protein properties could potentially neutralize the bleach or dye. This is why you should not use coconut oil on hair that has been recently dyed. It will cut the time length of the dye in half.
Otherwise, if your hair has its natural dark color, the coconut hair mask will not make your hair white. It will only make it healthier.
Conclusion
Here are additional things to be mindful of:
Aside from the duration of oil in the hair, you should consider how much coconut oil you're using when preparing your masks. Too much can leave hair dull and greasy, but not enough can result in dry, lifeless locks (especially if your hair is fine). Note, a little oil can go pretty far, and you should always wash your hair thoroughly after masking to remove oil buildup from your scalp.
Finally, don't be scared to experiment with essential oils, honey, and other organic items in your kitchen that help improve hair health. DIY hair mask remedies are meant to be helpful and enjoyable!
If you find this article about coconut oil hair mask recipes helpful, please like, subscribe, and share it with friends and family. This will help keep me motivated and keep the site going.
Follow me on IG KingZoe44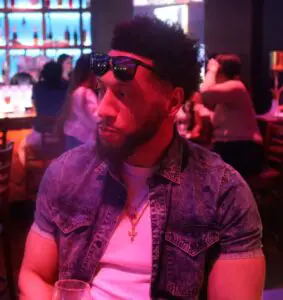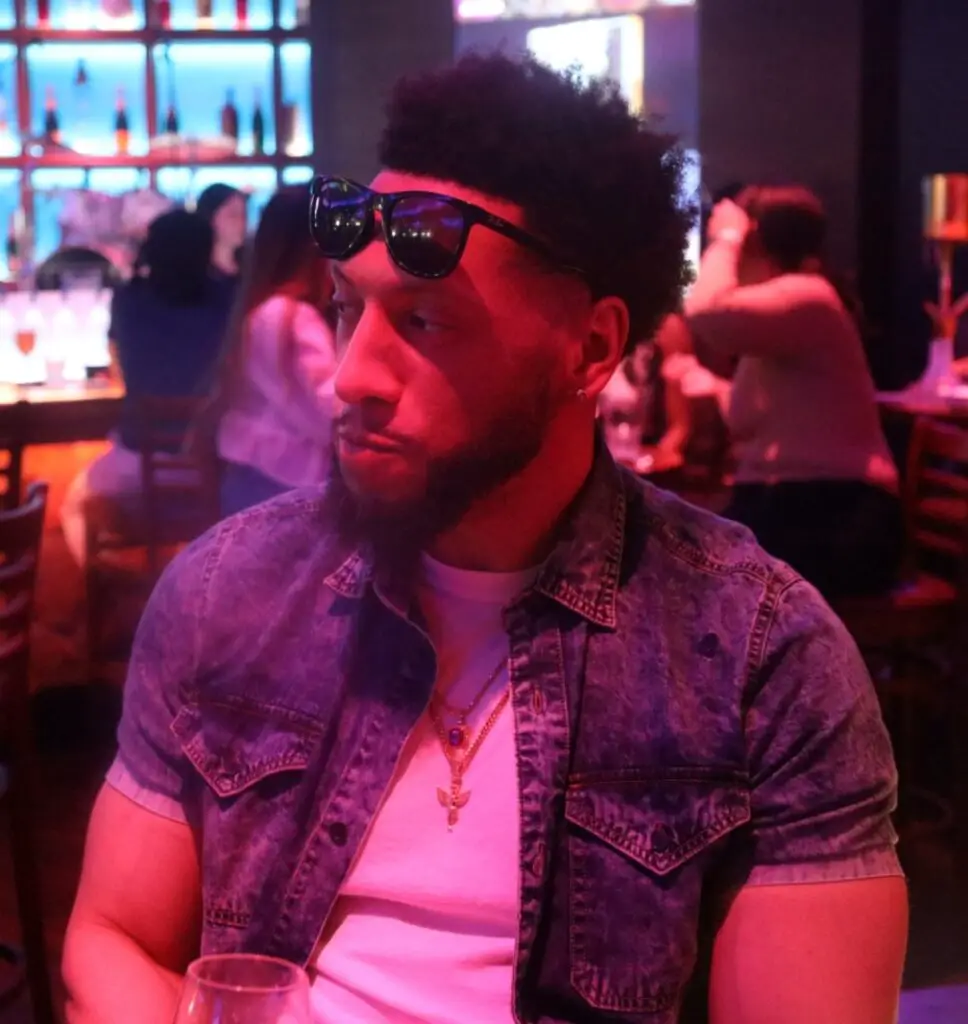 Newsletter
Sign up for Afrocurlsandcuts.com newsletter to be first notified of events, promotions and most importantly fresh blogs articles!