We may earn money or products from the companies mentioned in this post.

Cut hair for donation Overview
This article contains information on what to do after you cut hair for donation, including how to send hair donations, how much hair is required for gifting, and alternative donation options for your hair.
Here are summarized steps and requirements for cutting and giving your hair to charity.
1. Cut your hair to meet the charity's required length.
The minimum length of hair organizations accept between 7 inches (18 cm), but they prefer 13 inches (33 cm) to donate. However, the most required hair lengths are 16 inches (41 cm) or longer, but long hair is the least donated.
2. Place your hair in a ponytail or braid before cutting. Cut the hair 1–2 inches (2.5–5.1 cm) above the elastic band.
3. Gather your hair and put it in a zip-lock bag.
4. Label the bag with the name of the charity you are donating to, your name, your address, and the barcode.
Hair must be wash clean

 and completely dry to avoid molding during shipping and storage. Most organizations will only accept newly cut hair that has not been chemically treated (including 

dyed hair

, permed hair, and color-treated hair follicles.)

When you have layered hair, the shortest layer of the hair must meet the minimum length requirement.

Send your hair donation to a local organization that accepts hair donations for charities.
Check out our exclusive Hope hoodies!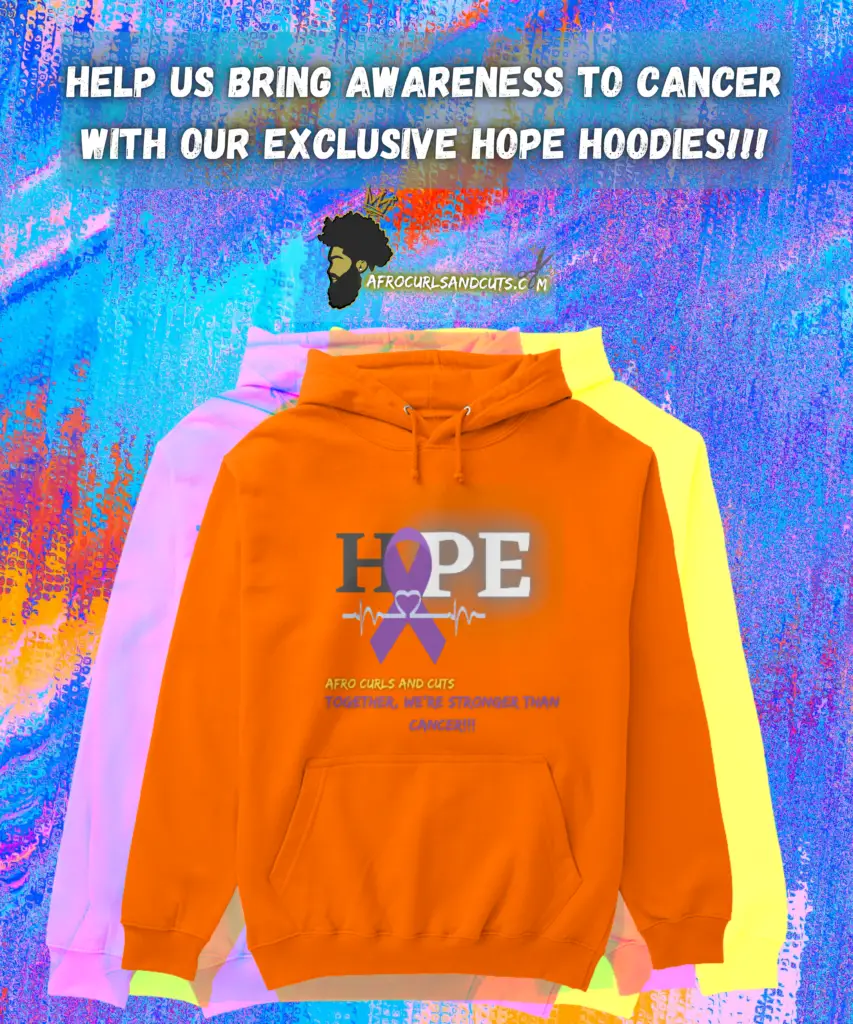 Would you like to donate your hair to a good cause, but you're unsure how it works? You're not alone; the process can be pretty confusing.
Imagine being the person who lost their hair due to cancer treatments, alopecia, or other medical issues. Losing your hair in this way is difficult both physically and emotionally!
Donating your hair is a beautiful way to help someone struggling with hair loss. By contributing your hair, you can give someone the gift of self-confidence, strength, and hope.
How does hair donation work?
Hair donation is a process in which you give your hair to a charitable organization after it has been cut. Below is a list of steps on how to properly donate your hair:
Required Guidelines for Measuring and Cutting Your Hair Donation
To stay within the proper hair donation length guideline, make sure your hair is at least 12 inches long.
However, most organizations encourage 14 inches or longer cut ponytails; this provides more options for patients in need.
For a more accurate measurement, pull curly hair straight. Start the measuring tape at the start of the ponytail.
You should only measure from where the ponytail begins to the thin tip hair. Most often, the tip hair thinning is a result of layers or split ends.
Hair must be clean and completely dry before being stored or packed.
Wet hair will mold during transit and will have to dispose of.

Styling products such as gels, oils, and sprays must be completely removed before the ponytail is cut.
Perming, color treating, or highlighting the hair are all out of the question.
Blond, brown, red- highlighted hair is acceptable, as long as the product is washed away before cutting. Natural gray hair is also welcome donations.
Preparation steps for your Ponytail donation
Hair should be pulled straight into a single ponytail or braid. This results in a loss of up to four inches of hair.
How to section ponytails or braid:
Create a center part in your separated hair.

Using the middle section as a guide, separate the hair on each side of the head. As a consequence, the hair will be divided into four parts.
To make at least four subsections:
Tie the hair into ponytails, and then braid and tie hair into four sections.

Use a scissor to cut the ponytails or braids above the elastic band.

(WARNING) If you've never cut your hair by yourself, I suggest that you do not cut your hair yourself! Ask a friend, a family member, or seek a professional stylist to cut the hair for you.
How to donate the hair
To ensure the hair reaches its destination, place a plastic bag with your donation form and barcode/ID number in an envelope address listed on their website.
Make sure each ponytail or braid is tightly secured. Hair that is loosely wrapped tends to unravel and tangle during shipment, making it unusable. You can use several rubber bands 2-3 inches apart to secure your hair tightly.
Newsletter
Sign up for Afrocurlsandcuts.com newsletter to be first notified of events, promotions and most importantly fresh blogs articles!
Frequently asked questions about giving hair to charity!
Who can donate hair?
Anyone can donate hair as long as it is healthy and meets the chosen organization's specific requirements. However, some guidelines must be followed for these institutions to accept donations.
Where do I go to get my hair cut? The stylist who cuts your hair
If you're looking to get your hair cut for donations, a few options are available. Barbers and hairstylists are more than qualified to cut your hair for donations.
Many chain barbershops and hair salons, like Great Clips and Supercuts, will happily provide a hair cut for those looking to donate their hair. Some of these locations may even do it for free if it is being donated to a charity.
Can salons and barbershops donate hair?

Yes, some hair salons will take hair donations, but they may not give it to the organization of your choice.
It is best to call ahead or do a little research online to ensure your hair donation goes where you want it to.
If you are attached to a particular charity, you can always directly mail your hair to a specific organization.
Every hair salon does not offer donation haircuts, so double-check ahead of time to ensure that yours is one of them. 
Donating hair is a very generous act, and taking the time to ensure that your donation goes where you want it to can make your gift even more impactful.
What kind of charities accept hair donations?
Locks of Love, Wigs for Kids, and Pantene Beautiful Lengths are three major national organizations that accept hair donations.
Each charity has different requirements to follow when growing and gifting hair. However, they all will provide a wig free of charge to children and adults in need.
Here are some well-known hair donation organizations:
Other organizations accept hair donations, so do your research and find the one that is right for you.
Regardless of which organization you choose, donating your hair is a selfless act that helps rebuild self-esteem and confidence in patients who have lost their hair to radiation therapy or other medical causes.
What is donated hair used for?
Donated hair is often used to make wigs for kids who have lost their hair due to chemotherapy or alopecia. Several nonprofit organizations collect hair donations and use them to create wigs for children and adults.
What can I do with an unused wig?
While most hair gifting organizations have strict guidelines and mainly accept freshly cut human hair, some take unused wigs.
However, the best options for donating new wigs are cancer support groups, local hospitals, and oncology offices.
Wig banks are another great option, as they take both new and pre-owned wigs. The Wig Bank collects wigs to provide them to cancer survivors and others who have lost their hair due to other medical reasons.
For more information on finding a wig bank near you, just Google "where to donate wigs near me" or "how to donate hair" and do a little research.
Can I donate dreadlocks?
When trying to donate hair to help a cause, many people often wonder if dreadlocks are acceptable. Unfortunately, the answer is generally no.
Most hair charity organizations do not accept locks because they can be difficult to work with and take additional time to process.
Are hair donations tax-deductible?
Hair donations can be a great way to help those in need. But, there's always the question of whether or not your donation will actually get tax deductions?
I interviewed Diane, a financial advisor Pro Accounting Srvcs, and she explained:
"It is possible to get a tax deduction for hair donations, depending on the charity organization you donate your hair to.
Some charities will have you fill out a hair donation form and issue tax receipts for your donation, which can be used as a tax write-off at the end of the year.
However, there may be certain limits to how much you can deduct from your taxes based on the value of your donated hair."
She also mentioned that a small financial donation could go a long way when getting your taxes back.
But remember, the tax benefits you get for donating your hair are just a bonus compared to the impact your gift will have on others!
So, if you're thinking about donating hair, consider the tax benefits as well. For additional information, check Diane's site for more about tax deductions.
My final thoughts about Cut hair for donation
If you are looking for a way to give back, consider donating your hair. Your generous donation could make a difference for elementary school kids going through cancer treatments.
Children undergoing chemotherapy for cancer or suffering from alopecia are often very insecure due to the changes in their appearance. 
When you cut your hair donation, you give kids with cancer and alopecia a sense of hope and normalcy. They may not know exactly what's happening to them, but they'll know that someone cared enough to make a difference.
Newsletter
Sign up for Afrocurlsandcuts.com newsletter to be first notified of events, promotions and most importantly fresh blogs articles!