We may earn money or products from the companies mentioned in this post.
Article overview
This article is about the question "Can you wash starter locks" and how to wash dreads properly.

Many people don't know how to wash their short dreadlocks correctly, which can lead to damage and frizz.
If you're not washing your starter locs correctly, you could be doing more harm than good. Improper care can cause your locs to become damaged. If you don't wash your starter locs correctly, you could damage them and even create an unpleasant smell.
Wash your starter locs with the right products and techniques, and you'll be on your way to healthy, happy locs! Follow these seven tips on how to wash starter locs, so you can keep them healthy and strong!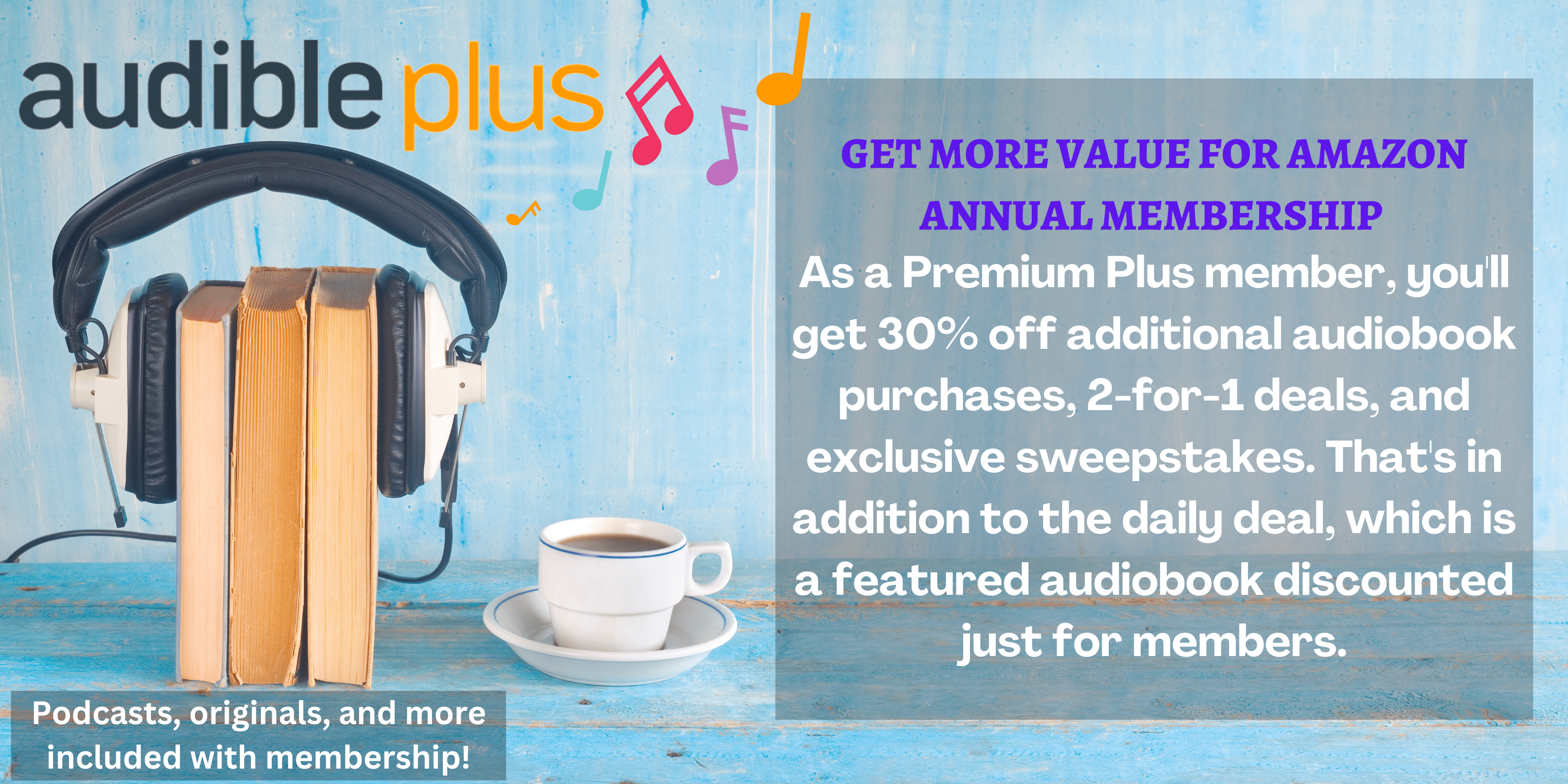 Click here for Amazon Annual Audible Membership!
Here is a washing dreads kit link that has everything you need.
Can you Wash Starter Locs?
Yes, you can wash starter locs and should wash them regularly to keep them clean and healthy.
In fact, washing your starter locs is a crucial step in the loc journey. Not only does it help to remove any dirt buildup or residue, but it also promotes healthy hair growth. So, how often should you wash your starter dreads?
While there is no rule set in stone, the recommendation is that you wash them at least once a week.
However, if you live in a hot and humid climate or sweat a lot, you may need to wash them more often.
How to wash dreads without messing them up?
When washing your locs, you want to be sure to use the right products and techniques so you don't ruin your new dreads.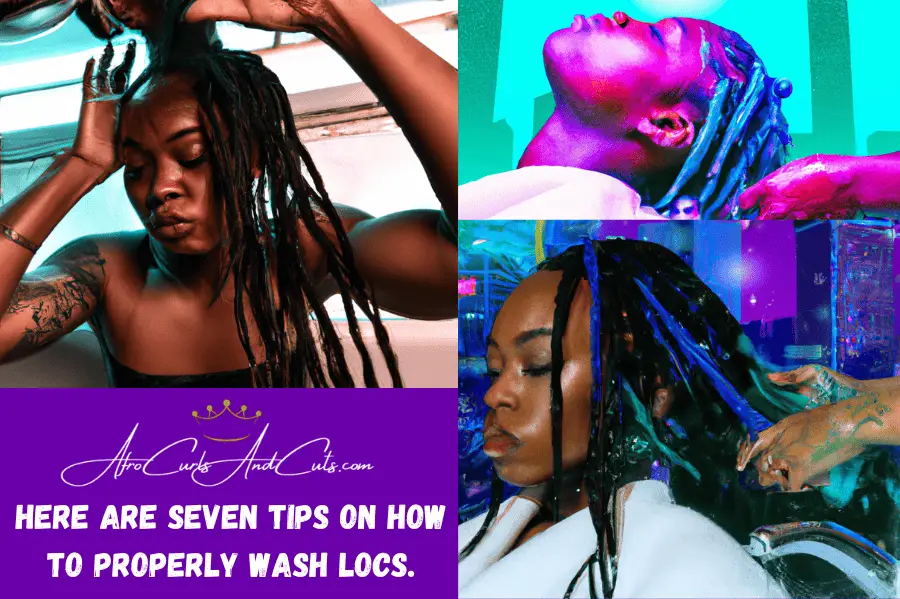 Here are seven tips on how to properly wash locs:
Wet your locs thoroughly with cool or lukewarm water. Avoid hot water, as it can dry out your hair and scalp.
Apply a small amount of shampoo to your locs, scalp massage, and gently scrub to work it into the roots. Be sure to allow the shampoo lather for a few minutes before rinsing.
Rinse the shampoo out thoroughly, again using cool or lukewarm water.
Apply a conditioner to your locs, focusing on the ends. You can use a conditioner designed for locs or a regular conditioner.
Rinse the conditioner out thoroughly.
Gently squeeze your locs to remove excess water, and then wrap them in a towel or use a bonnet hair dryer to dry them.
Apply an oil or cream to your locs to help lock in moisture. You can use a loc hair cream or a lite hot oil treatment.
Style your dreadlocks the way you like, and you're done!
Suggested Products for Washing Your Dreads
A dreadlock shampoo clarifying, residue-free, essential oils, and nurturing hair products are effective and will work well for hair types. Most importantly, use hair products that won't leave buildup or grease behind.
Avalon Organics Smooth Shine Apple Cider Vinegar Shampoo
When you are it time to wash dirty hair, use a residue-free shampoo. Not all shampoos are created equal; some can leave behind toxic chemicals that cause dread breakage and dryness.
Avalon Organics Smooth Shine Apple Cider Vinegar Shampoo is gentle and clarifying, perfect for overworked hair. When you wash dreadlocks with this shampoo, it will remove any buildup without stripping away natural oils.
With this plant-powered clarifying shampoo, you can enjoy squeaky clean feeling without worrying about dryness or irritability. The raw apple cider vinegar in the formula works to soothe an itchy scalp while helping with cleaning hair from roots down into your tips!
Avalon is made with natural ingredients; this shampoo is a gentle but effective detox for your hair. The cider vinegar cleanses greasy or oily roots without stripping away essential moisture from healthy ends!
The best part about this product is that it balances your scalp's natural pH level, preventing dandruff and clogged pores. It also helps prevent skin problems like fungus by being rich in antimicrobial properties!
Lion Locs Shampoo and Conditioner, 2 in 1 Co-Wash for Dreadlocks
Locs are a unique and beautiful way to wear your hair, but they can require special care to keep them looking their best.
Lion Locs Shampoo and Conditioner is specifically designed to cleanse and moisturize dreadlocks without leaving them feeling dry or weak.
The 2-in-1 formula is perfect for washing or leave-in conditioning and helps reduce breakage.
It's also safe for all hair types, so whether you have fine, thick, or dreadlocked hair, this shampoo will leave your locks feeling clean and soft.
With this product, you can rest assured your locks styles will not unravel your short locs!
So this product will work if you're washing mature dreadlocks, microlocs, interlocks, braids, or any other type of dreadlock.
Jamaican Mango & Lime Cooling Scalp Care Set
The Jamaican Mango & Lime Cooling Scalp Care 4-piece set contains everything you need to deep cleanse, condition, and style your dreadlocks.
The dreadlock shampoo is specially formulated to cleanse dreadlocks without stripping away natural oils. You can expect the clarifying shampoo to lather well and leaves hair feeling clean and refreshed.
A good leave-in conditioner is also designed for dreadlocks and helps lock in moisture in your hair.
The Maximum Relief Spray is a leave-in treatment that helps soothe the scalp and alleviate itchiness. It will also remove any excess oil, leaving your scalp clean and refreshed.
The Cool Scalp Braid is a refreshing spray used before or after braiding to nourish the scalp.
Finally, the Twist & Loc Gel is a styling product that helps dreadlocks stay in place while providing a firm hold. This complete care set will help you achieve healthy, beautiful dreadlocks.
Frequently asked questions about how to wash dreadlocks properly!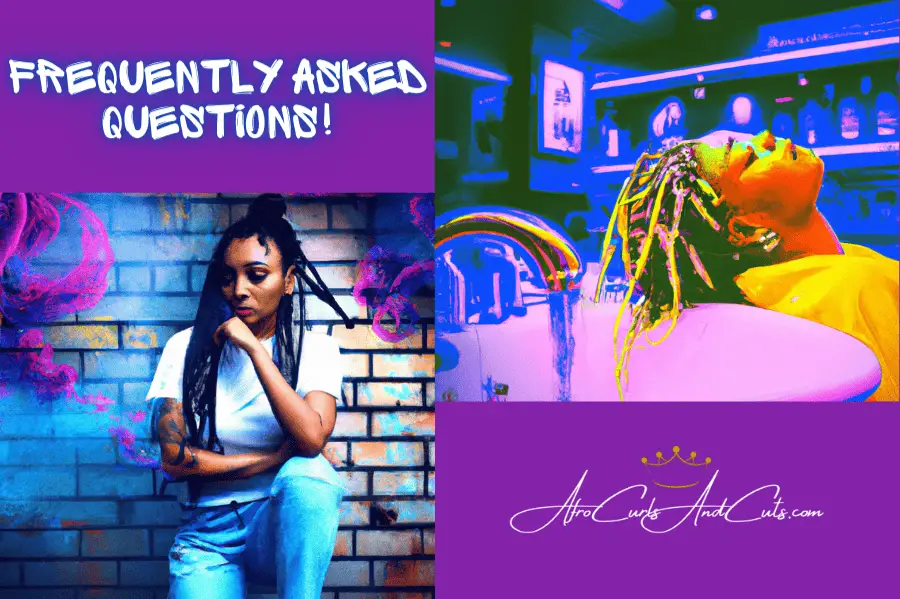 Here are some common questions on how to wash baby dreads, with answers from experts!
How do you wash your dreads for the first time?
If you're new to dreads, you may be wondering how to wash them properly. It's important to remove excess sebum and buildup from your scalp, but it is also necessary for avoiding dread rot. Here are some tips for washing your dreads for the first time:
Apply shampoo that won't strip away natural oils.
Gently massage your scalp with your fingertips to remove buildup. Avoid scrubbing or rubbing too hard, as this can damage the dreads.
Let the shampoo sit in your locs for a few minutes before washing it off.
Rinse thoroughly, making sure to remove all traces of shampoo.
During the drying process, use a microfiber towel to rid excess water then use a bonnet hair dryer to remove interior moisture in your locks.
ensure your dreads are completely dry before re-tightening them.
Following these steps will help you avoid damaging your dreads and keep them healthy in the long run.
How often should short dreads be washed?
One of your primary concerns when on your journey is to keep your locks healthy and intact. To keep your baby locks healthy, you must wash them about once or twice a week. Washing too often can lead to your dreads becoming dry and brittle, which can cause them to break.
After washing dreadlocks, how can I get rid of the smell?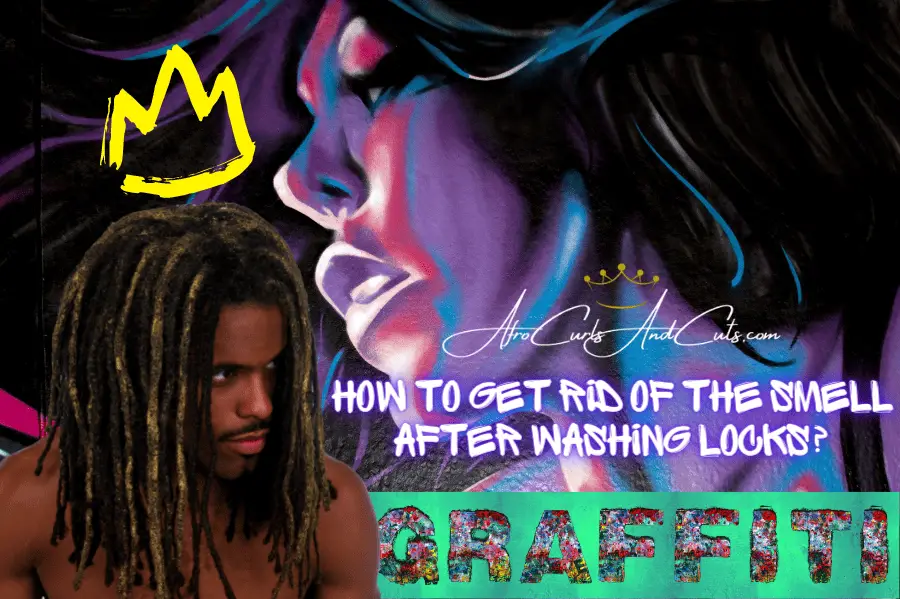 There are a few things you can do to help get rid of any lingering mildew smell after washing your dreadlocks. Here are some different ways to help with unpleasant odor:
Try a vinegar rinse: Pour some white vinegar into a bowl, add some warm water and soak your dreads for 10min. Once done, rinse the dread remedy mix out of your hair.
Lemon juice rinse: In a small bowl, mix the juice of 1 lemon with 2 cups of water. Pour it over your dreadlocks and let it sit for 10 minutes before rinsing it out.
Baking soda rinse: Mix 1 tspoon baking soda with 3 small cups of water in a small bowl. Rub the mixture into your dreadlocks and let it sit for 5 minutes before rinsing it out.
There are many products that can deep cleanse and help get rid of any mildew smells that might be lingering in your hair. Speaking of baking soda rinse… which brings us to our next question!
Should I be washing dreadlocks with baking soda?
If you have locks, you may be wondering if you should wash them with baking soda. The short answer is yes! Baking soda can help remove buildup from your dreadlocks, making them feel lighter and healthier.
In addition, baking soda will leave your scalp feeling fresh and clean. This simple hair care routine will leave you with beautiful, healthy dreadlocks.
Do dreadlocks cause an itchy scalp?
There are a few things that can cause an itchy scalp. The first is excessive dryness, the second is mildew, and the third is a greasy buildup at the base of the loc.
To relieve an itchy scalp from locks, you will need to use dreadlock shampoos designed to cleanse the scalp without stripping away essential oil. Remember that the product you use should not leave behind shampoo residue, as this can aggravate the scalp.
You can also try applying a moisturizing leave-in conditioner or oil to your scalp to help relieve the itchiness.
If that doesn't help scalp itchiness, you may need to see a dermatologist to rule out any other potential causes.
Can I use a hairdryer on dreadlocks?
Yes, you can use a hairdryer on dreadlocks, but there are a few things to remember.
First, make sure that the hairdryer is on the lowest setting.
Second, hold the hairdryer about 12 inches away from your dreadlocks.
Finally, don't focus air stream on one spot for long; instead, move it around to get an even dry in your locs.
Following these simple tips will help you avoid damaging your dreadlocks while still getting them nice and dry.
How long should dreads sit under the dryer?
After you have twisted and secured your dreads, it is time to dry them with a hair dryer. Be careful not to overheat the hair, as this can damage the follicles.
Once the dreads are completely dry, leave them in for at least three hours before releasing or unclipping them. This will help the roots to set and the locks to form properly.
If you are patient and follow these steps, you will be rewarded with healthy and beautiful dreadlocks.
How to choose a dreadlock shampoo?
When choosing a dreadlock shampoo, look for a residue-free shampoo. Regular shampoos can leave a film on your dreads that can lead to mold growth in dreadlocks.
You should also look for a sulfate-free shampoo. Sulfates are harsh chemicals that can strip your dreads of their natural oils.
Finally, ensure the shampoo you choose is suitable for your locked hair texture. If you have dry or damaged hair, look for a hair wash that will cater to your dreadlocks.
Should you use conditioner on your dreadlocks?
No, you should not use a leave-in conditioner on your dreadlocks. Using leave-in moisturizer will create problems in the long run by creating an environment for mold and mildew to grow.
Conditioner also loosens up these knots and could cause your newly formed dreads to unravel. In the early stages of growth, it's important to avoid loose hair as it's more difficult to achieve mature dreads.
Instead, consider applying wax by Knotty Boy Light Dreadlock Wax to keep your hair in place and moisturized.
Last thoughts on how to wash starter locks correctly
Washing your hair is a vital part of taking care of your dreadlocks, no matter their length. To keep your hair healthy and free from buildup, you must wash it regularly.
After correctly washing starter locks and baby dreads, you'll need to maintain them properly. Remember, the best way to keep your short locks intact is to use a dread wax designed to bind together locks in combination with a blow dryer on a cool setting.
All the tips in this article will help you achieve healthy, beautiful dreadlocks that will last. Remember, the key to success is to be patient and consistent with your washing and maintenance routine.
If you enjoy this article, please share, subscribe to our newsletter, and follow our social media! Thank you for reading!
Thanks for reading!
Newsletter
Sign up for Afrocurlsandcuts.com newsletter to be first notified of events, promotions and most importantly fresh blogs articles!