We may earn money or products from the companies mentioned in this post.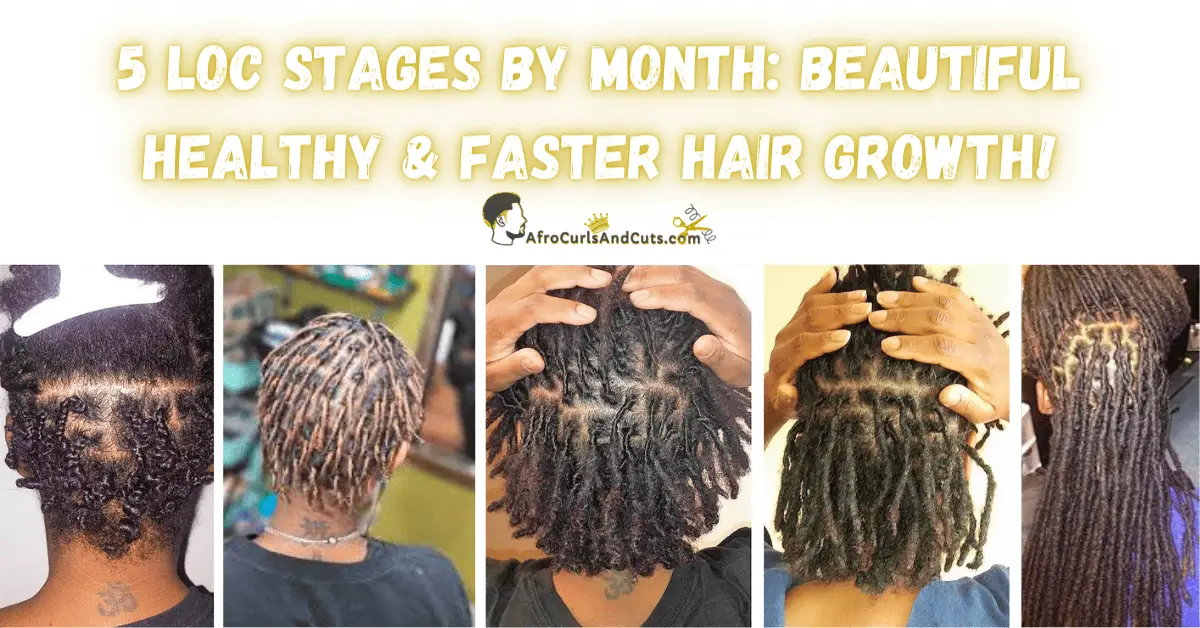 The five loc stages by month will help you achieve faster maturity and growth; learn how to better care for your locks and help them reach their full potential.
Locs are a beautiful way to express your individuality, but most people don't know that there are five stages of loc development. This can lead to frustration and discouragement for those trying to grow their locs out.
By understanding the five stages of loc development, you can better plan your hair care routine to achieve faster growth results.
The 5 dreadlock phases by month article will walk you through what's going on with your locks from beginning to end. We'll break down the process of growing dreadlocks into easy-to-follow steps.

Items you will need to maintain loc stages: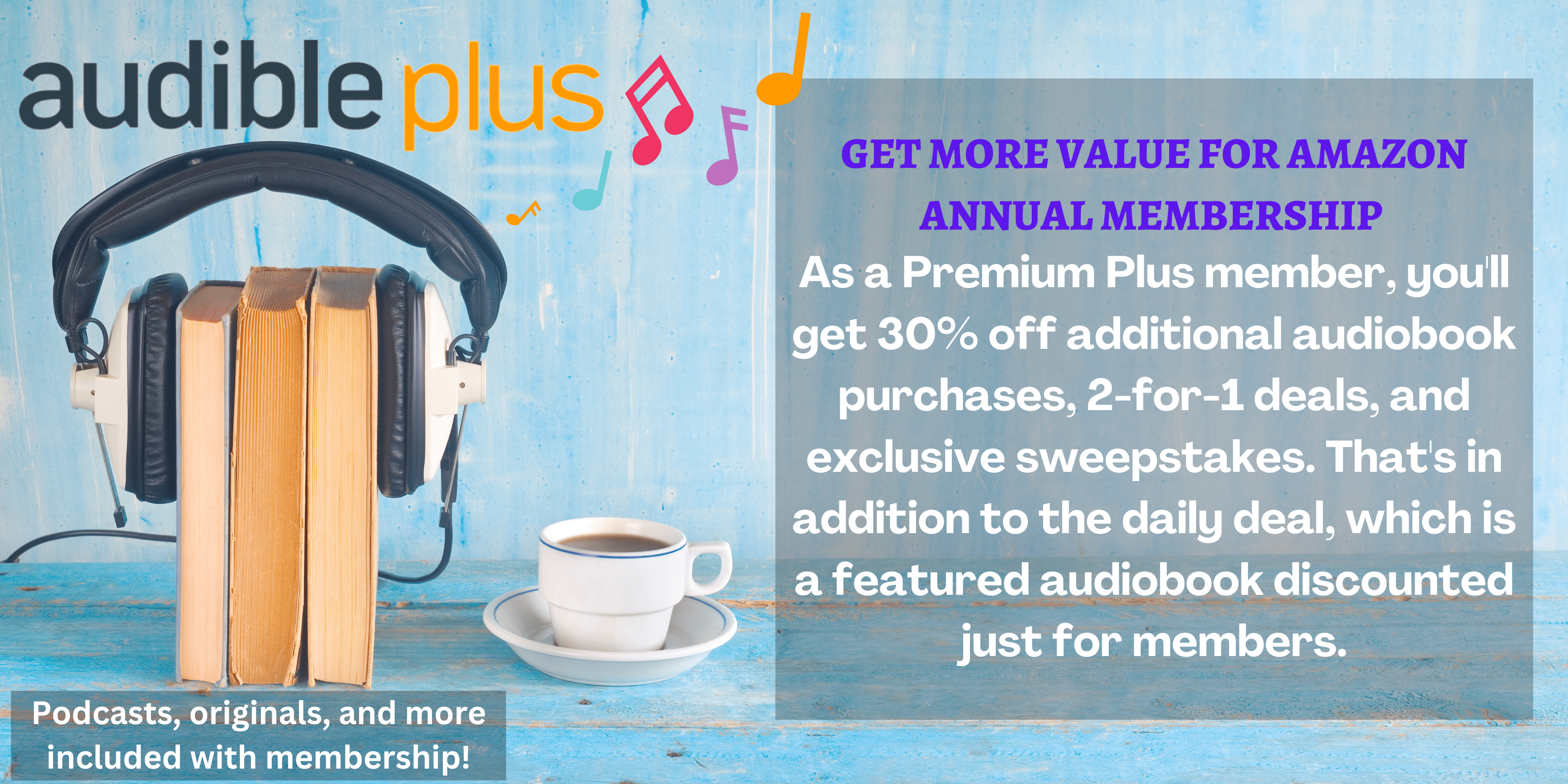 Click here for Amazon Annual Audible Membership!
What are the five stages of growing locs?
There are five different stages of locs that your hair will go through as it matures. The five stages are:
Starter phase (months 3 – 6)

Budding phase (months 6 – 12)

Teen phase (months 12 – 15)

Mature phase (months 12 – 18)

Rooted phase (months 18+)
Each stage has its unique characteristics and timeline. The entire process of getting locs can take 18-24 months. Once completed, your locks will be thicker, longer, and stronger!
Five stages of locs journey:
When starting your locs journey, you don't know what to expect. You'll go through many changes, and each stage will have its unique challenges.
Whether it's dealing with a hair care regimen or slow new growth, there's a lot to learn along the way.
The five stages of locs are: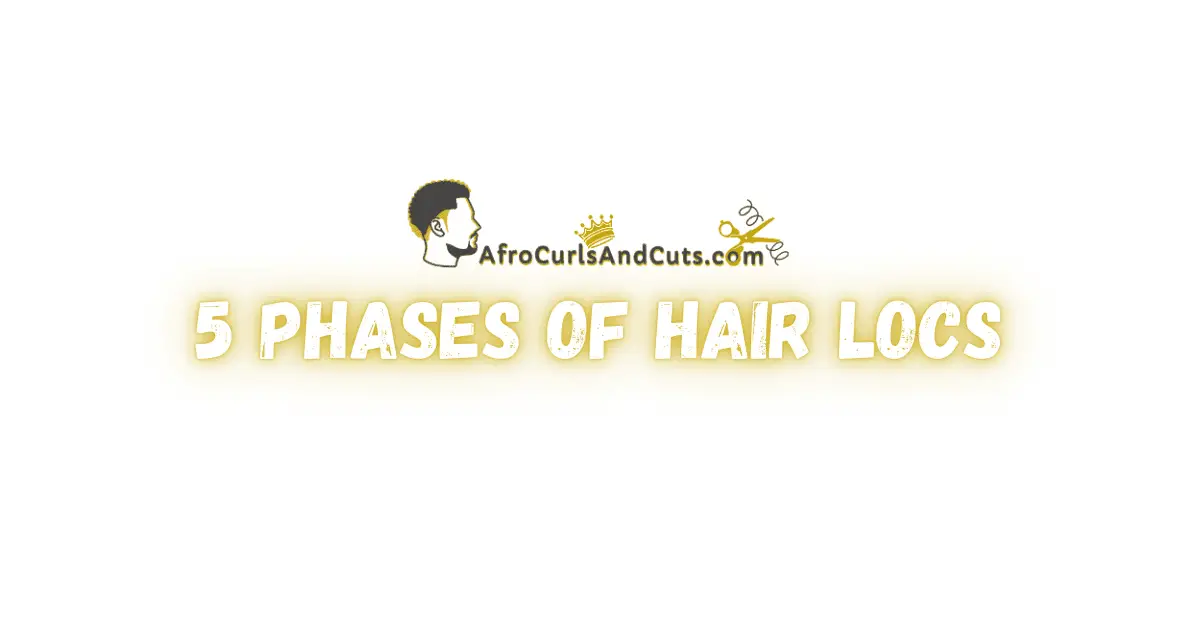 Starter baby stage of the Loc journey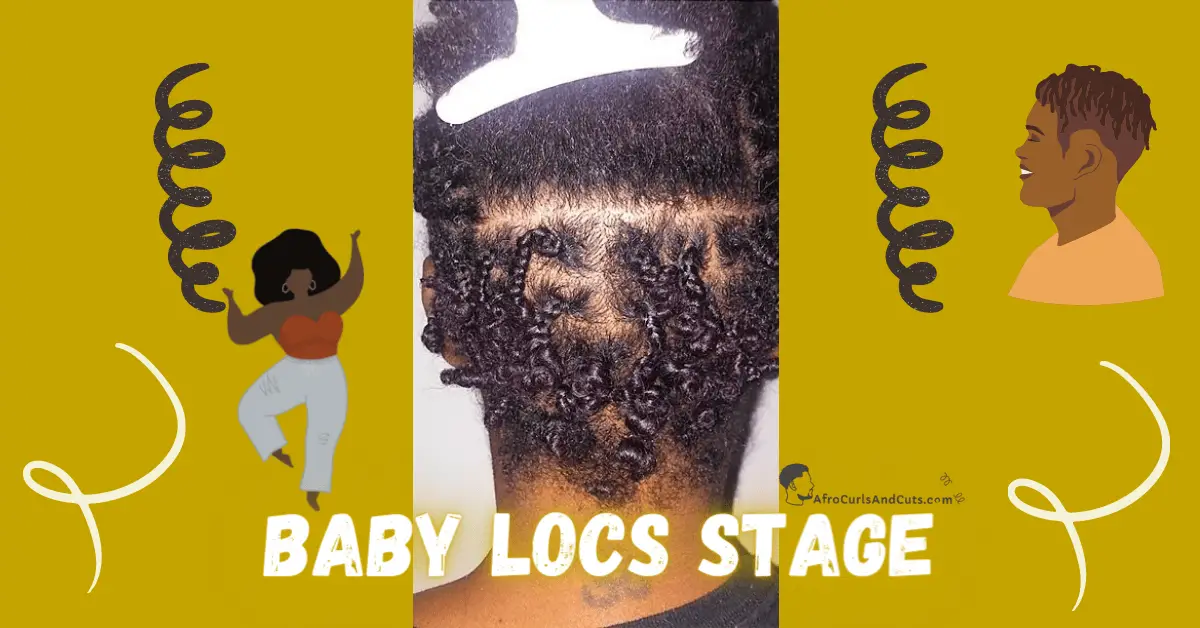 The baby locs, or starter stage, are the shortest stage of the loc journey. It usually lasts 3-6 months, depending on your hair type and how fast it grows. This is the time when you'll start to see the locs form.
Remember that your parting pattern should be decided during the starter locs stage. Your journey will be full of twists and turns thought-out the different stages, so it's essential to have a plan!
The stater loc styles associated with this phase are braids, sponge twists, comb coils, two-strand twists, and palm rolls.
While in the starter locs phase, it's essential to keep the hair moisturized and tied with a satin scarf. Doing so will help make hair grooming a lot simpler.
The baby stage of growing locs a time of exploration and experimentation. You'll try different styles to find what works best for you. Be patient; this is just the beginning!
While the starter stage is a more manageable style and prevents breakage, it's important to know this will be the slowest growth stage.
Budding stage of the Loc Journey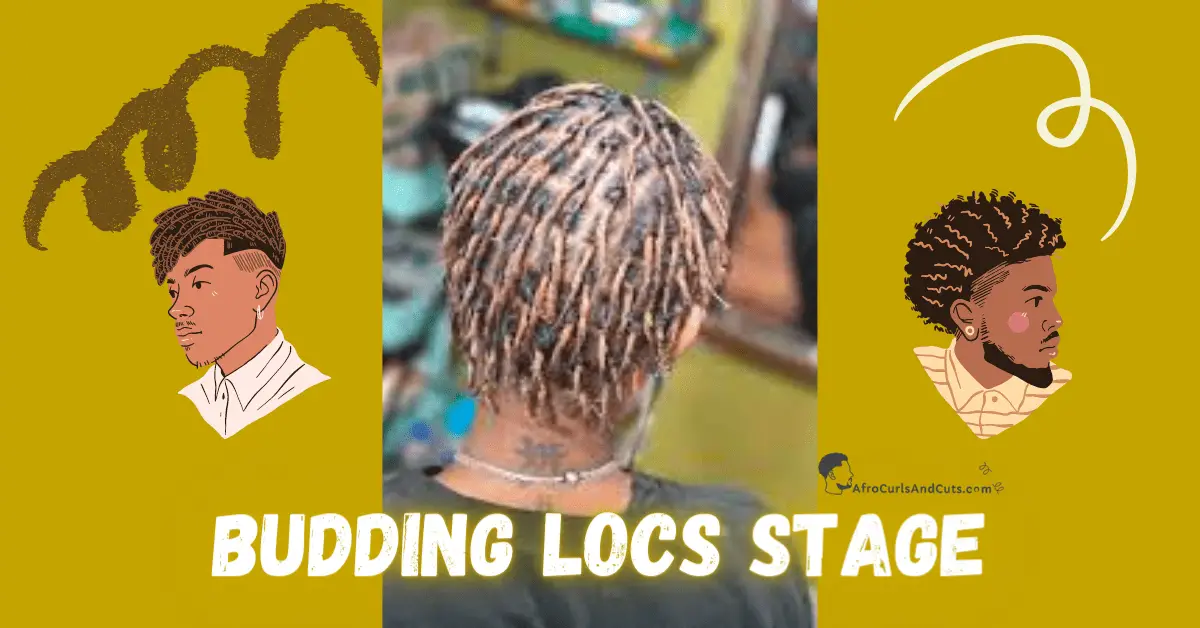 Budding locs is the second stage within the of the loc journey. This is when you will see less unraveling but more fuzz, fluff, and hair growth.
This is the phase where your locs start to transition from a smaller pattern to a bigger pattern.
You'll also notice that during the budding stage, the lines in your hair will be less defined if starting patterns of baby locs were twists or braids.
Keep in mind, that looser hair textures loc slower than tighter hair textures. This is due to hair texture, climate, and the amount of manipulation done to the hair.
Regular shampooing is a must during the budding stage, especially if you have an oily scalp. A residue-free shampoo will help prevent buildup, weak spots, and product residue.
During the budding stage, you should also continue to moisturize your hair with oil or locs butter. Keeping your hair moisturizer help avoid weak locs and prevent breakage.
During the budding phase, it's crucial that you practice a gentle retwisting routine; it will help stimulate new hair growth.
You'll experience more frustration with budding stage locs, but stay encouraged! This is all part of the journey.
Teenage stage of the Loc journey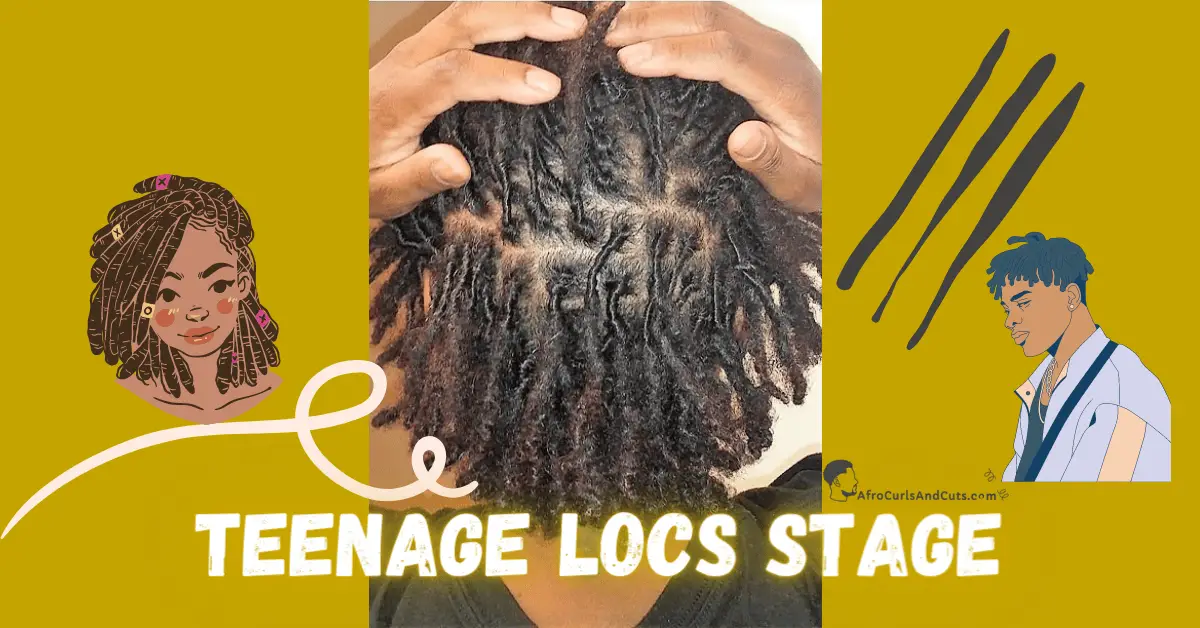 The teenage stage of locs (A.K.A the 'ugly' stage) can be a challenging time for many people. This is because your locs hair grows and starts to take shape and can be very unruly.
However, it is important to remember that this is just a phase, and your locs will eventually settle down. Your hair growth will increase during the 12 to 18 month period.
When your locs are growing lengthwise and have doubled in size, it can be tough to keep up with the maintenance. Teenage locs are more difficult to care for than the baby loc stage and budding start locs phase.
Your hair should be washed with sulfate-free shampoo 2 to 3 times a week during the teenage phase. To maintain healthy locs, you should also use loc wax to keep them styled.
This will keep your locs clean and moving in the right direction. Be sure to continue your deep conditioning routine to minimize the risk of breakage.
I urge you against frequent retwisting, which can lead to thinning locs and breakage.
It may also be tempting to retwist your new growth on your own, but be careful not to overdo it. I would suggest seeking a loctician to help manage your new growth and reduce the risk of complications.
The teen stage is high maintenance and requires a lot of time and effort, but it is well worth it in the end! Be patient and remember that your locs grow at their own pace, don't get discouraged with the loc process.
Mature stage of the Loc Journey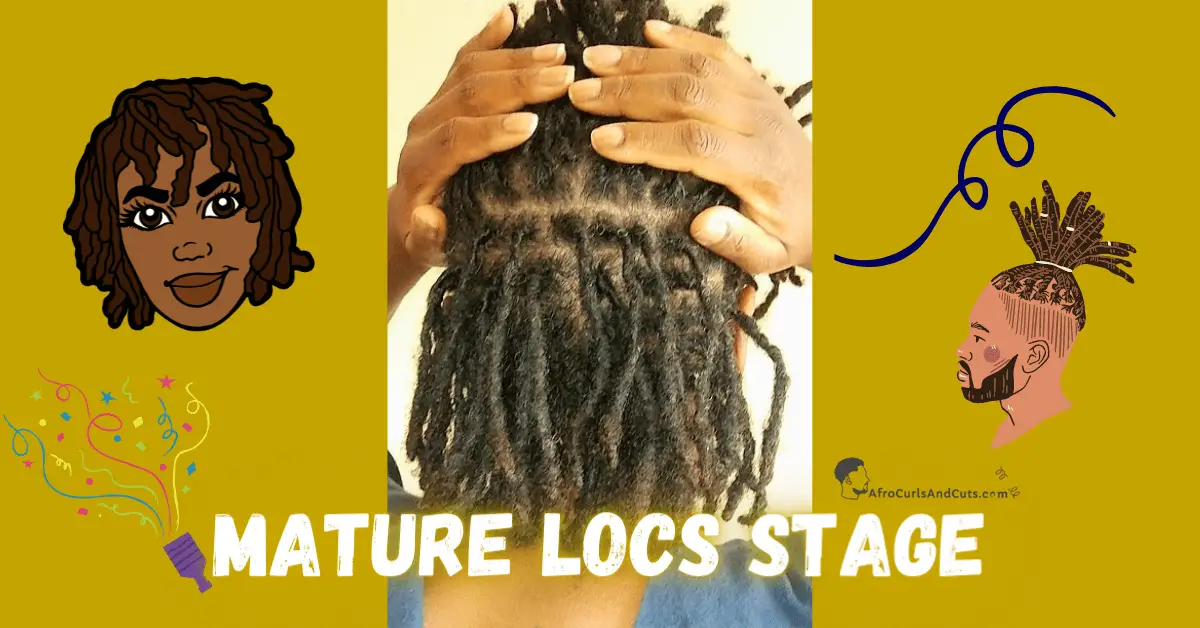 One of the most common questions is, "when will my locs be mature?" The answer to this question is not as straightforward as you might think.
Everyone's locs mature at different rates, depending on various factors such as hair type and starting point.
For example, people with looser hair textures tend not to reach the adult stage as fast as those with tighter hair coils.
The mature phase can occur as early as one year into your journey but is usually 15-20 months.
You'll know your locs are mature when they are no longer taking on different forms. They'll look more dense, uniform in shape, and lie flat down easily.
At this point, you should be washing and keeping your locs healthy with natural oils, shea butter, and other conditioners. The ends of your hair should also be fully locked compared to the different stages of locs.
The mature stage (adult stage) is when your locs are finally long enough to do whatever style you want. You can braid, twist, coil, or interlock them in various ways.
However, keep in mind that regular trimming is encouraged to control deterioration at the ends of the strands. Doing so will also reduce excessive frizz, and split ends and keep your locs looking healthy.
Unlike starter locs and teenage stage, and the mature stage doesn't require as much TLC. With proper maintenance, your locs will be healthy and strong!
Rooted stage of your Loc journey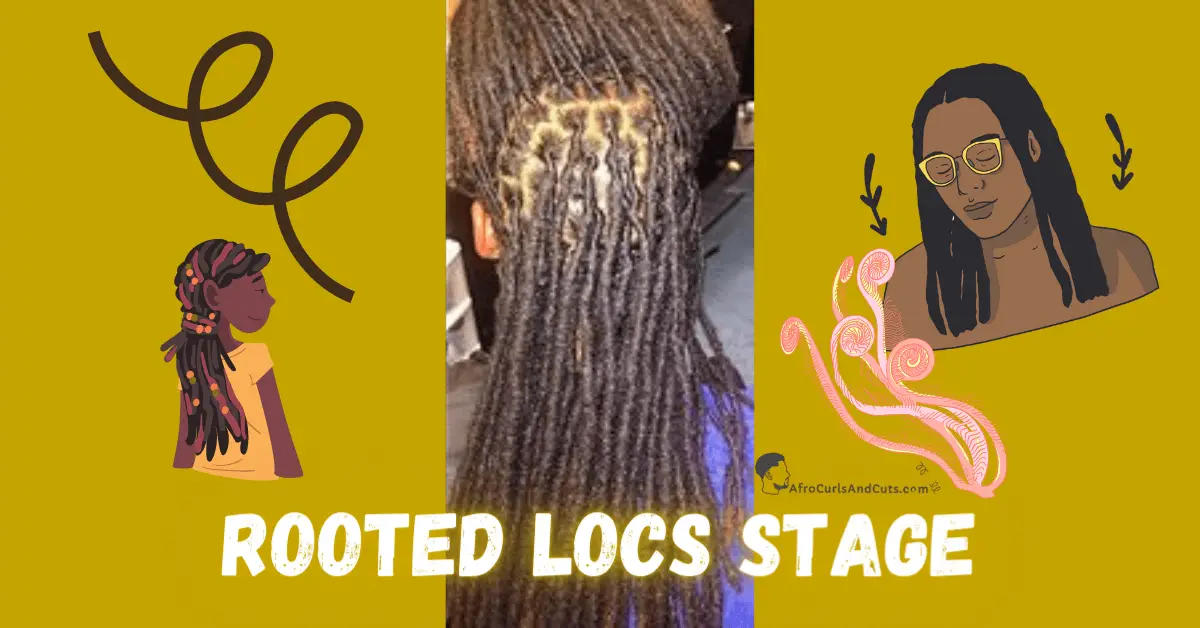 It's no secret that the rooted stage takes a few years to reach completion; the entire stage can take 24 months or longer. Again the time frame isn't set in stone, it all depends on hair types and the care you give your locs.
Your locs will hang differently in the final stage, and they feel heavier because of the new growth and thickness.
At this point, you'll be able to wear your locs well past your waist if that's your goal.
The key to healthy dreadlocks is to keep them moisturized and conditioned. Use natural oils like Argan oil and avocado oil to keep your hair looking and feeling great.
The organic conditioning routine should be done once or twice a week, and this will ensure your locs keep looking and feeling their best.
The rooted stage is the light at the end of the tunnel – it's the final stage of the loc journey and usually marks the end of slow, frustrating growth. Your patience has paid off, and you can now rock your locs with pride!
If you want to learn more about different methods for starter locs that are best for you, then check out this blog post: Starter locs for short hair – fast track to mature stage.
FAQ of 5 Loc Stages by Month: Healthier, Faster Hair Growth!
Here are a few of the most common questions I get about the 5 loc stages by month:
Does soft hair take longer to Loc?
Because fine hair does not coil or have the same tight as wound springs in coarse natural hair, the locking process in soft hair will take longer and need more patience.
The issue often occurs with people with straight to mixed hair textures – the hair doesn't naturally coil, so it's more difficult to form the loc.
However, this doesn't mean straight, and wavy hair types can't successfully achieve locs, only that it will take a bit more time and effort.
The 5 stages (baby stage, budding stage, teenage stage, mature stage, and rooted phase) are still the same; it's just that your experience will be a little different.
Can your hair lock in a month?
The short answer is no; you can not reach full loc maturity in one month. 
Growing healthy, beautiful locs takes commitment and patience, and the process shouldn't be taken lightly.
Not only do they require regular upkeep and maintenance, but it can also take a long time for them to reach their full potential.
According to experts, the average person can expect their locs to mature from 10 months to two years.
Of course, this is just a general timeline – everyone's hair is different and will grow at different rates.
Can biotin help make my locs grow healthier?
You can easily make your locs grow healthier by adding biotin (B7) to your daily routine. The properties of biotin help stimulate hair growth while also keeping your locks strong.
Usually, 5000 mcg is enough for daily supplementation, but you may need to adjust this dosage depending on your individual biotin needs.
You can find biotin in pill and liquid form at most pharmacies and health food stores. For your convenience, consider Amazon.com for the best prices on biotin supplements.
In order to get the most out of your biotin supplement, also make sure you include other important hair growth vitamins and minerals in
Can adding Foilfort to your routine grow your locs faster?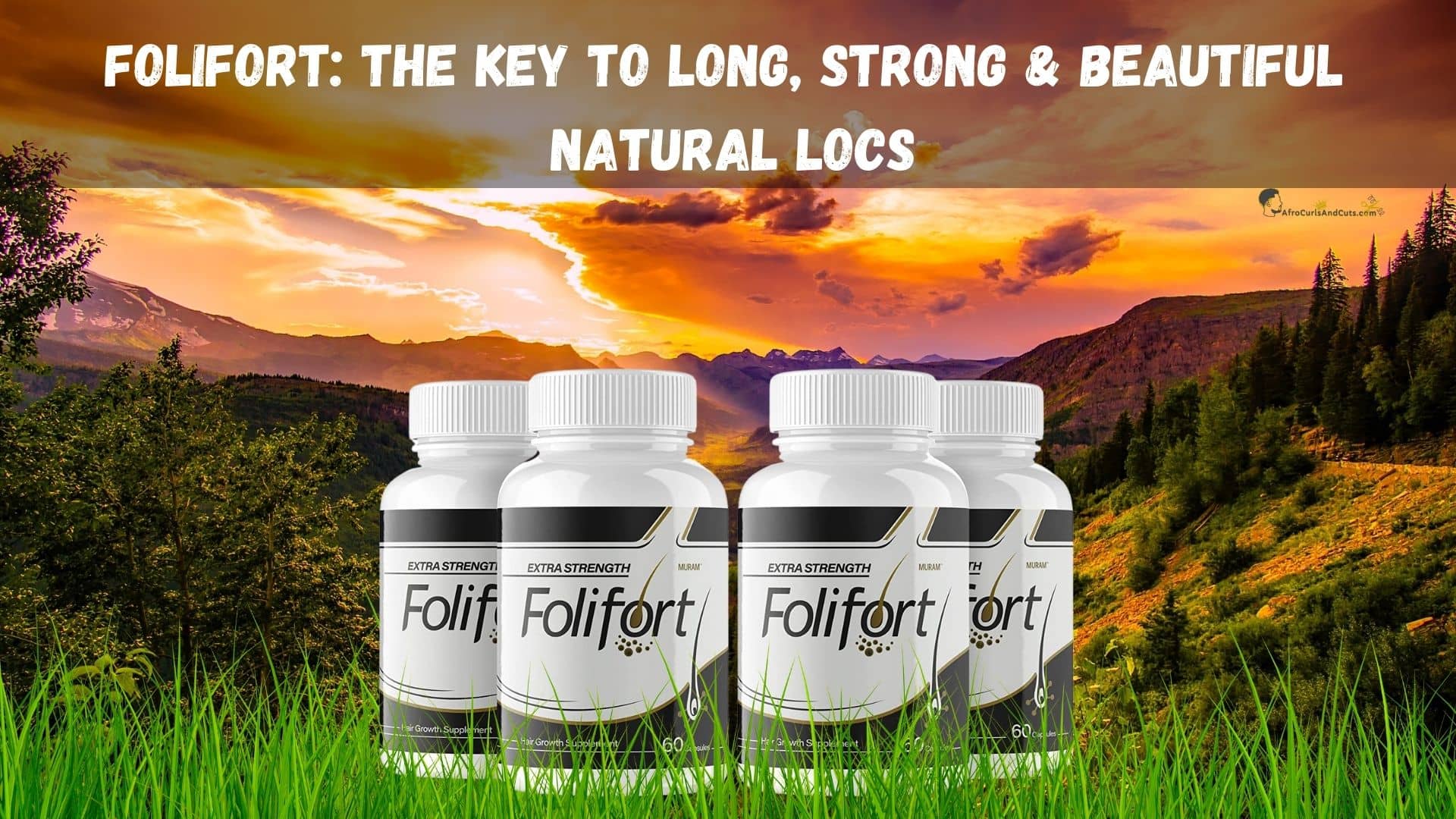 Foilfort is a natural supplement that helps locs grow faster and stronger. The patented formula contains clinically proven ingredients to stimulate hair growth and prevent hair loss.
Foilfort extra strength natural supplement is also rich in nutrients that help locs reach maturity faster. The organic hair growth supplement is ideal for all hair types and can be used by people of all ages.
The unique blend of ingredients in Foilfort makes it the most effective hair growth supplement on the market.
If you are looking for a way to get quick results and fuller, stronger locs Foilfort is the answer. Try it today and see the results for yourself. You won't be disappointed.
Final thoughts of 5 Loc Stages by Month
When you are through the five-phase of growing locs, it is important to know that there is still more work to be done.
Like with anything else in life, if you want to keep your locs looking and feeling their best, you will need to put in the time and effort.
Regular maintenance and upkeep are key – this includes washing, conditioning, moisturizing, and styling your locks.
Remember, your locs will reach full maturity at different rates. However, you can speed up the process by using supplements like Foilfort and Biotin and following a healthy, balanced diet.
I hope this article helped answer some of your questions about the five loc stages by month. If you have any other questions, please don't hesitate to leave a comment below or contact me directly. I'm always happy to help!
Don't forget to share, like, and subscribe to AfroCurlsAndCuts.com.
Newsletter
Sign up for Afrocurlsandcuts.com newsletter to be first notified of events, promotions and most importantly fresh blogs articles!