We may earn money or products from the companies mentioned in this post.
Can a Barbershop Still Survive Without Using Mobile Payments?
You've likely heard rumblings in the news of a nationwide debate whether to switch from cash only, to mobile payment at barbershop. The chatters to switch have increased in an effort to reduce the spread of the virus in barbershops.
The rumbling has made its way into major chain barber shops… However, it seems smaller barbershops have turned a deaf ear or haven't gotten the memo. Privately owned haircut shops have a long history of being slow in adjusting to the times.
The old setups of cash-only barbershops are outdated and will be difficult to continue during a pandemic. Technical advance has made it easier to accept mobile payments, credit and debit cards, and other "cashless" forms of payment.
At the same time, you might not be sure as a barbershop owner if you're ready for the switch just yet.
Without a doubt, there is no better time to enhance your business with mobile payment options at your barbershop. Cash is on the way out (in a big way) and customers are looking to pay with their favorite apps… or – at the very least – their plastic debit or credit cards.
What is mobile payment at a barbershop?
Mobile payment at a barbershop is the action of paying for a haircut service with a payment app. In such cases, the payment for the service is made with apps like Cash App, Zelle, Venmo, or PayPal. The payment apps are funded through secured personal bank linking.
Now that we have a clear definition of how mobile payment apps work at barbershops, let's tackle other important information.
Here's a quick breakdown of why you'll want to think about making the switch to these mobile payment systems. The benefits of adding payment apps to your barbering business can be rewarding for both you and your clients. Let's look at what pay apps bring to the table… and I'll give you a couple of tips and tricks for rolling this payment system out seamlessly in your barbershop.
Looking to become a barber? Check out our article on the top 5 online barber schools for beginners!
Times, They Are a Changing – And Changing Fast!
According to information published by the US Small Business Administration, consumers are using cash in only 26% of all transactions – and this number has been dropping steadily over the last five years.
Even more incredible than that, is that 17% of small business owners say they are considering not accepting cash at all.
Think about that for a minute.
17% of small businesses in the United States today say they might not accept cash as payment going forward. This is due to how infrequently their customers use cash as a payment method.
On the flip side, 29% of all transactions in the US are being conducted with mobile payments – and this number is jumping rapidly annually.
By 2023, experts believe 1.31 billion people will be using mobile payment apps as their primary payment option. This would essentially push credit cards (and then cash) as a backup payment option.
Times are changing, and they are changing fast! If you own a barbering business, you cannot afford to drag your feet, it may cost you your shop.
Are all barbers cash only?
Not all barbers subscribe to the cash-only payment method. You'll find, barbers who cut hair at chain barbershops accept pre-paid debit cards or cards from payment systems issued by financial institutions.
This is a good sign for customers who prefer to pay with a mobile app at a local barbershop. When small barbershops start making the transition to cards, you can expect payment apps will follow to keep up with customer demands.
However, I should point out that freelance barbers are often ahead of the game. Barbers who work for themselves have to learn to be creative, this includes how they accept payments! Though they may not be stationed in a traditional barbershop, they're good at what they do… And best of all they will let you pay with your phone.
A freelance barber may be a good alternative option if you're determined to find a barber who accepts mobile pay as a form of payment in their barbershop.
The hidden danger of cash only barbershops
Whether intentional or inadvertently, one danger that occurs with a cash-only payment system is the failure to properly calculate taxes. No matter where you're cutting hair within the United States, Uncle Sam expects a piece of the pie. This could result in major problems if income from cutting hair isn't recorded properly.
Think about it, if a customer pays with cash, there is no real paper trail for the IRS to follow. The problem occurs when the barber reports their income whether quarterly or yearly but has no way to prove earnings. If a barber is caught hiding portions of their income, they will be penalized with jail time and a hefty fine.
Don't get me wrong, I get why barbers only take cash and avoid debit and credit cards. Banks are wary of small barbershops' unreliable income, and often reluctant to provide payment card machines due to minimal sale numbers.
However, in 2021 do barbers really need a debit/ credit card machine to operate and collect money for their services? No, they don't… By allowing mobile payment like Cash App, PayPal, and Venmo in barbershops, you'll satisfy clients but also avoid tax problems later on.
Highlighting the Benefits of Mobile Payment at Barber Shop Tools
There are some significant advantages to leveraging mobile payment at barbershop tools right now.
For starters, the mobile payment "merchant accounts" are effortless to sign up for and are (often) available 100% free of charge. Their payment structure is usually attached to a small percentage of every fee process (just like a traditional merchant account, though often at a significant discount.)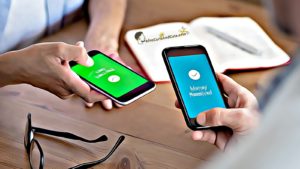 Secondly, you do not need any extra hardware to get up and running with mobile payment tools in your barbershop.
You can begin accepting mobile payments on your smartphone device, secure mobile payment "card readers" for free from these payment processors, and can often integrate mobile payments directly into your POS (Point-of-sale) system as it exists already.
Finally, there's new research showing that mobile payment acceptance actually encourages customers to spend a little bit more than they might have otherwise.
Because they don't actually have to hand over any cash (or think about how much money they have in their wallet) they are more likely to take advantage of upsells and purchase products they wouldn't have otherwise.
The cashless/cardless transaction feels really detached right now, and there are a lot of opportunities for hidden profits to be mined in this area by savvy barbershop entrepreneurs.
Additional benefits of Mobile payment
Reduce barbershop robberies.
Eliminate the spread of germs.
Reduce the risk of counterfeit money.
These are things that hinder small independently own barbershops daily. By adding a mobile app payment option to your barbershop, you will discourage criminal opportunists from targeting your clients and your shop. This will also eliminate hand-to-hand money exchange which is an incubator for germs.
How to Seamlessly Make Introduce Mobile Payments at Your Shop
The first thing you'll want to do when getting ready to set up mobile payments at your barbershop is to find a mobile payment processor… Of course, one that makes sense for your operation.
You'll want to look at:
Startup costs (if any)
Transactional fees
Equipment fees or charges
… And everything else you would have considered before signing up for a traditional merchant account.
From there, you'll want to set up your existing POS system to leverage the mobile payment processor or modify your payment acceptance process and workflow to make it really easy.
Maybe that means downloading a mobile payment app on your smartphone and keeping it handy whenever you finish a cut or shave. Maybe it means buying a dedicated iPad or tablet to run the mobile transactions on and installing it "semi-permanently" over by the register.
At the end of the day, the world is rapidly moving towards a more and more cashless kind of society.
Conclusion
A mobile payment option at your barbershop may be just what you need to take your business to the next level. We likely won't ever see the day where cash is gone completely, but it's important to offer your customers as many options as possible to pay you for your services – especially in the super competitive and uncertain business times we are living in right now.
Jump on the mobile payment train today!
There you have it… I hope you found this article about mobile payments in barbershops helpful. Now show your appreciation by liking, subscribing, and sharing this post… Let's keep building our community together! Also, read the other article from AfroCurlsandCuts.com.
Newsletter
Sign up for Afrocurlsandcuts.com newsletter to be first notified of events, promotions and most importantly fresh blogs articles!