We may earn money or products from the companies mentioned in this post.
Barber shop business ideas: Best tips to get people coming to barbershops and keep them coming back!
I think most people would agree with me when I say: Finding good barbershop marketing ideas and tips isn't necessarily hard, but it can be challenging to know how to act upon them.
Everyone knows that they should make their business visible, but how does one do this?
This article will show you not just possible solutions but easy-to-apply methods for solving these problems. You'll learn at the end of this article how to implement barbershop marketing ideas into successful strategies. This guide will teach you how to advertise your barbershop online, but we'll also cover the best offline marketing ideas for a barbershop that you can start using now.
Looking to become a barber? Check out our article on the top 5 online barber schools for beginners!
Google Maps is a great place to advertise your barbershop.
"76% of people who manage a local search on their smartphone visit a physical location within 24 hours, and 28% of those searches end in a purchase." says ThinkWithGoogle.com
The place where most people search for local services? Yup, you guessed it! Google Maps. Advertising your barbershop on Google Maps can get customers in nearby areas from the internet. One of the most popular marketing ideas for barbershops is incredibly underutilized by barbers as a strategy.
You might think it's hard to get your barber shop on Google Maps, but it's easier than you think. It's free to list your barbershop on Google Maps. That's a great deal of advertising for a free service.
Google my Business account setup
To start, you will need to create an account on the Google My Business website. Google My Business is an online tool where business owners can claim their listings on Google Maps.
To add your barbershop to Google Maps, you'll first need to fill in your business details through the verification process. Google my business allows you to add photos, let people know your operating hours, and fill out other vital information about your company. Once it is approved, you'll receive a code to validate your validation code in the mail.
View this video to see the complete process and find some more information:
Once your barbershop shows up on Google Maps, ask your customers to leave an experience review for the listing. Reviews help draw people in, but they also assist and allow customers to scan your barbershop listing for important information quickly.
Remember, building trust and lasting relationships with your customers is good barbershop marketing. That is why it's essential to reply to the reviews they post about your barbershop and services.
You need to show your clients that you value their opinion, even if the reviews aren't positive. Avoid offering incentives for consumers to write reviews and do not write fake reviews about your shop. Doing so may lead to your listing being removed from Google Maps.
Google maps ranking
Businesses are ranked and listed on Google Maps based on various factors from proximity, customer reviews to other key data points. Investing in Google Ads for Google Maps will promote your barbershop to the top of local results. This could be the difference between a few customers to having a line of people outside your door.
Advertising your barbershop on Google Maps is one of the best ways for barbers to get their businesses in front of customers. When done right, it's an excellent free method that should be considered using. Being at the top or bottom of googles ranking algorithms is vital to your business because it determines where people will be directed after submitting a local search.
Barbershop Marketing Ideas with an online booking system
Provide your clients with the option to book their next haircut online! Booking directly through our website is one of the earliest methods for clients and most demanded services.
Your customers will be satisfied because they will be able to book an appointment for themselves. This technique will help you get more appointments. Your clients will be able to see available spots in real-time.
It is easier for them to schedule appointments because they have to go on their phone and find a time slot that works for them. This will help you avoid getting texts and calls and allow you to focus on cutting hair.
That's why this is a brilliant barbershop marketing idea! It can help your barber business grow while relieving you from the stress of scheduling and client management.
This is what your Online Booking page may look like. It took me around 30 minutes to set up my account with Setmore. Setmore is the best and free booking app for barbers. Adding a barber shop's name, logo, prices, opening times, services, and you can add a picture to the page that will make it more inviting.
Creating an account
To create a Setmore account, download the latest app for your mobile device. To install it, search for the app in Google Play or the Microsoft Store if you are using a Windows, Android, or Apple phone.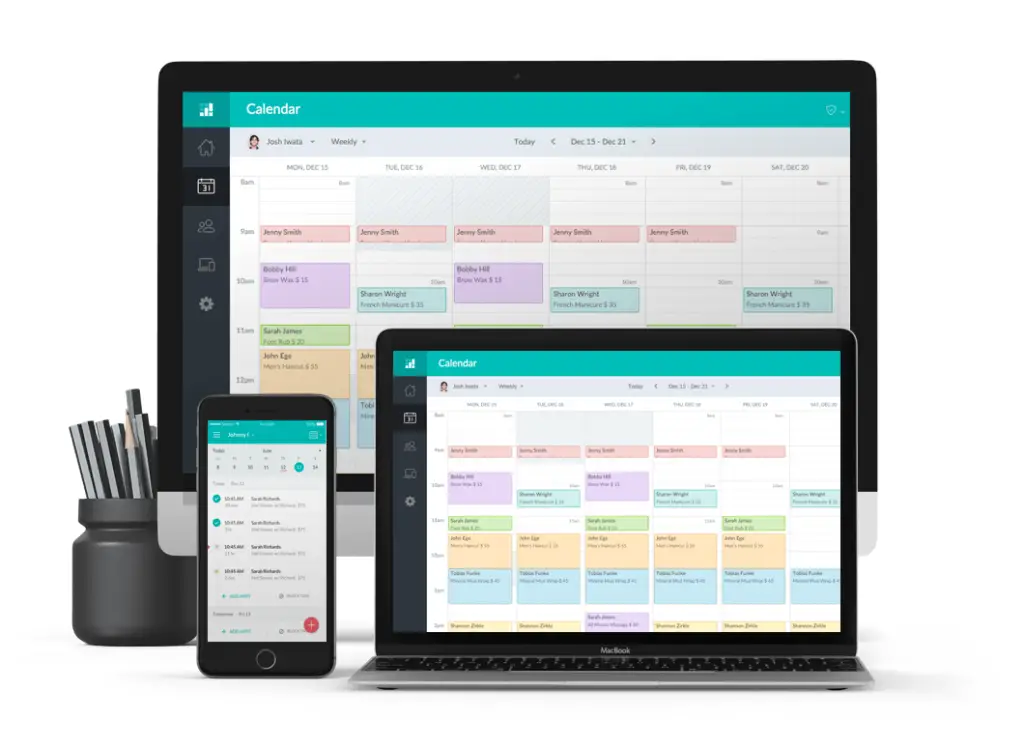 The simple step of adding a "Book Now" button on social media channels can be the key to driving traffic and gaining more online bookings. Social media profiles on Instagram or Facebook, add them to your website, and share with your clients. You can also use Setmore to reach out and let your customers know about all the booking they can now do online.
Save all changes on your Facebook page to make the "Book Now" button active. Keep in mind your Facebook business page will display it to visitors. Save all changes on your Facebook page to make the "Book Now" button active. Keep in mind your Facebook business page will display it to visitors.
Once you've saved a change on your Facebook business page, the "Book Now" button will be available and displayed to anyone visiting your profile. This is what it usually looks like:
Design a logo for your barbershop.
A compelling logo is a practical part of any barber's marketing strategy. The key to having a memorable brand is trust and recognition. A good logo has an elegant, refined, and powerful symbol connected to people's memories.

For example, think of your favorite brands and try to envision their logos in your head. It really works, right?
You may be wondering how to get a logo if you don't already have one. The easiest way is to get one professionally designed. A professional logo can be a little pricey, but it's worth the investment if you want to start a barbershop.
Nike's iconic swoosh logo cost $35, Twitter's first logo cost less than $20, and the original Coca-Cola logo was free.
One strategy for getting your hair barber logo designed cheaper is to use an online service like Fiverr. The online platform where freelance provide services in graphic design and written content is a website similar to Upwork. The downside is that you cannot guarantee whether or not the freelancer who accepts your job offer is a professional designer.
You can create a barbershop logo yourself, entirely free. The process of creating a logo for your barber brand is easy and takes a few minutes. There are many logo tools out there, but only a few allow you to download your brand design in high resolution for free. If you plan to print the images, you will need to provide high-resolution files.
Let your barbershop logo tells your story
One of the most vital facets of marketing for a barbershop is its online presence. I will give you some free tools that can help make the promotion of your shop easier. That's how I found the site Hatchful by Shopify, a free logo maker that is easy to use and offers customizable logos. That's pretty cool, right?!
To make your logo for a barbershop, start by selecting a business category. For stylists, that's the Health and Beauty category. Select the appropriate category and enter your shop name and slogan. Maybe cool taglines like "Best haircuts in the city" or "Perfect cut for less" are clever little lines that you can add to the logo to draw people in.
Now, you will choose a visual style for your logo. The strong, bold, or vintage styles are best when creating a barbershop logo.
Of course, you will finalize by choosing where you want to put your logo. A brand logo usually is placed at the website header and or social media avatar or embedded in your photo for your social feeds. Your logo file sizes are determined by the options you choose, so make sure to select appropriately for all that apply.
You can now choose the logo for your barbershop and personalize it to fit your style.
Keep in mind, you can change the colors, font, icon, and design. A good logo is recognizable in both small and large print. Think about it, just because the size change doesn't mean the image resolution should be distorted. If you do have issues with the appearance of your business logo simply save and refresh your browser.
After it is completed, you'll receive all the files for your logo in your email and will be available for download.
Build your brand with Barber shop advertising slogans.
One of the best ways to build your barbershop brand is with a catchy slogan. But you have to make sure it also has an excellent call to action.
An advertising barbershop slogan is used to build a barbershop brand and connect with your barbering customer. As one of the barber marketing ideas, barbershop slogans make your barbershop memorable.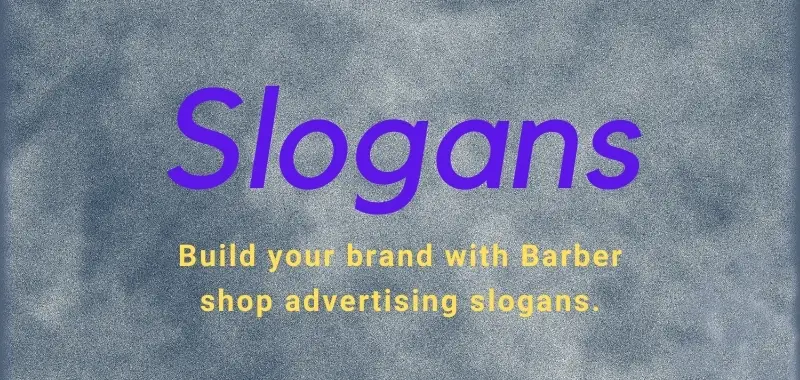 The correct slogans can sell barber shop services and barbering products and can be your shops marketing strategy.
The barbershop marketing slogan can sometimes be attracted to your logo. You can even use your slogan as a marketing pitch for your social media to bring attention to your barbershop.
Barbershop marketing slogans should have the brand identity and culture of your company. Keep in mind; barber advertising slogans can be as straightforward or as creative as you want to make them.
Barbershop advertising ideas can have a huge payoff if they connect with your customers and create a culture. So, keep your marketing slogans simple, catchy, and relevant to your brand.
Showoff Your Barber Portfolio
A niche website and or social media are the perfect outlets for barbers to demonstrate their work daily. However, your old post can go unseen after a while. As new content is produced on social media, the old ones get pushed further and further down.
To solve this issue, consider creating a website for your barbershop. With a bit of time and some basic computer skills, you can save yourself time and money by designing your website. Many site-building tools on the internet are easy to use and affordable, created especially for non-technical people.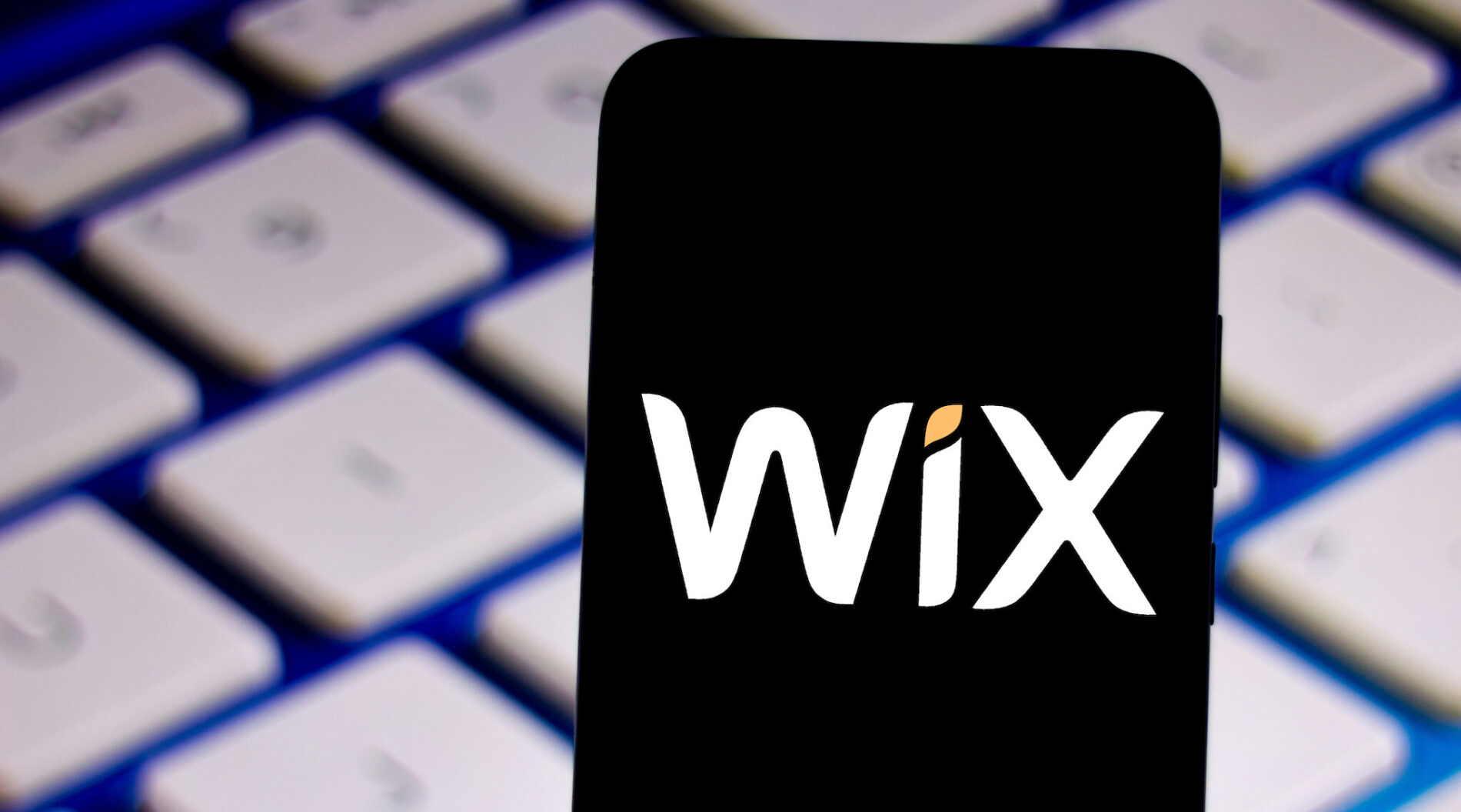 The barbershop's focus on making an impression makes it a powerful marketing strategy. Wix (Wix Affiliate link) is a perfect site builder site to get the job done.
You can add your barbershop logo, address, and company information. Create photo galleries that will make it stand out.
The customizable web building allows you to add your barber shop logo, address and write about your business. You will be able to create a dedicated gallery section on your site for the pictures you take in no time.
Add your personality with elements
You can even add unique elements to your websites like Google Maps or a booking page from Appointfix in just a few clicks. Which is convenient and great for people who don't know very much able building sites.
You can choose the free plan from Wix to set up your website, but it is better to use a domain of your own for your website. You can purchase a website domain from BlueHost or Google domain! The cost for an aged domain is about 12 dollars… which could help you rank on google and attract the right audience for your barber brand.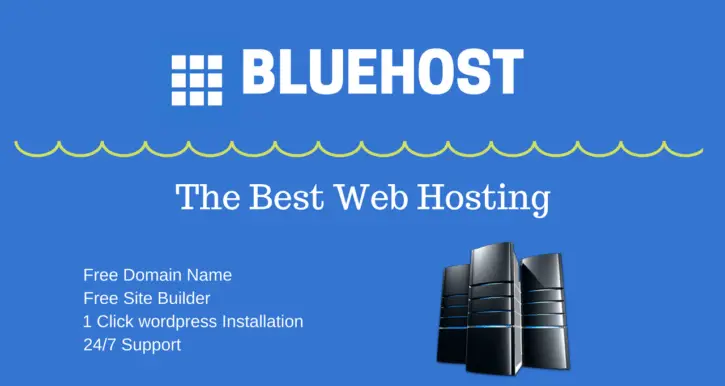 Consider making choosing a domain name that is easily memorable for future clients. Websites are a powerful tool for building your personal brand and getting your message across to potential customers.
Use point of purchase marketing strategy for barbering products
One way to get people addicted to your products is by using your barbershop's point of purchase technique. The point of sales technique strategically places products and services in direct view of your clients.
The point of purchase is a term used by marketers and retailers to describe how products are placed in grocery stores or advertised. Barbershop owners can also use this marketing method.
The purpose of this sales strategy is to connect the consumers with specific goods without interference. This will increase your sales rate when your services are in your customers face.
When you point your clients to good products and services, they will remember your barbershop and even barber faster. The point of purchase (POP) is an excellent barbershop marketing idea to keep customers thinking of your brand.
Free Barber Services and Haircuts For Photographs and Magazines
If you're starting, it is vital to get your barber brand name recognized. To get noticed in the barber shop industry, it's best to take a proactive approach. If you've been looking for a way to promote your barbershop for free, networking with photographers and magazines is the best barbershop marketing strategy. By promoting yourself as a barber and connect with the right people, you'll have an opportunity for more exposure.
Offer to do your hair grooming services for free for magazines and photographs. This will allow you to showcase your skills and gain new clients. This type of trade-off is limitless and great for business. Remember always to request credit for your photographs and tag your barbershop business when they post the photos.
All it takes is one viral post that your barber services are featured in to get people coming into your shop.
Market your Barbershops through text messages
Think of it, when a brand appears often, you're more likely to use their services or products whenever you need them. So, use the same marketing method… By sending a friendly text message can be an easy way to increase your booking rates.
However, there are other ways to use SMS marketing for your barbershop with a greater impact on earnings. These ideas will transform your barbershop marketing and propel it to new levels.
To promote your business with SMS messages, there are many different approaches to consider. These are my favorites:
6 Great Text Message Marketing Ideas for Barbershops

Reduce no-shows with automated appointment reminders.

Ensure that clients are aware of any special instructions before or after an appointment.

Offer mobile discounts and coupons to a segment of your customer base.

Let customers know about your new products.

Send customers grooming tips periodically.

Use text messages as an autoresponder when you are on vacation or on holidays.
One of the best strategies for barbershop marketing from this article is the idea of sending appointment reminder text messages. Around 20% of people who schedule appointments for a haircut at a barbershop do not show up. Sending appointment reminders can reduce missed appointments.
You can quickly see how much money you have lost by not reminding clients of their appointments when it comes to no-shows. If a barber expects to earn $2500 and has a no-show rate of 20%, he's losing an estimate of $500. I don't know about you, but that is a lot of money to miss out on.
Here's how to reduce appointment cancellation
Today is the day to start reducing no-shows with a secret weapon. You have the option of sending appointment reminders two different ways, by typing them manually from your phone or automatically with the Appointfix auto-mess. I mentioned earlier in the article mobile app can help you with tedious tasks.
After investigating Capterra reviews for Appointfix, most verified clients said the reminders help them keep track of their appointments.
"Appointfix has cut my no-shows to less than 1% – from around 15% —within the first use."
One strategy to help save you time and money is using text messages in your barbershop marketing plan, including automated text. This is an example of what automated text messages look like and how they work:
Use word of mouth to help customers find your barbershop.
"Word of mouth can spread from one excited customer to 40,370 people in only a year's time." – Ted Wright, CEO of Fizz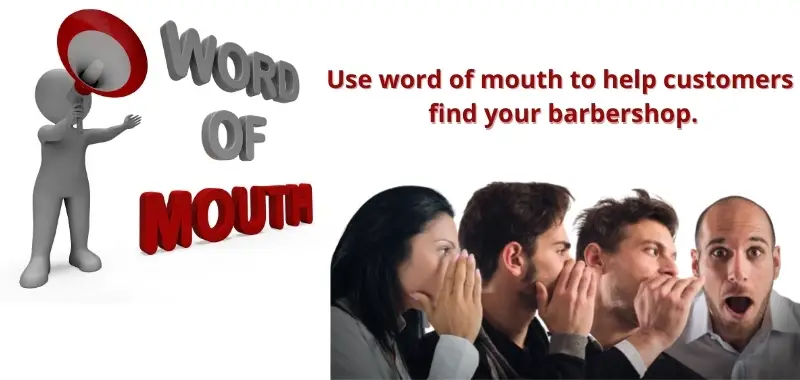 The most effective form of barbershop marketing is word-of-mouth because it's so powerful, cost-effective, and personal. The key to this barbershop marketing idea is that it especially turns your clients into a walking billboard for free. Your loyal customers will tell other people about the services you provide in your barbershop. It's human nature to want to share information whenever they satisfy their problem… It's wise to capitalize on that.
If you have frequent clients, ask them to recommend your barber business to their friends. A barbershop owner should ask their customers for positive feedback to spread the word about their business. Happy customers are more than happy to tell other people about their experience with your company.
You can extend them a discount on your next haircut or service for each new person they refer to your barbershop. For example, if a customer brings a friend to your barbershop you could give the two of them a discounted price for their haircut.
Promote your barbershop with

a loyalty program for your customers

According to Business2community.com "It is six to seven times more expensive to attract a new customer than it is to retain an existing one"

Though loyalty programs are a different type of barber marketing technique than word-of-mouth, they can have the same effect. People often share money-saving tips with their friends.

The point of the loyalty programs helps keep customers returning and help with retaining regular customers. If used correctly, the loyalty program is a worthy investment for barbershops.

The barbershop loyalty program can keep your customers happy and make them feel valued. Your customers want to feel valued after purchasing your services multiple times. Think about it, they could have gotten their haircut from someone else, but they chose you.

My recommendation is to make your barbershop loyalty program stand out from your competitors by making your service programs unique. One of the drawbacks to loyalty programs is that they can be difficult for you and your customers to keep track of.

I'll tell you this, the best barbershop marketing tip is to keep things simple! Something as simple as a punch card will do the trick. A loyalty program doesn't need to be complicated; it just needs to serve its purpose, and that's to keep track of services they've paid for in the past.

A simple way to increase loyalty is with a free haircut coupon after a number of services. You can create your own customizable loyalty coupon card for your barber with Canva.com. The Canvas drag and drop feature allows customers to create printable digital business cards quickly.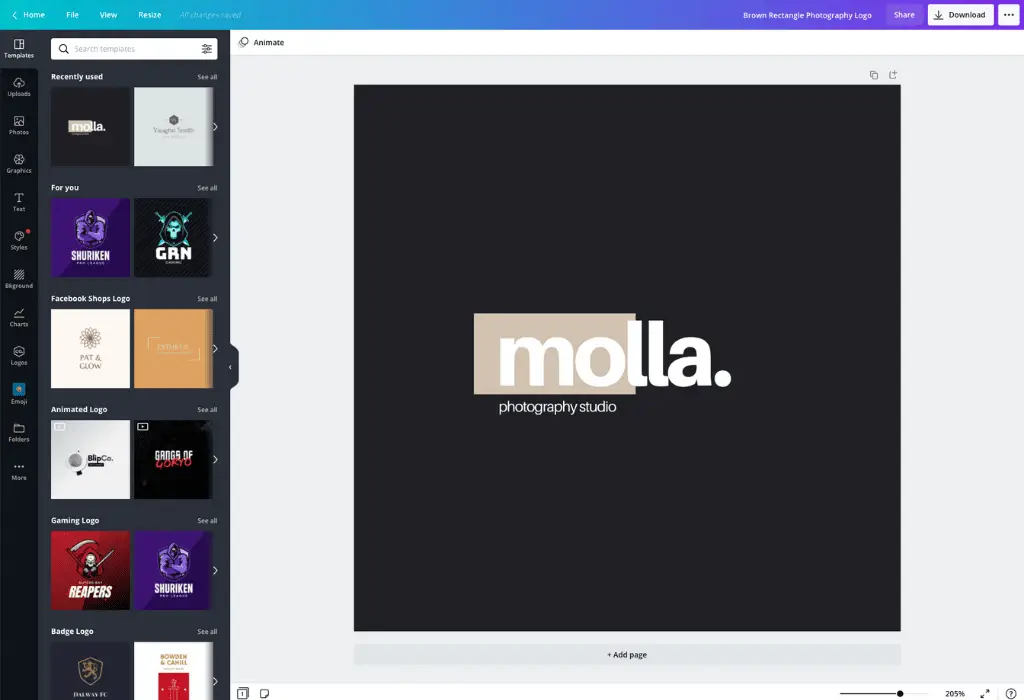 A digital or printable business card could offer your customers a convenient way to store your information. You could quickly spread the word about your barbershop using virtual business cards when you run out of physical.
Social media marketing for professional barbers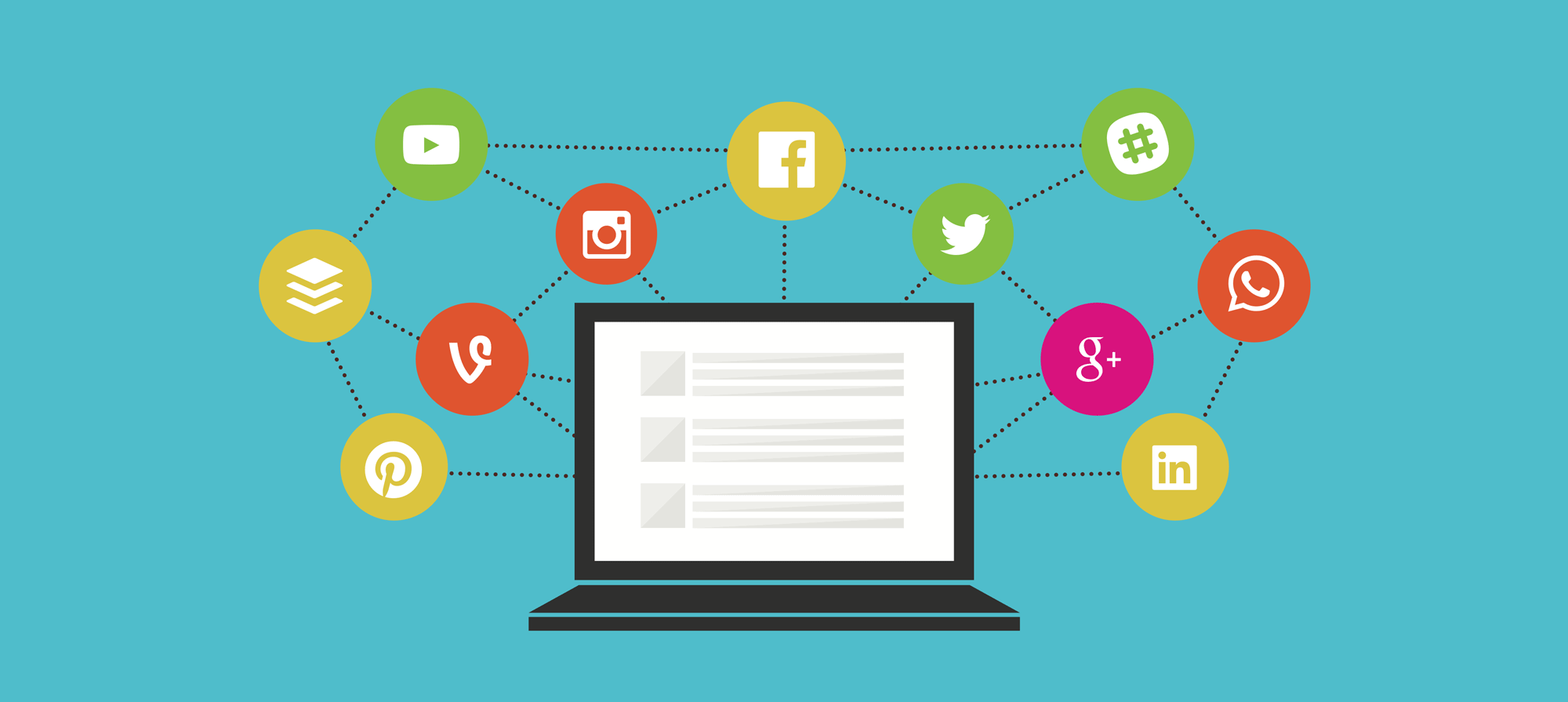 Social media can be challenging when you are to promoting your business through the platform. Note, social media marketing is one of the best ways to promote a barbershop for minimal cost, but getting followers can be time-consuming and difficult. It is worth the time spent.
Because social media is an ever-growing platform, it's best to keep up with the National Association of Barbers' complete guide. Their social media guide for barbers has a lot of helpful information that can help you market your business through the social platform.
The right tactical approach for social media platforms like Instagram, TikToc, Facebook, and YouTube could maximize your business relevance and exposure.
Word of mouth is a great way to get the word out about your barbering business, but social media can help spread the word.
Provide Your Customers Unforgettable barbershop Experience.
While customer experience may not be the only barbershop marketing idea, all of your effort to promote your shop is wasted if customers do not return for another haircut. It's important to make customers feel welcome and cared for to keep them returning.
Returning customers will be the heartbeat of your business.
You can't grow your barber business overnight, there's no shortcut on the road to success.
I hope you've found new ways to promote your barbershop while reading this informative article. Some of these barbershop marketing ideas may be a bit outside your comfort level, but they are worth it.
Entrepreneurs who want to market their barbershops should be persistent for it to work. Note, marketing for barbershops can be time-consuming but do not give up because you don't see results immediately. Many barbers quit because it does not seem worth the effort when they do not see immediate results.
Many barbers with small businesses give up too early because there are no immediate results in marketing strategies. If you have patience and stick to your barbershop marketing plan, you will be rewarded.
Newsletter
Sign up for Afrocurlsandcuts.com newsletter to be first notified of events, promotions and most importantly fresh blogs articles!