We may earn money or products from the companies mentioned in this post.
You want to try out some new natural hair extensions clip in to enhance your thinning or short hair, but you're not sure where to start.
With the different types, brands, and materials available, it can be hard to know which extensions are right for you.
We've got you covered. Our team of experts have tried and tested every type of extension available. After careful consideration, we've selected the seven best trending natural hair extensions clip-in for a fuller look! Read on to find out more.
7 Hair Extensions Clip In Chosen by Professional Stylists.
If you are in a rush and can not read the full article, here are seven perfect human hair extensions that'll add volume, length, and a full head of hair:
1. WENNALIFE Clip-In Hair Extensions.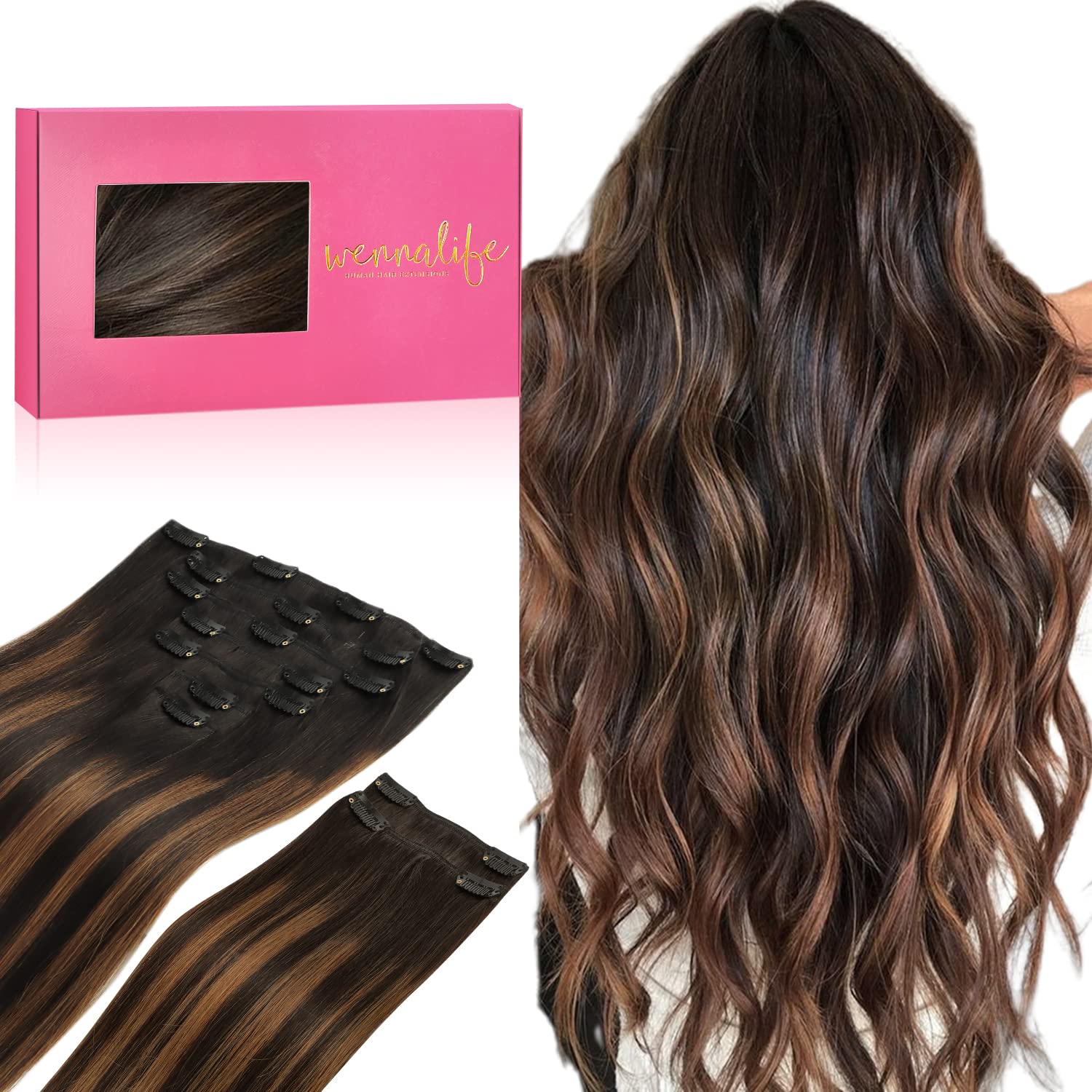 Are you looking for a set of clip-in extensions that will look and feel like your own hair? Look no further than WENNALIFE Clip-In Hair Extensions.
This hair clip ins produced from 100% Remy human hair helps you achieve a fuller hairstyle look within seconds. The natural hair extension clip-ins have been cuticle aligned so that they won't matt or tangle.
Plus, you can be sure that the color and length will stay consistent through multiple washes.
Features of WennaLife Clip-in.
Here are some of the features of the WennaLife Hair Extensions:
Made from 100% premium quality Remy human hair.
Heat-friendly and can be curled or straightened using hot tools.
It has a soft, shiny, fine, and tangle-free texture.
WennaLife extensions are incredibly lightweight, and it weighs 135g without clips and 150g with clips.
WennaLife Clip-Ins are easy to install and remove anytime without any help.
Benefits of WennaLife Extensions.
Blends in to complement natural hair.
Regardless of the amount installed, the extensions are extremely light weight.
It can be used for several hairstyles.
Pro
It helps achieve a fuller hair look easily.
Curls perfectly like natural hair.
It washes well, and it's easy to manipulate and weave.
Con
Clip–in hair extensions may become loose with time.
Require enough maintenance to keep for a long time.
The human hair extensions are a bit pricey.
FAQs about WennaLife Extensions.
Can I use curl iron sets on the extension?
Yes, the hair works perfectly with curling iron sets for styling. You can read an article about styling hair with the 5 Best Interchangeable Curling Irons.
Can I dye the extension?
Yes, the hair extension can be dyed to the preferred color without damaging the texture. The hairpiece can be colored up to two tones darker than the original color.
Thoughts on WENNALIFE Clip-In Hair Extensions.
The Wennalife hair clip-in is a top-of-the-line hair extension that blends perfectly with natural hair. My clients love how realistic it looks and feels on their heads, and the hair quality is excellent and lasts longer than other extensions.
If you are looking for a full, luscious head of hair without the hassle of spending hours getting a sew-in. I highly recommend the Wennalife clip-ins; you won't be disappointed!
Visit Amazon for Reviews and Prices of WENNALIFE Clip in Hair Extensions.
2. Hotlulana Clip in Hair Extensions Real Human Hair for Black Women.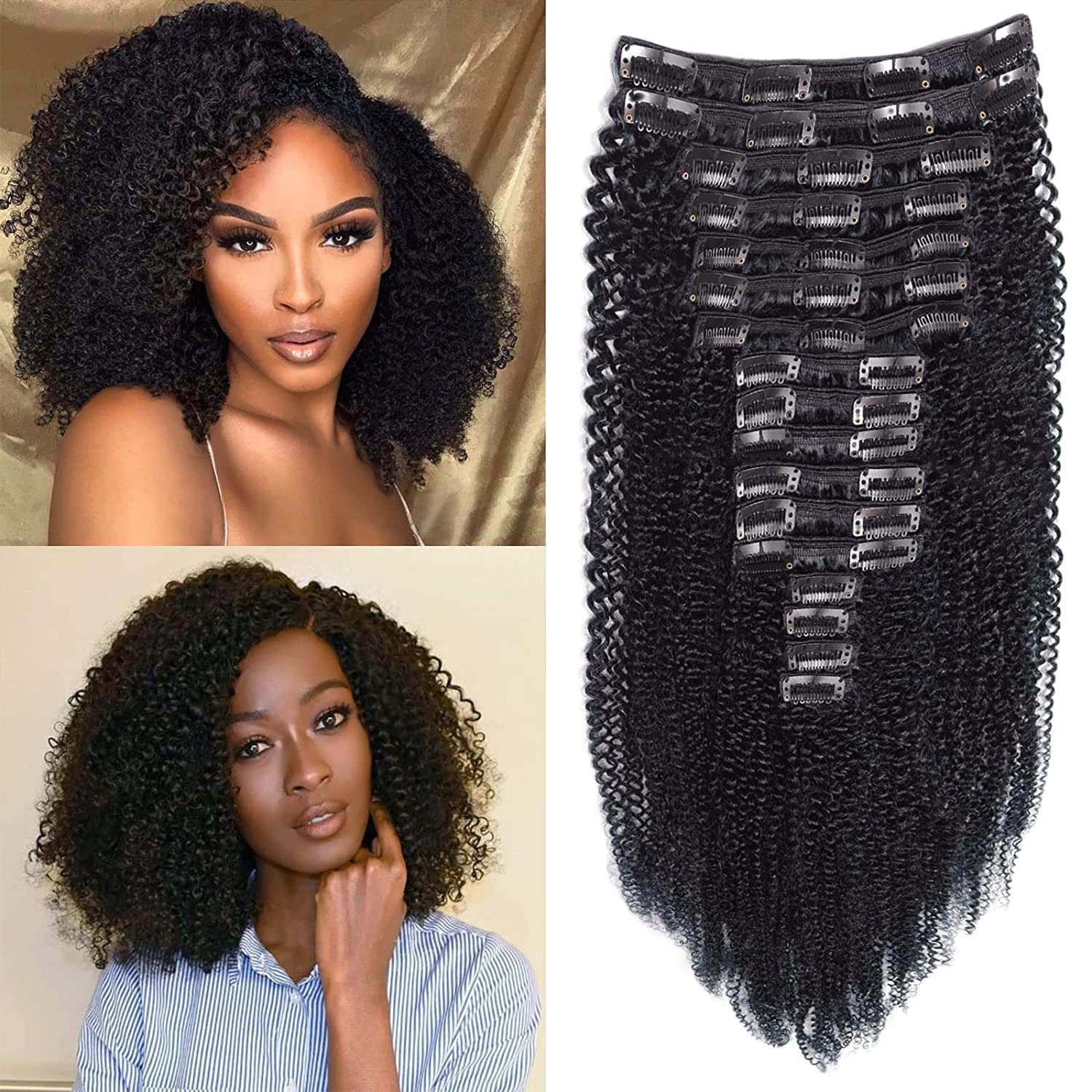 If you have afro texture hair and looking for an extension that can give you length and volume without looking too fake, then Hotlulana clip-in hair extensions are a perfect choice. The Afro-Kinky curls hair clip-in extensions are designed to match the texture of black women's hair.
Features Hotlulana clip-in.
It can be made into three styles: buns, ponytails, and straight hair.
Hotlulana extensions are lightweight and provide enough comfort regardless of the number of attached clip-ins.
The Hotlulana extensions are highly durable, including the clips that secure them to your hair. If preferred, they can be replaced when it gets slack.
Benefits of Hotlulana Clip in Hair Extensions.
The attaching clips of this extension are metallic U snaps that stay in your hair without falling off.
The hair is human and not synthetic, so you can use all styling tools without damaging the hair texture.
It requires minimal maintenance, just washing.
Resembles and blends in your natural hair to open up tons of compliments from outsiders.
Pros
It is easy to install.
Suitable to achieve different hair look within a short time.
Curls up automatically after washing.
Cons
Hair tips are thin or stringy hair.
Excessive hair shedding.
Dying may change hair textures.
FAQs about Hotlulana curly clip-in hair extensions
Can you blow dry these extensions?
With the Hotlulana 4c clip-in hair extensions, you can blow dry and style them as you would your natural hair. This high-quality hairpiece is straightened and curled the same way as natural hair.
Can these be dyed blonde?
Yes, because the Hotlulana clip-in black hair extensions are made with natural human hair, you can dye them to the desired color. However, I would avoid dying too often as it may damage the hair and make it brittle.
Thoughts Hotlulana curly hair clip in.
Hotlulana is perfect for the kinky curls look you desire. The hair extensions are easy to install and light on the head. You can style it with a hair dryer, curling iron, or flat iron without fear of damaging it.
If you want to achieve the perfect kinky curls look, Hotlulana is your go-to hair piece for a beautiful and natural-looking hairstyle. Trust me; you won't regret it!
Visit Amazon for Reviews and Prices of Hotlulana Clip in
3. DOORES Clip-in Hair Extensions Real Human Hair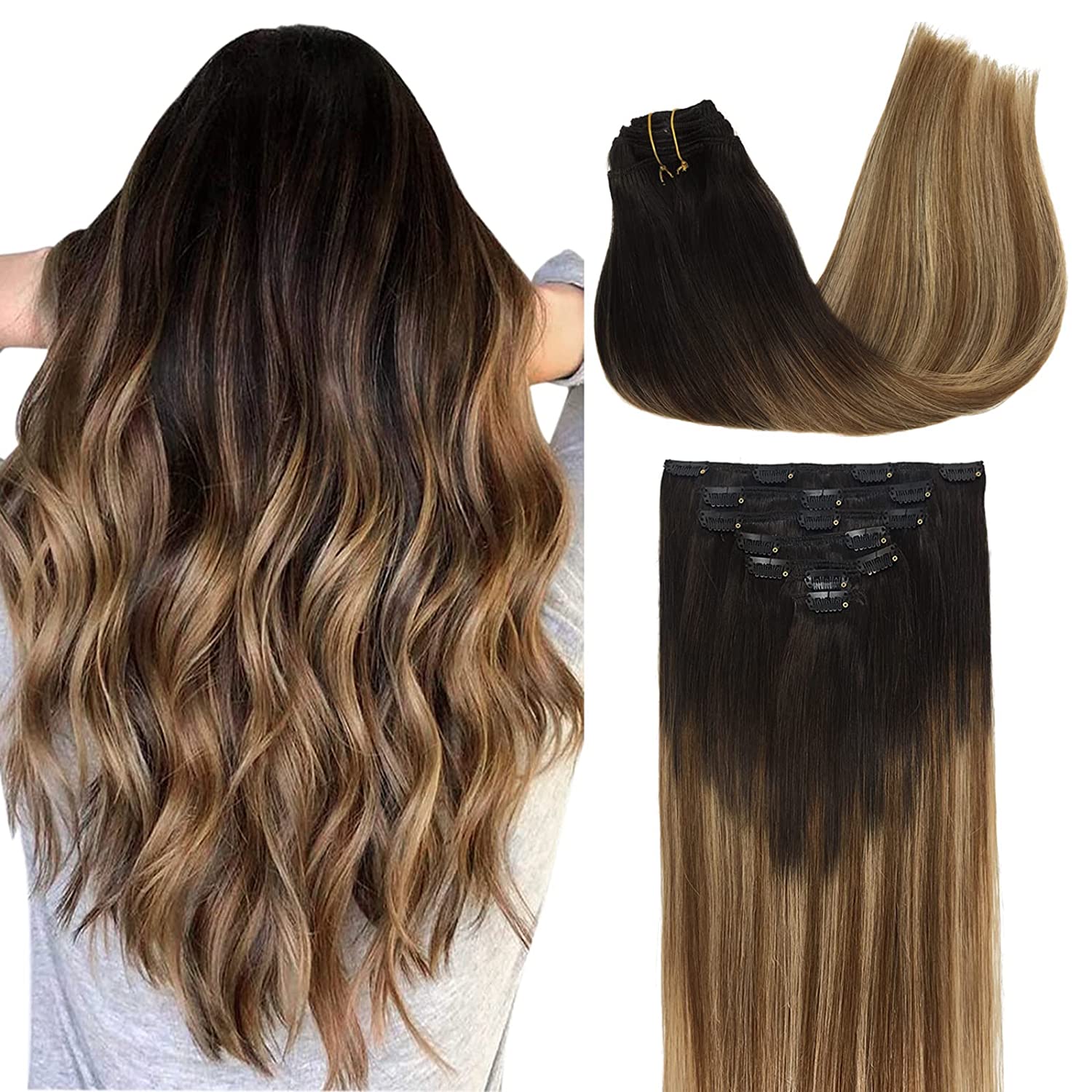 The popular DOORES hair extension clip-ins are made from 9A-grade real human hair and the latest technology, making them incredibly soft to the touch. The 7 set of extensions weighs 120g in total, with the individual pieces carrying a weight of around 105g without clips.
Unlike most long clip-in hair extensions, the DOORES extensions are thick from root to tip, making them appear healthy and natural. The clips are made from stainless steel and feature a unique U-shaped design that is both comfortable and secure.
Features DOORES natural hair extensions clip in.
It contains metal clips and rubber silicone: the extension clips are made from durable metals that last longer.
DOORES clip-ins are produced in over 20 colors, so you can opt for whichever suit your needs.
Extremely Light: DOORES clip-ins weigh between 80g to 120g. Each pack comes with seven clips for attachment to the hair.
Benefits DOORES clip-in hair extensions for black hair.
Hair and metal clips are perfectly hidden in strategic points that aren't visible to outsiders. This helps you achieve that fuller look and longer lengths for your outings.
Due to the durable metal clips, there is no need to worry about the straight clip-in hair extensions falling off during any activity, including sports.
Pros
The hair unit has an incredibly soft texture.
It is high-quality hair with no shedding problems.
This unit can quickly turn into a natural clip-in ponytail.
The human hair extension is washable without tangling.
Cons
Texture may be damaged when exposed to extreme heat.
It may trigger irritation and itch when removed.
FAQs about DOORES natural hair clip-in.
How many packs do I need to get a thick hair look?
If your hair is full, then one pack should be enough. However, if your hair strands are tiny, consider getting more than one pack for some styles.
Can the hair withstand heat styling?
Yes, it can. It's designed to be heat resistant and can be blow-dried, curled, and straightened.
Read our article "Stylist Choice: 7 Best Flat Iron for Black Hair of 2022" for more tips and advice on styling natural hair.
Thoughts about DOORES curly clip-in human hair extensions.
DOORES is one of the best curly clip-in hair extensions on the market. It's made of high-quality human hair with a perfect blend of thickness and volume, which looks natural when worn.
The metal clips are also of the best quality, making them comfortable to wear and last longer.
If you are looking for a natural-looking clip-in hair extension that is light in weight and feels incredibly soft, then DOORES is a perfect choice.
Visit Amazon for Reviews and Prices DOORES hair clip-in.
4. Full Shine Jet Black Clip in Hair Extensions.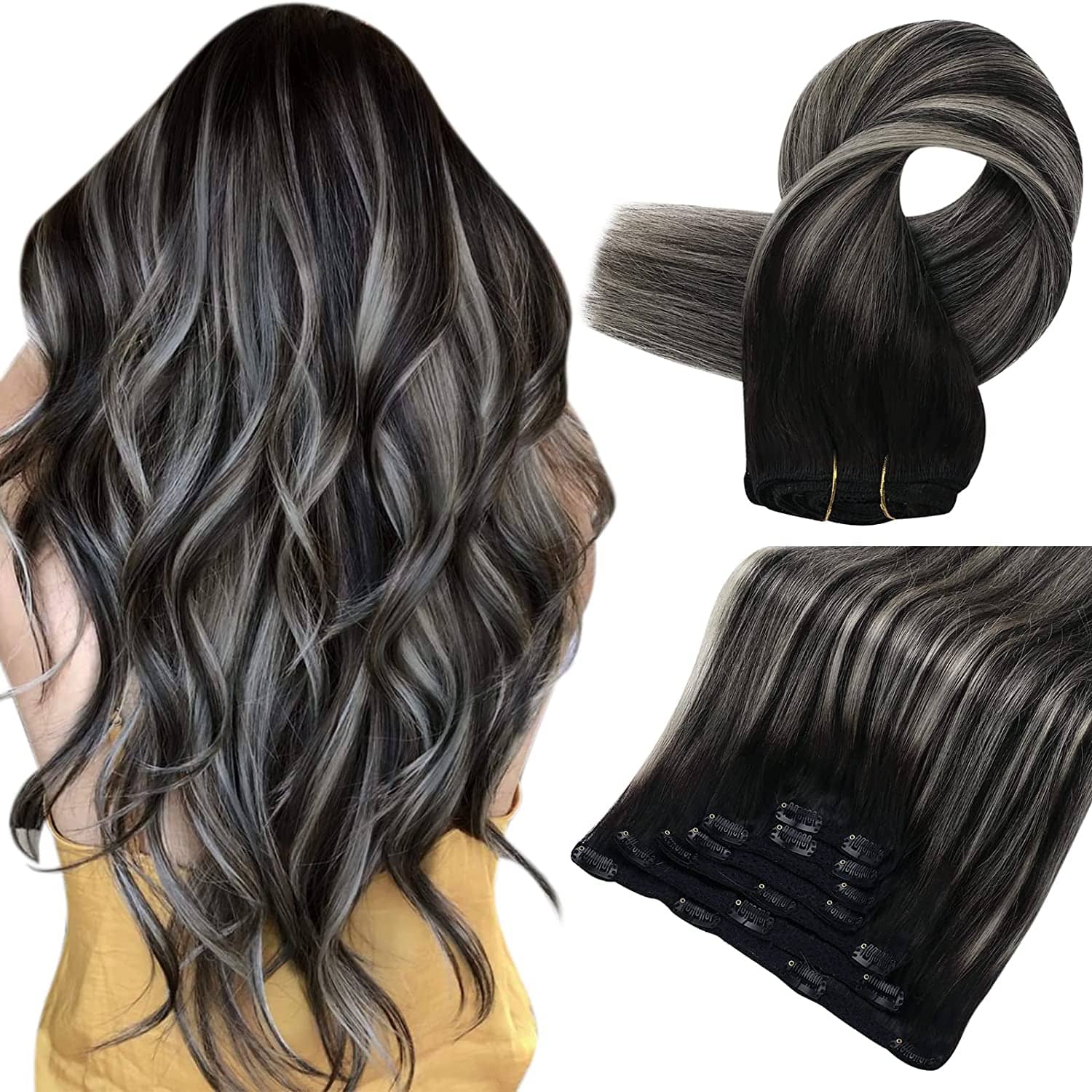 The Full Shine Jet Black Clip-on Hair Extensions will give you the length and volume you need to look your best. The 100% Remy Human Hair Extension is made with a double-weft construction to ensure no shedding and tangling. It also has anti-slip clips that are easy to install and adjust, making them comfortable to wear.
Features Full Shine Jet Black seamless clip-in hair extensions.
Full Shine Jet extensions are made from well-processed, 100% human hair that is strong enough to hold up against styling.
The extensions come in 8 lengths and 33 colors, allowing you to customize your look even further.
The clip-in hair pieces are shed-free and tangle-free, providing you with a natural-looking hairstyle.
There are over 30 unique colors when buying this extension.
Full Shine Jet extensions also blend in with the natural beauty of the hair and provide the hair with length, thickness, and volume.
Benefits of Full Shine Jet Black wavy clip in hair extensions
Hair lasts for a long period as it can withstand certain conditions.
The Shine Jet Black hairpiece can easily be styled into a wavy look.
It can be worn for both a short and long hair look.
Achieves the full-hair styles you desire.
Pros
Reduces worry about thinning hair due to certain health conditions.
Silky, smooth, soft, and easy to comb.
Clips are made into the hair color to ensure a perfect blend.
Cons
It can't withstand certain treatments such as Keratin.
Requires attention when dying to avoid popping up more colors than desired.
It may require more hair packs to achieve the desired fullness.
FAQs about Full Shine Jet Black hair extension for thick hair.
How long do full shine extensions last?
The Full Shine hair extensions can last 8-16 weeks with the proper care and maintenance. However, we recommend replacing your tape refills every 2 to 4 weeks for optimal results.
Can I swim with the extensions installed?
While this is possible, you may leave the pool with damage to your hair and even the style. So, it's better to cover your extensions before exposing them to water.
Thoughts on Full Shine Jet Black extension.
When it comes to the Full Shine Jet Black wavy clip-in hair extensions, I can say that it's worth every penny! It's made from 100% human hair that is soft and smooth.
The hairpieces are comfortable to wear and easy to install. And most importantly, it looks natural on your hair and is available in over 30 colors.
So, if you're looking for a way to add length and thickness to your natural hair, then the Full Shine Jet Black wavy clip-in hair extensions are worth considering.
Visit Amazon for Reviews and Prices Full Shine Jet Black Clip in.
5. UrBeauty Kinky Curly Clip-In Hair Extensions for Black Women.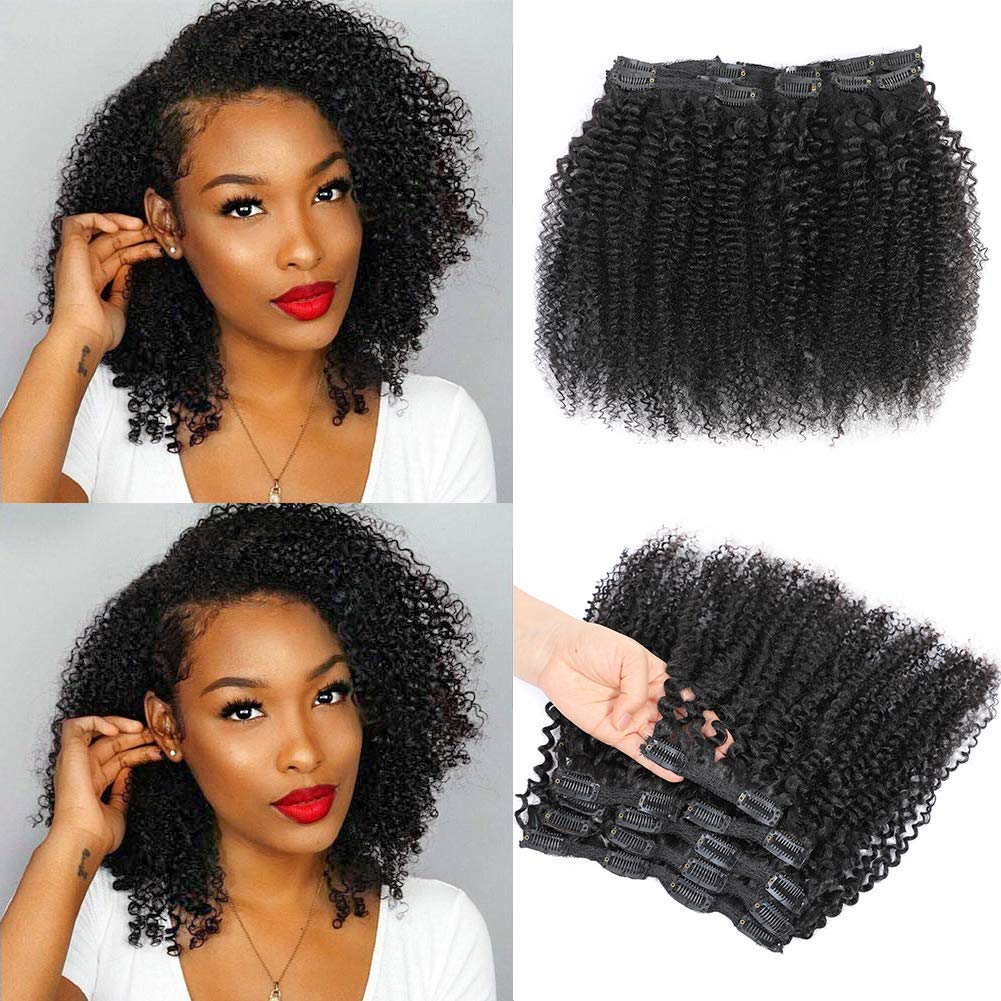 Are you looking for one of the best afro kinky clip-in hair extensions for black women? Well, look no further than UrBeauty Kinky Curly Clip-In Hair Extensions!
This hairpiece is made from selected virgin human hair that has been cuticle alignment to ensure a tangle-free and no-shed experience.
Furthermore, the thick clip-in design features 9-tooth steel clips that are sewn securely and won't harm your natural hair.
Features of UrBeauty clip-in weave.
Made from 100% Remy human hair, it is available in the original black color, similar to natural hair.
It also works well with dying to any color you desire.
It has silicone-lined tooth clips attached to the hair extensions to give it a secure connection when installed.
The kinky curly clip has a thick triple weft that helps achieve the full look with just some clip-ins.
Benefits of UrBeauty curly clip in human hair extensions.
Wearing the Kinky Clip-In is easy as it blends well with human hair.
Washable and easily dyed into the desired color to blend in with your hair.
Each weft's thickness enhances the volume of your hair, and you can achieve your desired style with a few installed clips.
Pros
Provides a flexible French lace feel.
It blends in perfectly with the hair and give a fuller appearance when installed.
Cons
It may have brown discoloration when washed
FAQs UrBeauty curly clip in
How is the length measured? (Curly or Straight)
The length of the hair is measured in the curly state. When buying, keep this in mind to achieve the perfect length.
Is there a return policy for the hair? 
The information on the official site of Urbeauty states that the unit can be returned within 30 days of purchase.
My thoughts UrBeauty curly clip in for black women.
The UrBeauty invisible clip-in hair extensions for Black Women are the perfect addition for anyone looking to add length, volume, and texture to their hair. It is a high-end hair attachment without an expensive price tag.
The UrBeauty is perfect for those who want to enhance their natural hair without the fuss of styling or salon visits.
Visit Amazon for Reviews and Prices UrBeauty clip-in weave.
6. ABH AMAZINGBEAUTY HAIR Ombre Kinkys Curly Clip-in Extensions.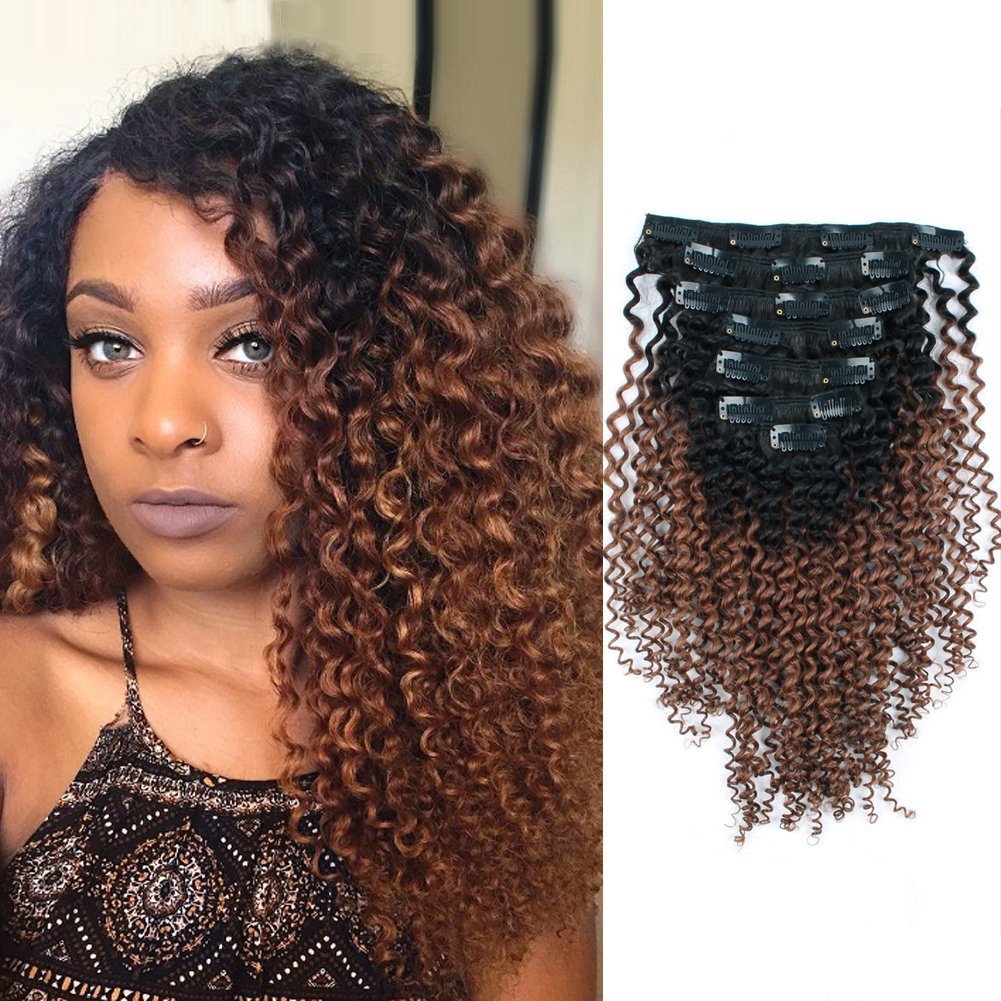 The ABH AMAZINGBEAUTY HAIR is a steal at its current price. It is made from the highest quality clip extensions that are soft and lightweight.
Features of ABH AMAZINGBEAUTY
These clip-in extensions are designed to be installed easily without any extra help from a professional.
Unlike most synthetic hair, AmazingBeauty gives loose Afro-Kinky and uniquely defined curls.
ABH AmazingBeauty clip-in extensions are made from the best quality hair available.
BenefitsThe clip-in extensions provide an effortless and natural look.
Benefits
You get to achieve loose curls with your natural hair and these extensions.
Highly flexible to fit any style, including Bantu knots.
Easy to brush through with soft texture.
Pros
100% money-back guarantee after the purchase.
Available in a various dark colors, which guarantees a hair color match.
Lightweight with no split ends.
Cons
It may require extra clip-ins for a well-secured installation.
FAQs ABH AMAZINGBEAUTY HAIR Clip On
How many packs are needed for a full look?
Depending on your hair volume, you may need between two to three packs for full hair.
Does the hair really give a natural look?
Yes, the hair has a natural look and feel that blends in perfectly when installed.
My thoughts ABH AMAZINGBEAUTY HAIR Clip On extension
If you're looking for an extension that will give you the perfect free curls look, then this is definitely the one to try!
Visit Amazon for Reviews and Prices ABH AMAZINGBEAUTY.
7. Nvnvdij Straight Clip in Hair Extensions Brazilian Virgin Human.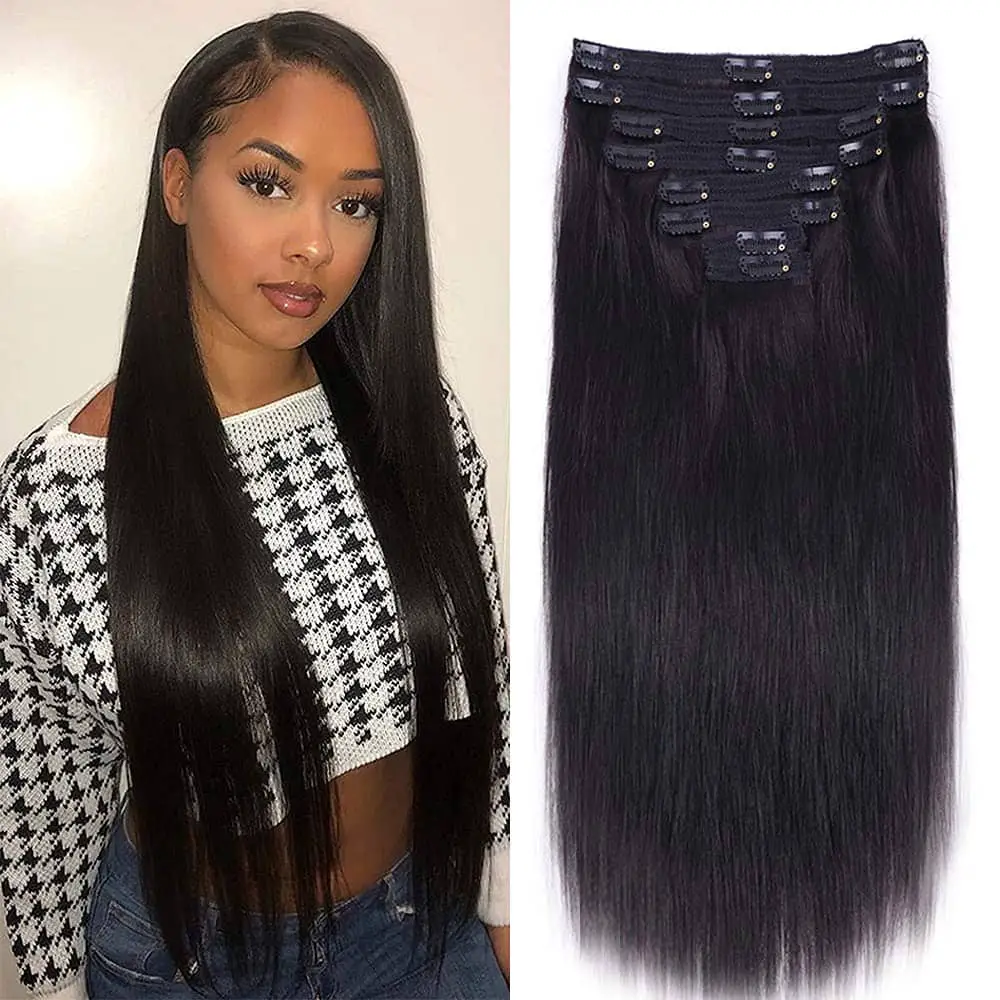 This straight hair extension from Nvnvdij is made from Brazilian virgin human hair that gives a silky smooth texture. It has clips attached for easy installation and can be dyed to any color you desire.
Features of Nvnvdij fake hair extensions clip in.
Nvnvdij extension is made from Remy hair which is not subjected to any chemical processes.
Although straight, you can style Nvnvdij hair into curls on other days as you desire.
It comes with a smooth lace edge which makes it easy to wear the hair clip-ins without stress.
Benefits of Nvnvdij clip in human hair.
No need to worry about head irritations and allergic reactions because human hair extensions contain no chemicals.
Easy to switch up the look by getting lovely curls on the hair extensions, and fun to work with.
Pros
The smooth and soft double lace weft.
Clips are sewed in to avoid removal during activities.
Tangle and split ends free.
Cons
Too silky to withstand moderate heat.
FAQs Nvnvdij hair extensions
Do Nvnvdij hair extensions hurt the scalp?
No, the clip-ins will not hurt your scalp when worn properly.
Does the Nvnvdij extension damage the hair?
According to popular reviews, these hair extensions are perfect for anyone looking to add length and fullness to their hair without damaging it.
Thoughts about Nvnvdij extension.
The Nvnvdij extensions are absolutely amazing! It is made from quality hair that can be styled, dyed and curled without damage. The instructions included makes it a breeze to install and the clips are sturdy enough to hold the hair in place.
Visit Amazon for Reviews and Prices Nvnvdij Straight Clip in.
Conclusion
If you're looking for a way to add thickness and volume to your hair, clip in pieces may be the perfect solution.
Clip in human hair pieces are an easy way to get the look you want without having to make a permanent commitment.
You can find clip ins made from real human hair or synthetic materials, so it's important to choose the right type for your needs.
If you have thick hair, be sure to select a set of clip-ins that are specifically designed for thicker tresses.
If you found value and enjoyed this article, please like, share, and subscribe to AfroCurlsandCuts.com! Don't forget to check out our social media accounts as well.
Newsletter
Sign up for Afrocurlsandcuts.com newsletter to be first notified of events, promotions and most importantly fresh blogs articles!