We may earn money or products from the companies mentioned in this post.
Overview
The article contains information about Interchangeable Curling Iron for Black Hair, naturally thick hair, and dreadlocks. We have chosen the best hair curlers to make your styling routine easier.
Do you have thick natural hair and want a curly style for an upcoming occasion?
Styling natural afro hair can be challenging…
Afro texture hair is unique and beautiful but requires different techniques and products. A single hair curling iron may not be able to meet all of your needs.
Another issue for black women is most styling irons are made with low-quality ceramic, which can damage type 4 hair, leaving behind African hair texture looking dull, dry, and brittle.
According to the stats, about 40% of women love to use hair styling tools to get the desired look for specific occasions.
Thus, a perfect interchangeable curling iron selection might give the most impressive and fantastic wavy look as quickly as tighter corkscrew curls. In addition, it would also help if they were not too heavy in the hands.
Here are the five best interchangeable curling irons for black hair that will give you the versatility you need to create any hairstyle you want. With that in mind, let us get things underway!
5 Best Multi-Barrel Curling Irons for Type 4 Hair
It is no secret that people with type 4 hair often feel so frustrated with trying to get their hair set for different styles or curl them to a new version, which has led them to a point where they have given up on them.
That is said, most of the time, when they are trying to style their hair, they use a traditional curling iron.
Don't fret if you struggle with tough, thick hair, as many good interchangeable ceramic barrels are introduced in the beauty industry that is effective for Afro-type hair.
To that end, we have included some of the most helpful curling irons for type 4 hair. Though we have included some of them, there are many more in the market.
1.     T3 Interchangeable Three Barrel Curling Iron
2.     Drybar The Mixologist Interchangeable Styling Iron Kit
3.     INH Beach Waver Curling Iron, Blowout Brush, and Crimper
4.     Paul Mitchell Pro 3-in-1 Ceramic Interchangeable Curling Wand
5.     FoxyBae 7-in-1 Curling Iron Set
Check out the list of professional curling wand sets and come back to read the reviews of each product!
If you are looking for the best Flat Irons for Type 4 Hair, here is the list of 7 best-selling irons in 2022!
Complete Breakdown of Professional Curling Wand and Curling Iron Wand Set
This section will look at the 5 best curling irons for black hair.
In addition, it will include a full breakdown of each product, its pros and cons, and what separates them from the competition.
Moreover, we'll also give our verdict on the best curling iron for black hair.
1.  T3 Twirl Trio Interchangeable Three Barrel – Professional Curling Wand Set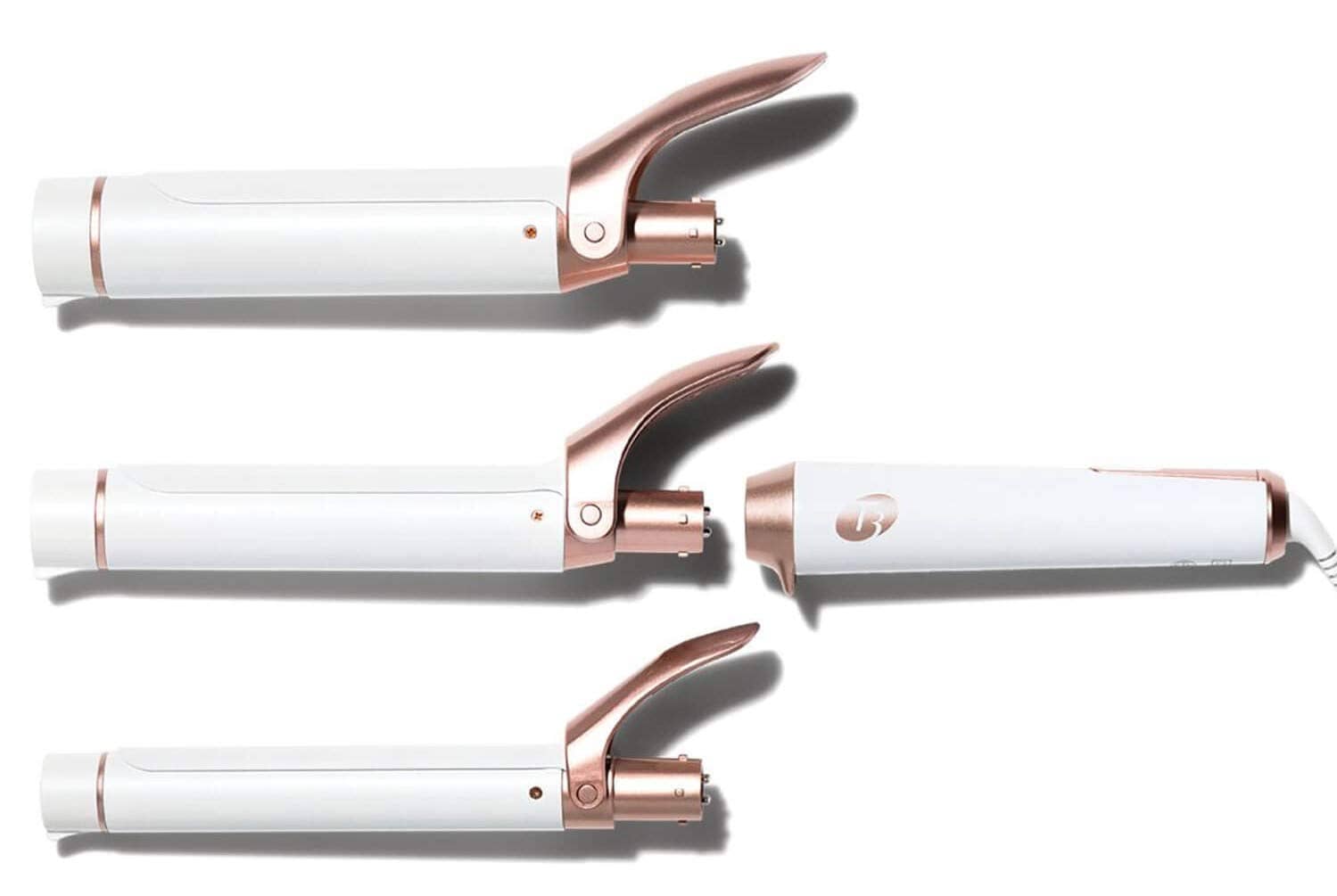 If you reside in a humid climate, you know the struggle of keeping your hair looking sleek and near impossible to avoid frizz.
The T3 Twirl Trio Interchangeable Clip Barrel set is here to help you achieve the perfect beach waves while combating humidity.
Twirl Trio Interchangeable Clip Curling Iron Design
The beach wave curling wand has a luxurious premium design that makes the queen in you feel good while holding it.
Interestingly, this fantastic T3 Twirl Trio Clip Curling Iron is purple-white and has a beautiful rose gold accent.
Its power button is perfectly placed at the bottom of the curling wand, and the spring-loaded clamp is easy to open and close, so you can safely change the barrels without burning yourself.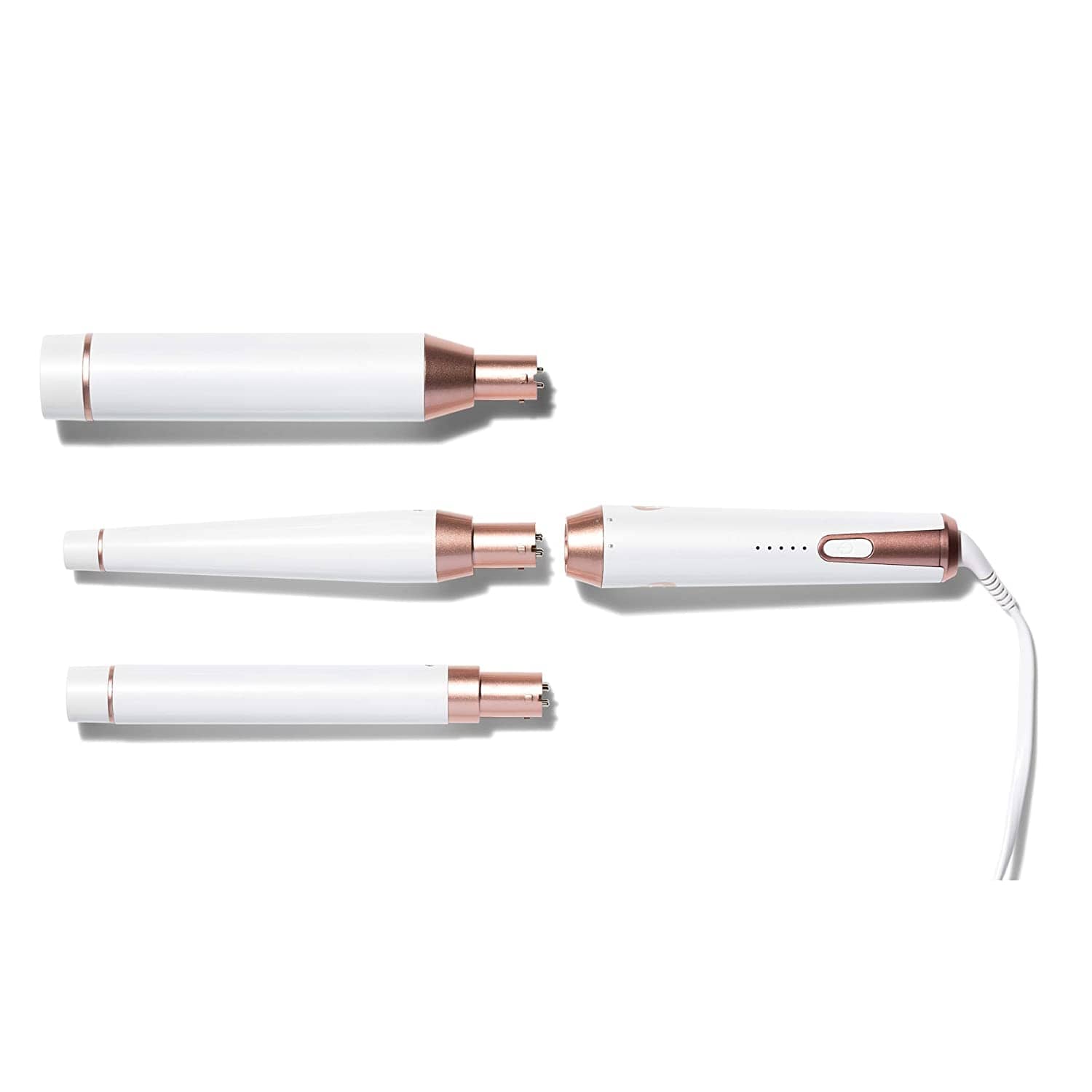 In addition, it features three-piece clip barrels that range in size from 1″, 1 1/4″, and 1 1/2″ in diameter.
This will give you the ability to create a multitude of styles really quickly. If you are looking for an alternative T3 Whirl Trio Wand Set, visit amazon.
T3 Trio Interchangeable Ceramic Barrels Effectiveness
Whenever you purchase a product for thick afro hair, it must be reliable and effective. That's why the T3 Twirl Clip Set uses ion-enriched ceramic barrels.
If you have thick long hair or locs, the T3 Twirl Trio will help you achieve gorgeous curls without snagging or pulling your hair.
The T3 ceramic curling iron set heats up fast and provides even heat distribution, helping avoid any hot spots that can damage your natural hair.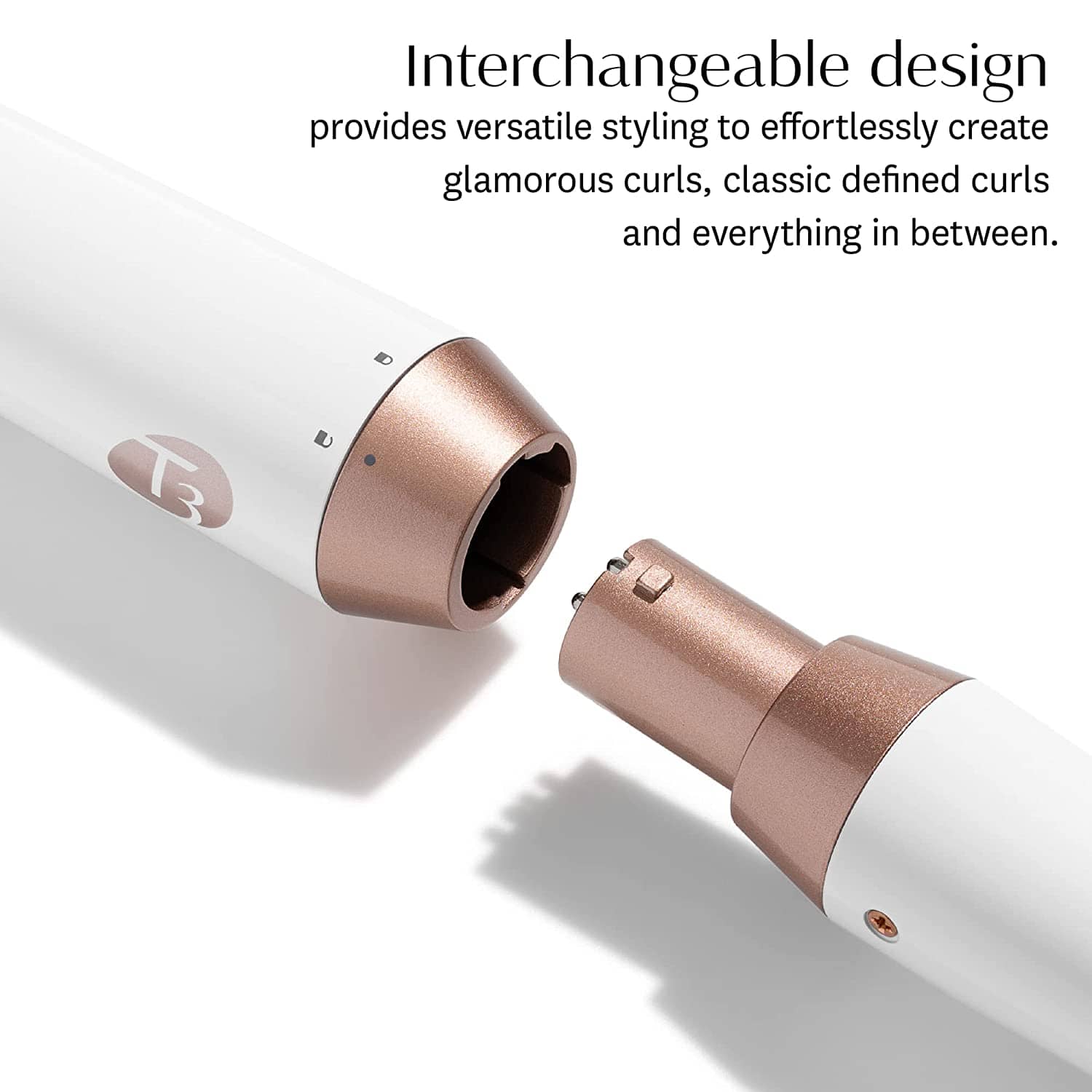 The T3 curling wand set uses advanced PTC heat technology; it heats up in 45 seconds or less, so you can save time when you're in a hurry.
Moreover, these ceramic barrels also emit negative ions that will help seal moisture and shine, giving you sleek and frizz-free beach waves.
Just 20 minutes of styling will give you about four days of wear. The T3 Twirl Clip Curling Iron is also a Dual Voltage 110-240V device. So, this curling wand will work perfectly no matter where you travel.
Pros
The T3 Twirl Clip interchangeable ceramic barrels curling iron comes with three different-sized barrels.
It has an excellent tip and a comfortable grip handle.
The T3 ceramic curling iron set also has a fast heat-up time and provides even heat distribution.
The ceramic barrels emit negative ions that help lock in moisture and easily style thick and coarse hair without damaging it.
Cons
The T3 electric hair curler only comes in one color.
A bit expensive.
T3 Twirl Trio Interchangeable Three-Clip Barrel Review
Amazingly, I've used the T3 Twirl Trio Curl Iron on clients' hair. The ceramic barrels help to increase the shine and moisture of the hair while also helping to tame frizz.
Check out the best blow dryer for natural hair to get more ideas about taming frizz.
Subsequently, the three different interchangeable barrel sizes also give you many styling options to choose from.
It has state-of-the-art features like a fast heat-up time and even heat distribution that help to make this curling iron one of the best on the market.
I recommend this curling wand to anyone with naturally coarse hair or dreadlocks looking for a reliable styling tool that quickly completes the job.
Visit Amazon for the latest prices and reviews (T3 Twirl Trio Curl Iron)
2.  Drybar The Mixologist Interchangeable Styling Iron Kit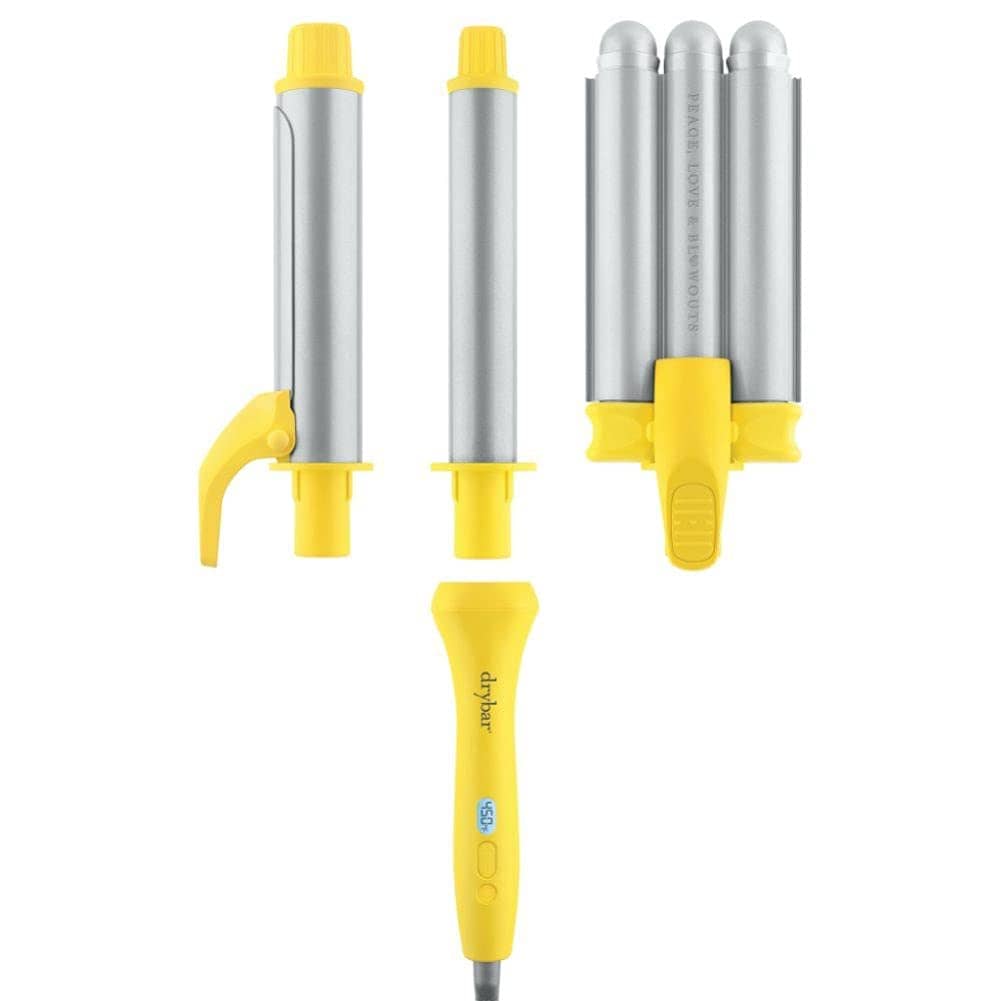 Do you struggle to style your thick hair with a curling iron?
If so, you need to get the Drybar The Mixologist Interchangeable Styling Iron Kit, as it is the best interchangeable curling iron for black hair.
This premium multiple-barrel iron is under $200 and a steal compared to other professional curling wand sets in its class.
Drybar Interchangeable Curling Iron Wand Set Design
The Drybar interchangeable ceramic style iron comes in a yellow base color with three curling iron attachments. It has a simple, straightforward design, with a digital front display showing the temperature.
Moreover, the handle is ergonomic and comfortable to hold, and the cord is a generous 9 feet long. Safety is a priority with this curling iron set, as it features a 60-minute automatic shut-off.
This locks hair styling tool comes with 3 attachments- a 3 Barrel Ceramic Curler Wand, a 1 -inch curl wand barrel, and a 1.25-inch curl iron clip barrel- so you can create a variety of curly hairstyles.
3 Barrel Ceramic Waver Wand – Natural, Beachy Waves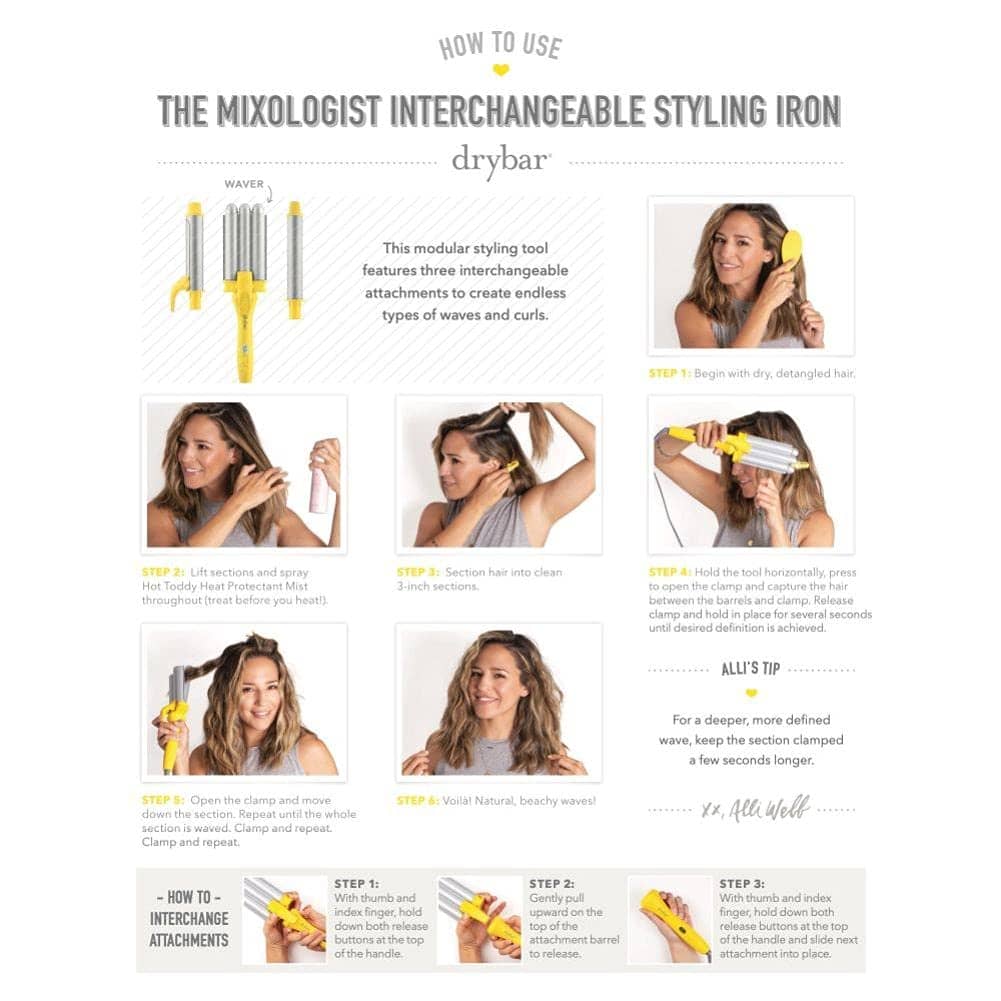 This 3 Barrel Curling wand is ideal for creating beachy waves. The ceramic barrel helps to distribute heat evenly, so you don't have to worry about hot spots that can damage your hair.
In addition, it is 22mm wide and has a clamp that holds the thick hair in place while you curl. The clamp is also helpful for creating defined shiny curls or waves.
1.25-Inch Curl Iron Clip Barrel – Classic Curls
The 1.25-inch attachment clip barrel offers flexible styling options for various looks. This curl iron clip barrel can create beachy waves, big bouncy curls, or a more natural-looking curl.
1-inch Wand: Defined Waves
This 1-inch wand curling iron allows you to create defined curl waves with less frizz and more shine. You can rest as it'll be maximum eliminate frizz and static electricity.
Trust me; with this versatile curling iron, you will have endless shiny hair style options for your dry black hair.
Drybar The Mixologist's Interchangeable Ceramic Barrels Effectiveness
African hair texture is notoriously tricky to manage. It's often dry, brittle, and prone to frizz. You need quality hair curler products that are effective and deliver results.
You might also need a styler that can be versatile with different types of hair textures; to that end, this interchangeable ceramic technology will add shine and reduce frizz while styling.
Moreover, its ergonomic handle provides a firm grip while its infrared heating technology maintains a healthy hair lock.
You can style your hair at customized temperatures up to 230°C while offering the automatic shut-down mechanism after 60 minutes.
Pros
Iconic technology to reduce frizz and enhance the shine of hair.
Suitable for all hair types.
Easily interchangeable attachments that switch into handles.
Includes heatproof storage.
Cons
The clamp is not hard enough, as it sometimes loosens the curls while turning.
Works better for long hair.
Drybar The Mixologist's Interchangeable Ceramic Barrels Review
I have used this hair curler for Type 4 hair, and I must say: it is the most fantastic hair curler I have ever used.
The hair curler heats up quickly, giving a unique and shiny black look; however, if you want a loose curl, do not heat it much.
Moreover, the heatproof stand doesn't seem to work well; as mentioned, I have to buy an extra heat mat to ensure it doesn't damage my countertop.
Visit Amazon for the latest prices and reviews (Drybar interchangeable ceramic barrels)
3.   INH Beach Waver Curling Iron, Blowout Brush, and Crimper – Perfect for Regular Use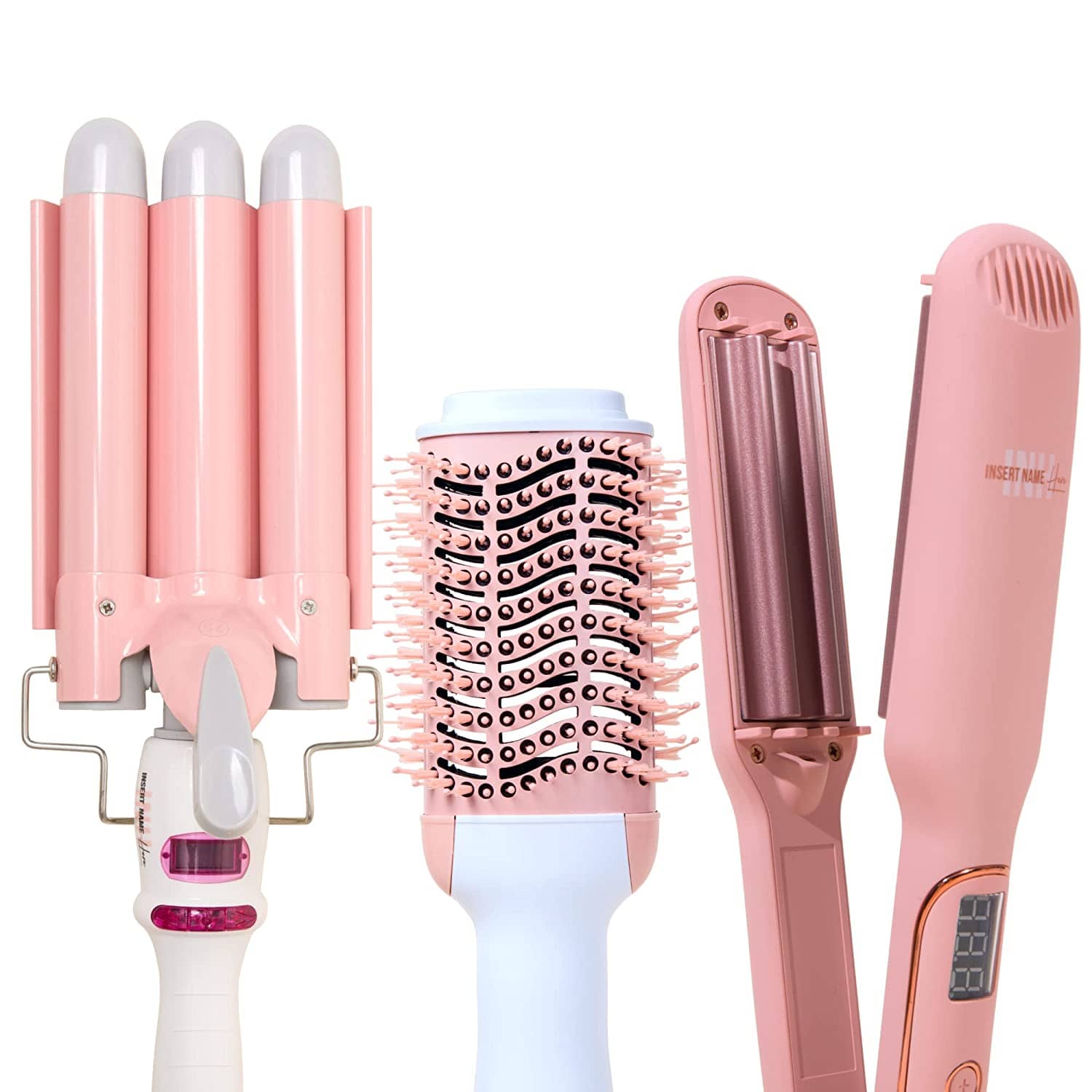 This attractively shaped curler with plenty of options to style has many reasons why it made it to our list to best interchangeable curling iron for black hair.
It is the most versatile tool to enhance hair volume, detangle, and add a natural shine to the entire look of your kinky hair.
Moreover, the round blowout brush is designed explicitly with iconic technology to fight against frizz and deliver silky smooth outcomes while drying hair quicker.
INH Beach Waver Curling Iron, Brush, and Crimper Design
With this INH beach curler, you can create tighter curls in your African locs without fearing your hair being damaged. Its pro-grade ceramic tourmaline technology enables it to give long-lasting and smooth results.
Not only for black hair, but it is also suitable for all hair types, this hair curler is a practical pick to reduce frizziness and tease the roots to apply all over.
The easy grip and handling design and ceramic-coated barrels promise to give you silky black hair, so the next time you go to the party, you will slay with your defined curls. The ceramic coating also protects your hair from excessive heat damage for thick hair type.
With this pack of blowout brush, curling iron, and crimper, you can create straight hair looks and complete wave styles without needing any other hair tool.
INH Beach Waver Curling Iron, Brush, and Crimper Effectiveness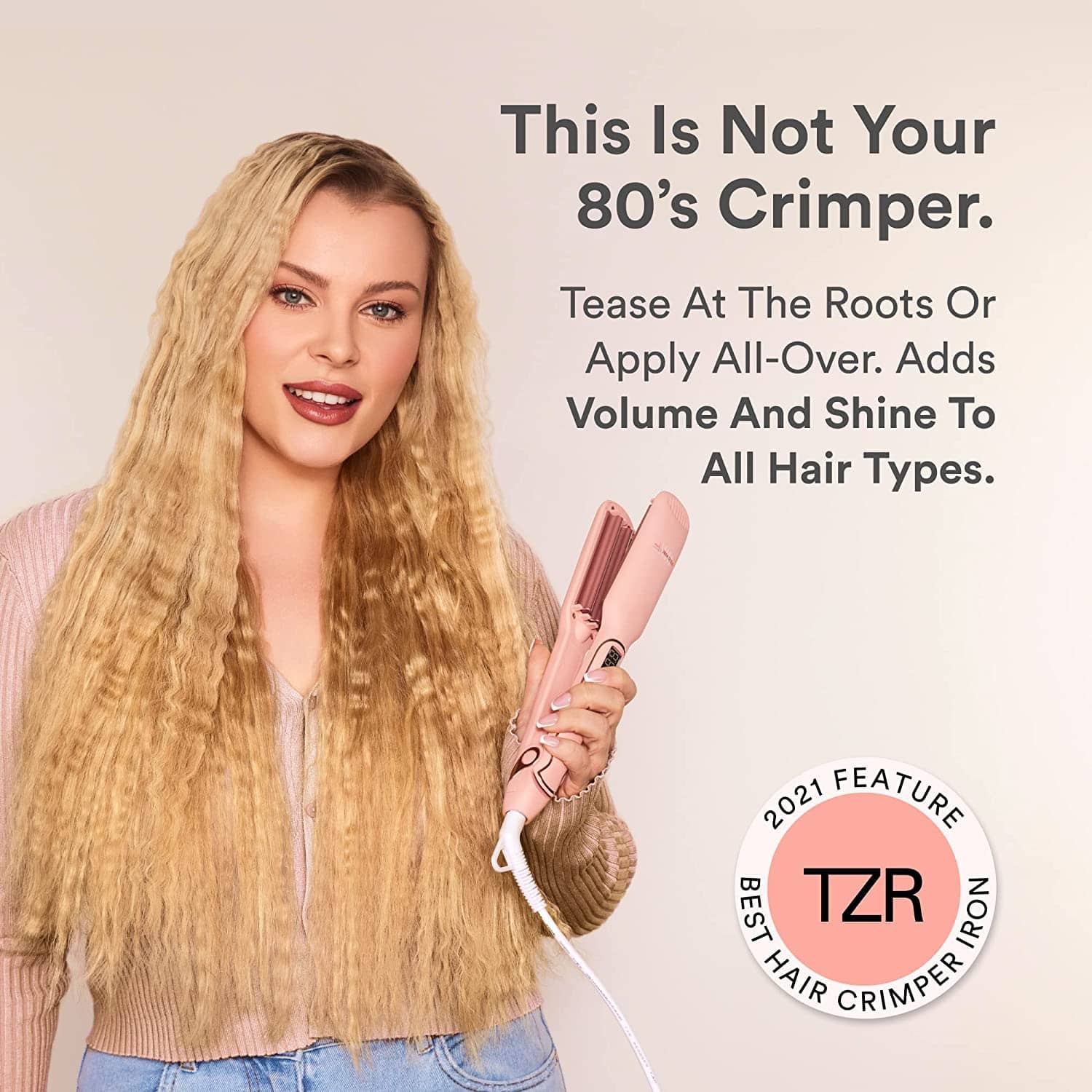 Using the INH hair crimps, you can get the perfect crimps 5 times quicker and faster than traditional ones – now you can go from flat to fabulous in seconds.
Adjust the temperature of the crimper and get the best and most long-lasting crimpes or waves for up to 48 hours. You'll be able to style your dreads, kinky hair, or Afro-textured tresses with this fantastic hair tool.
In addition, the soft nylon bristles curling brush gently detangles your thick hair, helps reduce split ends, and evenly distributes hair oil while keeping them smooth and shiny.
Pros
5x times faster heating time (virtually instant heat).
Has adjustable Heat Settings.
Ceramic-titanium hair-enhancing technology.
Heat-resistant glove.
Ceramic tourmaline glaze to dry and protect damaged and dry hair.
Cons
Temperature buttons are easy to use, though, but sometimes accidentally hit the power off button.
Take small sections when using the hair curler on dry hair.
INH Beach Waver Curling Iron, Brush, and Crimper Review
In a nutshell, INH beach waver is my solid hair curler choice regarding defined and perfect curls or simply detangling or crimping black hair.
The best part is the curls and crimps last more than 48 hours; you can even sleep with them.
Over 500,000 happy professionals use this beach waver hair curler, hair brush, and crimper for their customers and receive satisfying results.
Visit Amazon for the latest prices and reviews (INH Beach Waver Curling Set)
4.  Paul Mitchell Pro 3-in-1 Ceramic Interchangeable Curling Wand – Stylists Recommended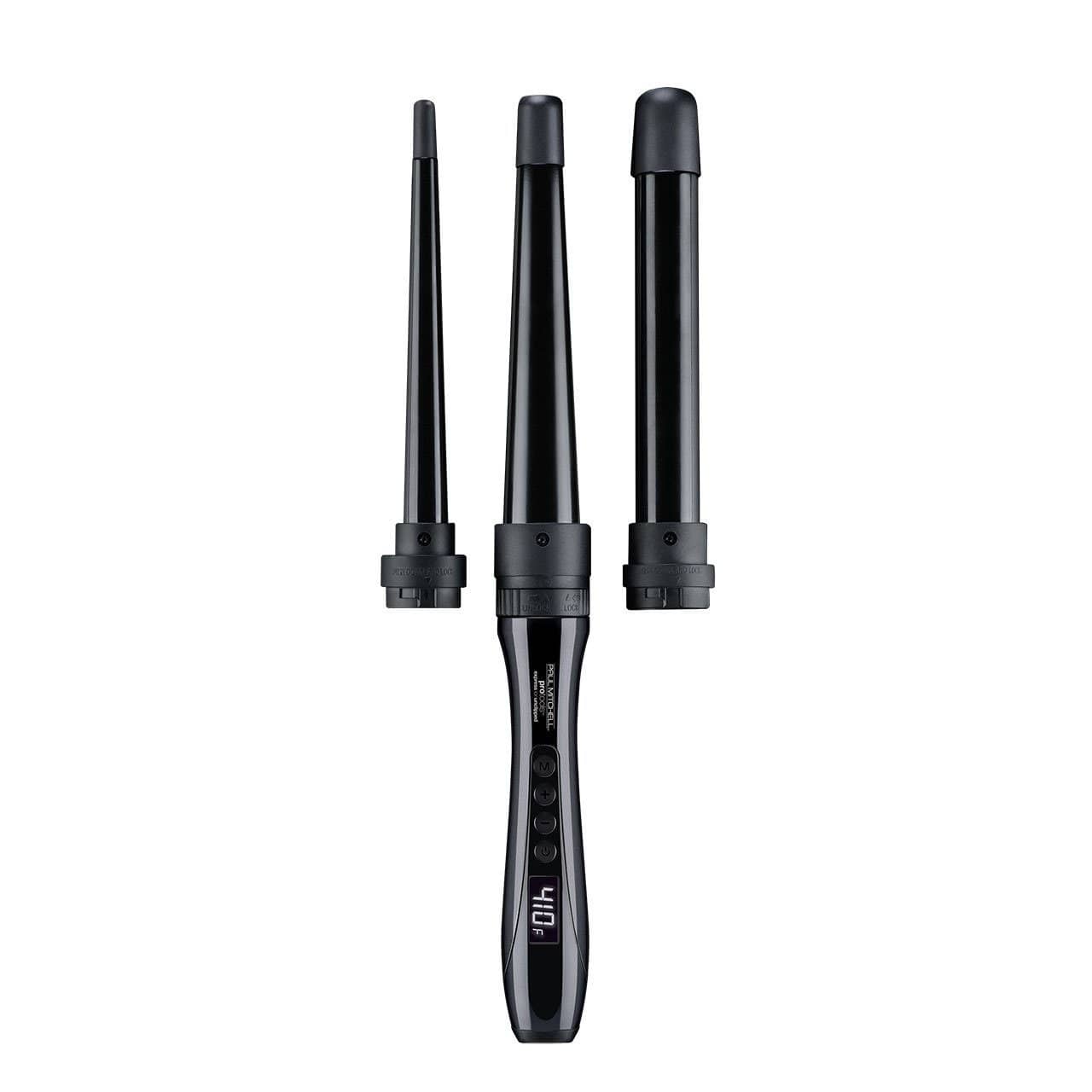 This 3-in-1 interchangeable professional curling wand set is a favorite choice of every stylist for Type 4 hair.
It heats hair smoothly and gently while leaving behind the perfect curls of your choice with fine and soft hair.
Moreover, a pack of 3 includes a 1-inch curling rod for creating loose curls, 1.25 inches styling cone for a natural curl look, and a 0.75-inch small cone for creating ringlets.
The product is engineered with super-charged negative ions and far-infrared technology that heats hair quickly from the inside out for hydrated and smooth curls with tremendous staying power.
Paul Mitchell Pro 3-in-1 Interchangeable Curling Wand Pro Features
This Paul Mitchell pro is incorporated with quick heating technology up to 410F only in 60 seconds, with a large digital display screen for immediate temperature control.
Moreover, its clamp-free designs protect African women's hair from split ends and reduce the chances of heat damage.
These 3-in-1 tools have allowed women to be creative with their hairstyles as they are versatile.
The best part is you can carry it wherever you want without fear of voltage compatibility as it is a dual voltage curling iron.
Paul Mitchell Pro 3-in-1 Interchangeable Curling Wand Effectiveness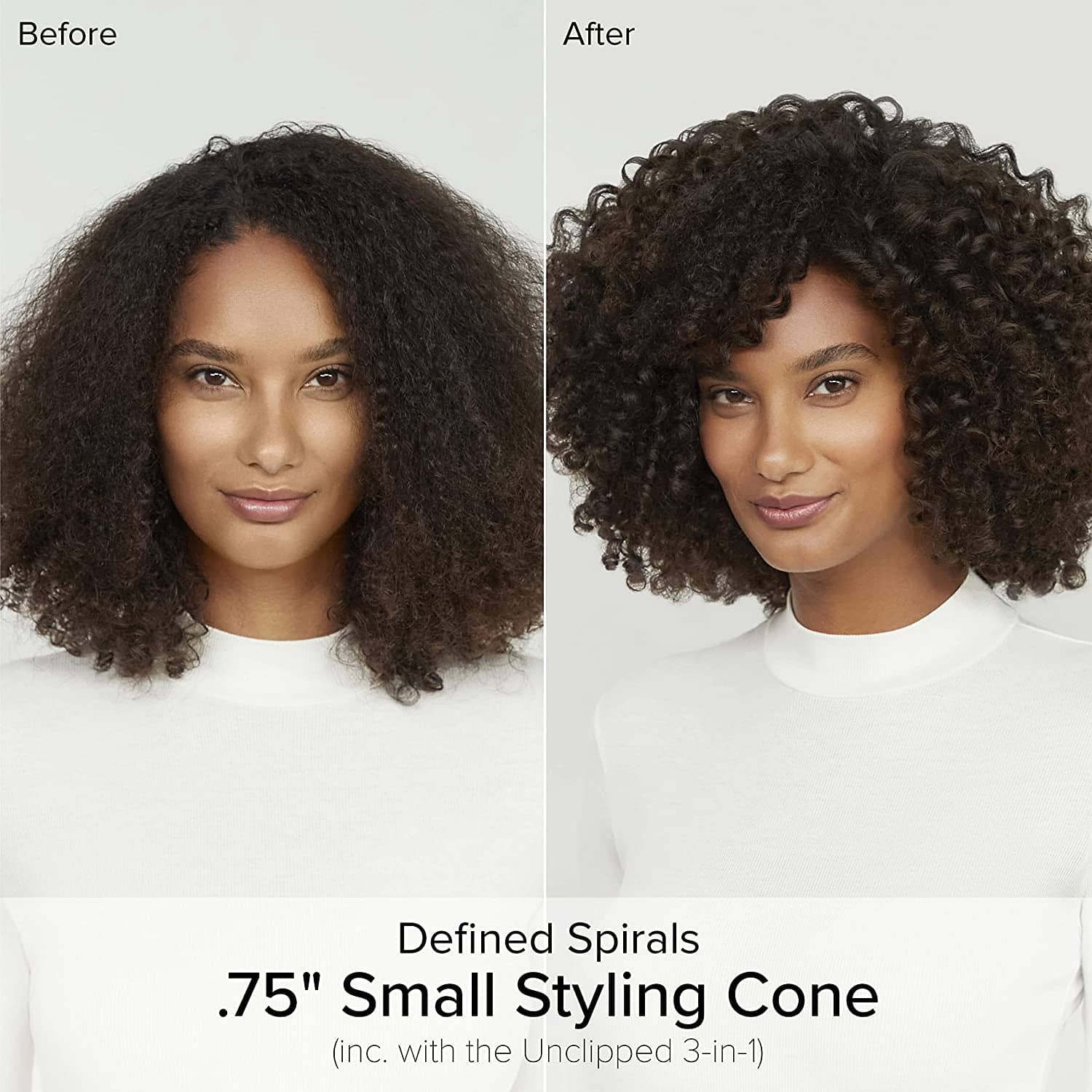 The product is convenient to use and lasts for extended periods for Type 4 hair in humid conditions due to its impressive and latest technological features.
Pick the design of the rod based on what type of curls you are looking for in your thick hair and which you want to create for the evening, and pick the right one with interchangeable ceramic barrels.
Wrap a strand of your hair around the rod and let it sit for a few minutes, and your perfect curls with desired size and intensity will be ready.
Three-sized tools are available to create a bouncy look with an automatic shut-off feature after 60 minutes of usage.
PROS
Large display screen for temperature control.
Express ion unclipped 3-in-1 for limitless hair styling opportunities.
Get voluminous waves within seconds.
Interchangeable ceramic barrels rods for impressive results.
CONS
It can hurt your fingers if you are not a pro.
Didn't work well for short hair.
Paul Mitchell Pro 3-in-1 Interchangeable Curling Wand Review
To sum up, this Paul Mitchell 3-in-1 interchangeable curling wand was a game changer for me as I am very fond of experimenting with new hairstyles, specifically on Type 4 hair.
With an easy interchanging technique, you don't have to spend much time, and you can get your desired-sized curl within minutes.
Nonetheless, if you are not a pro or have not been using curlers for a while, it is recommended to use them with heat protective glove, so as not to hurt yourself.
Visit Amazon for the latest prices and reviews (Paul Mitchell wand curling iron)
5.  FoxyBae 7-in-1 Curling Iron Set – Ideal for Limitless Hairstyles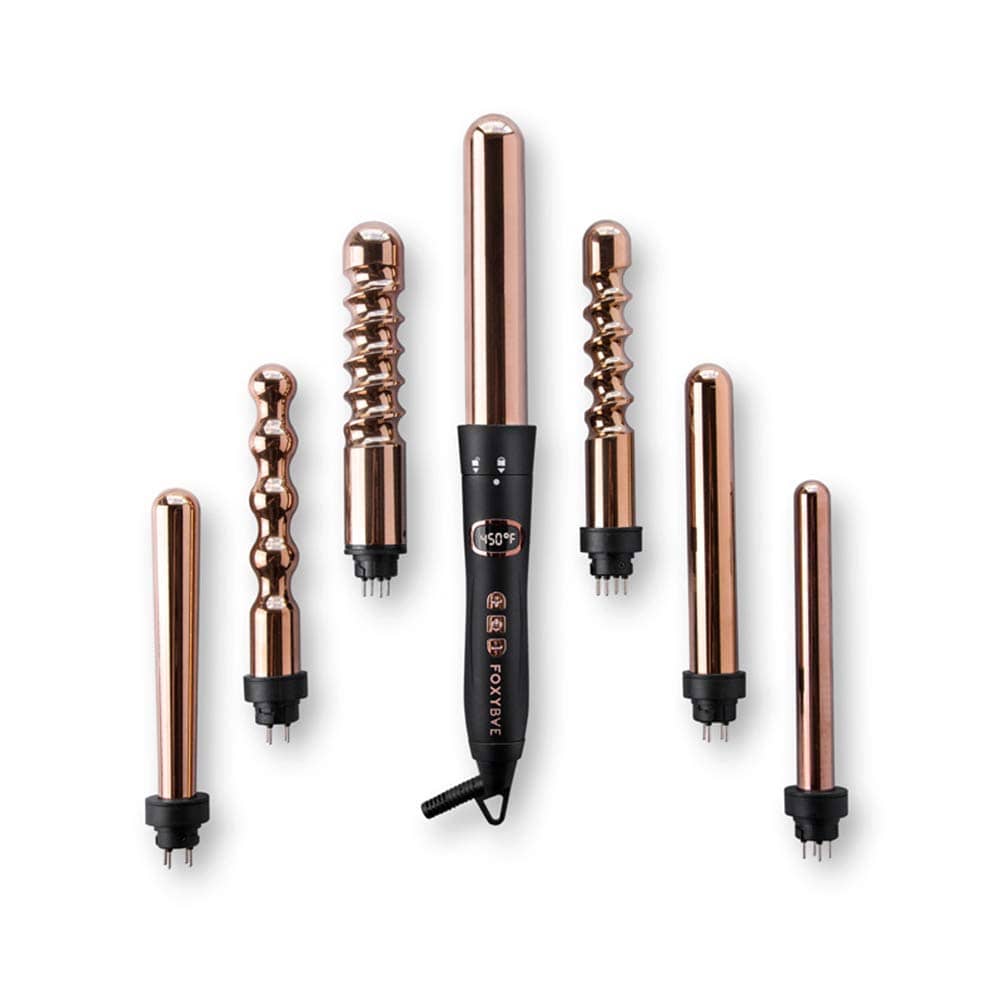 Looking for the perfect package for endless thick hair styling opportunities?
This rose gold 7-in-1 curling wand offers you numerous hairstyling ideas and opportunities if you are overwhelmed with the clutter of too many irons and curlers for your thick hair.
With the 7 easily interchangeable iron rods, you will have the maximum opportunities to diversify your attires creatively.
This professional-grade curling wand irons set includes 7 interchangeable barrels of 32mm and 25 mm spiral, 19mm, 32mm, and 25mm, pearl and reverse titanium barrels.
Moreover, the barrel's heating mechanism makes it evenly distributed throughout to protect the hair and generate effective outcomes.
Long-Lasting Curls in Few Minutes
With this rose hair curler 7-in-1, you can enjoy endless hairstyling ideas similar to sitting at a salon and explaining your thoughts on a perfect curl size.
The variety of barrels offers you an opportunity for beachy waves, spiral curls, and Hollywood glamour looks in only a few minutes.
Easy Control
The use of interchangeable barrels and controlling the temperature are on tips with the practical design of this curling iron wand set.
With the advanced responsive technology, you can choose the temperature and evenly distribute the heat throughout the curler, leaving behind perfect shiny, thick hair.
FoxyBae 7-in-1 Curling Iron Wand Set Effectiveness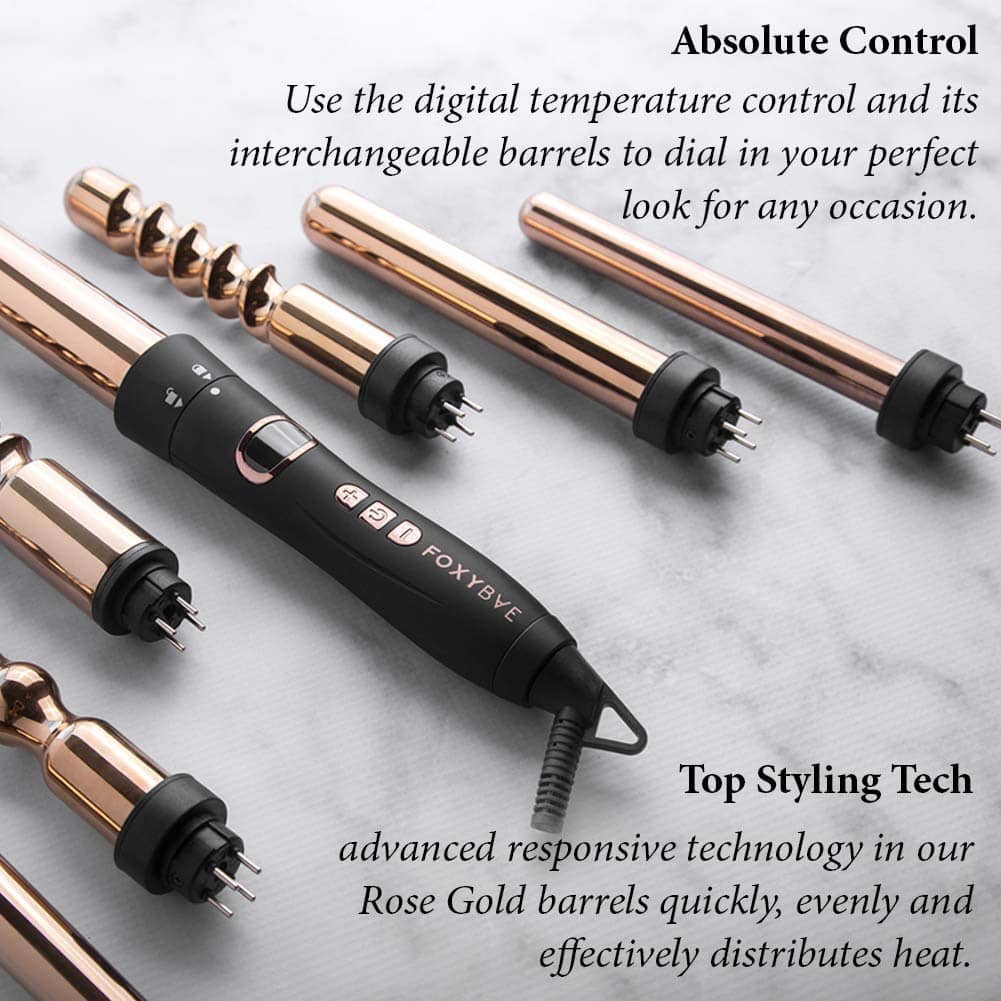 These signature Rose Gold Titanium barrels are designed to give you perfect curls for every occasion.
Its infrared-responsive technology minimizes harmful heat while heating the hair strands inside to give long-lasting curls.
PROS
7 signature lightweight barrels for all types of curls and looks.
Negative ion technology.
LCD for quick information.
Quick heat distribution for instant results.
CONS
The curling wand gets way too hot.
Some users reported the unit stopped working within a year.
FoxyBae 7-in-1 Curling Iron Set Review
In my opinion, FoxyBae 7-in-1 is the best curling iron for black hair if you want to experiment and try different hairstyles regularly without spending a fortune on purchasing separately for each style.
Though some users have complained that the iron gets way too hot, making it difficult to change the rod, it is safe to use while keeping the heat-protective glove on.
Overall, it is worth a purchase if you want to add the best interchangeable curling iron to your collection.
Visit Amazon for the latest prices and reviews (FoxyBae 7-in-1 Curling Iron Set)
FAQs Section for triple barrel Curling Irons
In this section, we will answer some of the most frequently asked questions about triple barrel curling irons so that you can better understand them.
Is a 3-Barrel Curling Iron Wand Set Worth Purchasing?
If you are fond of creating loose beach waves, 3 barrel curling iron is a must-have.
Which Interchangeable Ceramic Barrel Size is Perfect for Loose Beach Waves?
A 1-inch barrel size of a curling iron will work fine for perfect and outclass beach waves.
Why My Fine Hair Doesn't Hold Curls?
Fine or Type A hair doesn't hold a curl as they lack the tendency and amount to have rings.
Three-barrel curling wand Final Verdict
The global market for curling wand irons is expected to grow at 5.8% from 2019-2025, contributing to making it one of the essential products.
Having said that, the spike in the frequent use of the interchangeable curling iron can be imagined; still, it's important to keep the essential factors in mind when buying the curling iron that'll give you perfect looks.
I hope the reviews and verdicts provided in the article will help you decide. Have a close insight into each product, and let us know which is your favorite.
If you enjoyed this article about the best curling wands with interchangeable barrels, please like, share, and subscribe to AfroCurlsandCuts.com! Don't forget to check out our social media accounts as well.
Newsletter
Sign up for Afrocurlsandcuts.com newsletter to be first notified of events, promotions and most importantly fresh blogs articles!