We may earn money or products from the companies mentioned in this post.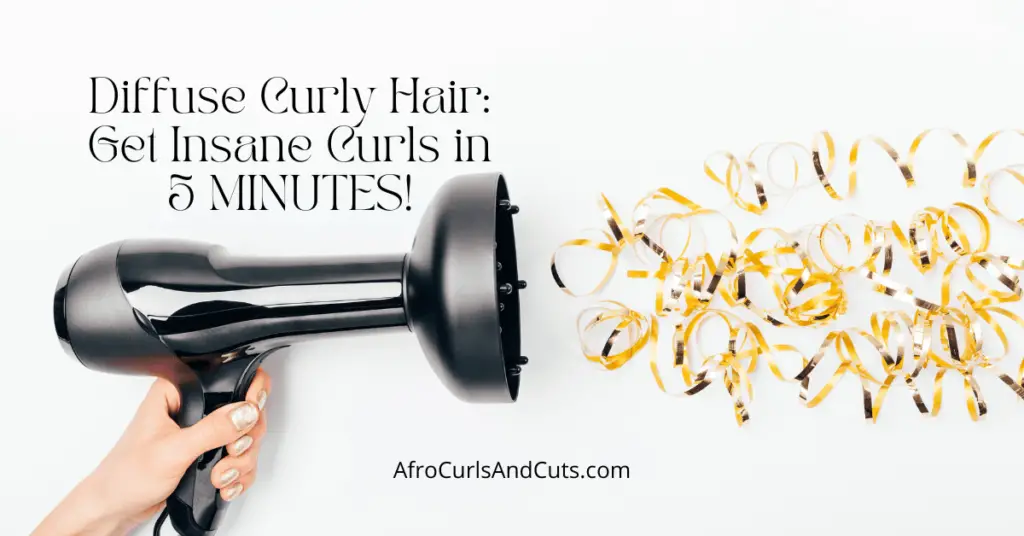 Diffuse Curly Hair: Get Insane Curls in 5 MINUTES!
This article is about the best method to diffuse curly hair fast. This is the ultimate guide you will ever need to enhance your curls without spending money or time at a salon for pro-level results.


If you're like most women, you probably have a love-hate relationship with your curly hair.
You love how it looks when it's styled and blown out but hate the frizz and flyaways that seem to plague your locks daily.
Well, what if I told you there is a way to tame those curls and achieve the perfect blowout at home? All you need is a diffuser!
In this article, we'll show you how diffusing curly hair can help to reduce frizz and add more definition and body to your locks.
We'll also provide tips on using a diffuser for best results. So read on and get ready to achieve the perfect blowout!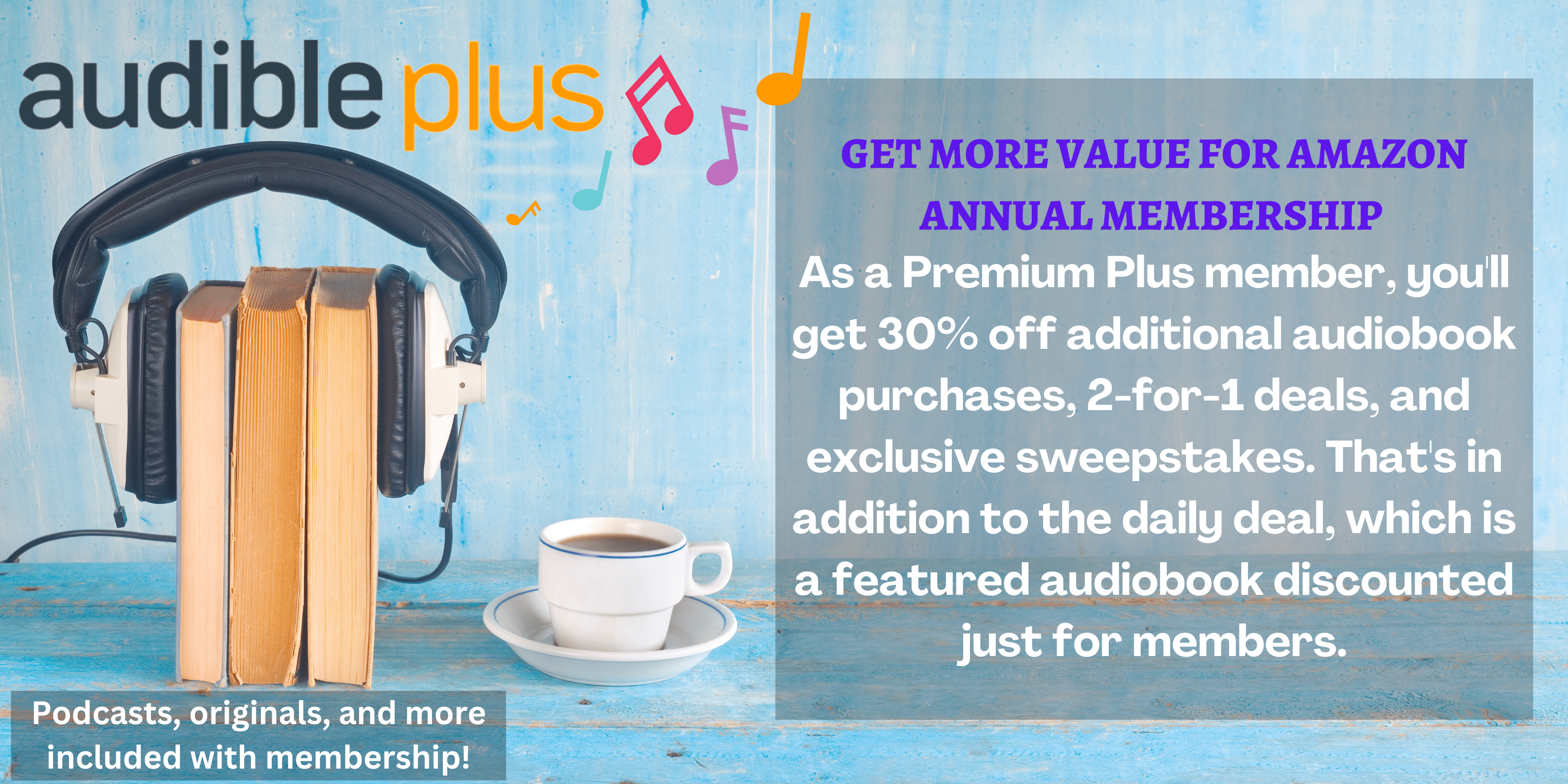 Click here for Amazon Annual Audible Membership!
3 Best Diffusers and blow dryer combo!
Diffuser – T3 Micro, T3 Fit Diffuser for T3 Fit Dryer
Blow dryer – T3 Micro T3 Fit Ionic Compact Hair Dryer
Hairdryer & Diffuser combo – FHI HEAT Platform Nano Lite Pro 1900
Read 15 Best HairDryers for natural hair to help you decide which hair dryer is best for you.
What is a hair diffuser?
Blow dryers diffuser is a round plastic attachment that you can slide onto the nozzle of your hairdryer.
A diffuser works by spreading the airstream over a broader area in a more controlled way.
This is beneficial for those with curly to wavy hair types as it can help to keep the natural curl pattern intact.
Diffusers help to minimize frizz and add definition to the curl. They are also less likely to cause heat damage as they distribute the heat more evenly.
The diffuser attachment can be found at most beauty supply stores or online. Keep reading, and we'll link to a couple of the best diffusers for curly hair at the end of this article!
How to Diffuse Curly Hair
Here are some super easy steps for diffusing curly hair. You'll effectively minimize frizz and maximize more volume with these simple tips!
Once your hair is thoroughly washed, apply your preferred styling products, and after a few minutes, wrap a Curl Towel or an old T-shirt around your head to remove any excess water.

Take a medium-sized section of hair and then arrange it to fit into the diffuser bowl.

Place the diffuser on your head close to the scalp. Once it is in position, place the hair dryer on the lowest heat setting and a warm air temperature. Continue the diffusing process for roughly 30 seconds.

Turn off the hair dryer, move to a new part of the hair, hold it in place at the scalp, and turn on the dryer.

Gently turn your head to the other side, gather a section of hair in the diffuser bowl, and repeat the process.

After your hair is about 80% dry (usually around 30 minutes drying time for long hair), you can also take this time to comb out your hair with a wide-tooth comb or your fingers to help define your curls.

Finally, gently shake your head to help curls fall into place, and then apply a light mist of hairspray for extra hold. You can also rub your scalp with your fingers at the roots to create volume!
Benefits of using a diffuser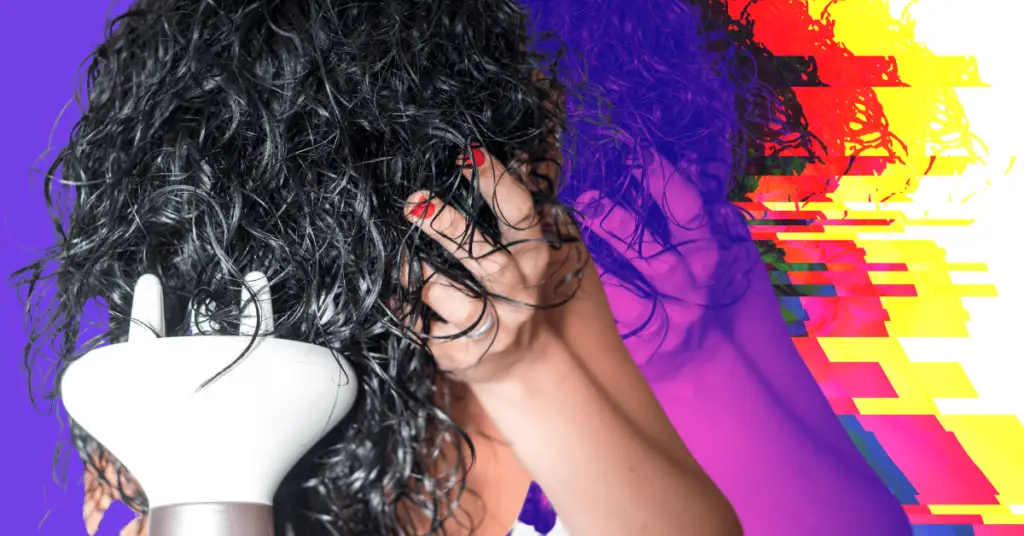 A diffuser is a must-have tool for anyone with naturally curly or textured hair. The tool provides benefits to naturally curly or textured hair by achieving bounce, voluminous curls, and reduced frizz.
Most people understand that heat styling can damage your hair, and if you don't use the right techniques or tools, you can end up with frizzy, undefined curls.
This is the opposite effect of using a hair diffuser, which can help minimize heat damage and enhance your natural curl pattern.
A diffuser can also help to dry your hair faster as it concentrates the airflow. This is especially beneficial if you have long hair, as it can take forever to air dry!
Not only does it dry, but it also helps stretch out the hair strands, making them fuller and longer, and it also speeds up the drying process. And because it is so versatile, it can be used on all types of hair, from fine and straight to thick and curly.
Plus, a hair dryer attachment is an affordable and convenient way to improve the health and quality of your natural curls.
So if you are looking for a way to achieve defined curls without losing natural oils or moisture, then adding a diffuser to your hair care routine is the way to go!
Frequently asked questions about Diffuse curly hair
Our mission is always to ensure that you have the best hair experience possible after reading our articles. Here are some frequently asked questions about diffuse curly hair that will help you on your journey to defined, beautiful curls.
How does a diffuser work on curly hair?
Curly hair is often frizzy and difficult to manage. A hair diffuser is an attachment that can be used with a hair dryer to help style, control frizz, and add volume.
Hair products like a leave-in conditioner, mousse, or gel can be applied to soaking wet hair before using a diffuser. Another helpful thing to remember is when you start diffusing, keep at low heat to medium heat.
Most hair dryers will have at least two heat settings with a cool shot button. The cool shot can be used at the end to help set your style.
However, the diffuser attachment works by cupping the hair and concentrating the airflow, which helps dry evenly and reduces frizzy hair. This is extremely important when caring for or styling naturally curly hair.
Is using a diffuser better than air drying?
If you have curly hair, you know that there is more than one different drying method out there.
Air drying is the most natural option, but it can also create a lot of frizz. When you air dry, your hair is often left looking undefined, puffy or hair feels crunchy. However, there isn't any risk of heat damage.
On the other hand, diffusing can speed up the drying process and help to enhance your natural curl pattern appearance.
However, it is essential to note that your blow dryer setting should not be on high heat for an extended period. Yes, your hair will dry faster, but it can also lead to heat damage.
We always recommend using the hair dryer with a diffuser on a minimum setting to dry your hair completely.
Can you use a diffuser with the curly girls method?
The Curly Girl Method is a hair-care technique developed by Lorraine Massey for natural hair that has not been chemically straightened (coils, waves, and curls).
This approach discourages frequent usage of sulfate shampoos, which are pretty harsh for coily hair.
One way to keep your curls looking their best is to use a diffuser when you blow-dry your hair. A diffuser works by spreading the airstream over a wider area in a more controlled way.
Diffusers are great for those with curly to wavy hair types as they can help to keep the natural curl pattern. You can easily blow curls out of shape and into a frizz without a diffuser.
So if you want to keep your curls looking bouncy and beautiful, use a diffuser with your hair dryer the next time you use the curly girl's method.
Can you diffuse wavy hair?
Most people with wavy or curly hair have experienced the disappointment of spending hours trying to achieve the perfect curl pattern, only to see a bird's nest on your head.
Diffusing your hair is a great way to enhance your curl definition and achieve the bouncy, healthy curls you desire. But diffusing can be tricky, and it's important to know how to do it correctly to avoid damaging your hair. Here are some of the top tips to get you started:
When you begin diffusing, always start at the roots and work your way down. This will help ensure that your curl formation is uniform and that your curls start off smooth and defined.

Be gentle! Curly hair is delicate, so it's important not to be too rough when diffusing. Gently hold the diffuser in place, tilt your head to one side, and let the airflow do its work.

Know your curl type. Different curl patterns require different diffusing techniques. For instance, if you have tight, coil-like curls, you'll want to use moisturizer before diffusing to avoid frizz. On the other hand, if your waves are looser and defined, you can get away with using less product. The key to success when diffusing wavy hair is to start with clean, wet hair and use a product that will help enhance the style.

Be careful not to over-style, which can lead to more frizz and flyaways. On the other hand, if you have looser waves, you may need to diffuse for a longer period of drying time to achieve the desired effect.

Finally, grab a hair pick to style your hair the way you want it!
Should I diffuse damp or wet hair?
One of the most common questions I get asked is whether you should diffuse damp or wet hair.
The answer is damp – not wet. If you Diffuse wet hair, you're more likely to create frizz and won't create as much volume. Most blow dryers come with a diffuser attachment – which looks like a little basket with fingers sticking out.
You'll want to set your blow dryer low or cool and start at the scalp. Massage your scalp with the diffuser's fingers in a circular motion for 2-3 minutes. This will help create volume and prevent frizz. Happy diffusing!
Should you diffuse curly hair with hot or cold air?
For those with curly hair, the question of whether to diffuse with hot or cold air is often controversial.
Some stylists recommend using hot air to help add volume and definition to curls, while others believe cold air is better for preventing frizz. So which is the right choice?
Ultimately, it depends on your hair type and styling goals. If you have thin, fine hair, then hot air may help to add some much-needed body.
On the other hand, if your hair tends to be frizzy, then cold air may be the way to go. Experiment with both hot and cold air to see what gives you the best results.
Diffuse curly hair final thoughts!
Hopefully, this article has helped you to understand a little more about diffusing curly hair.
As we have seen, there are a few things to keep in mind when diffusing, such as using the right product, starting at the roots, and using a minimum amount of heat.
However, if you follow these tips, you should be able to achieve great results. Diffusing can help to enhance your natural curl pattern, give your hair volume and body, and make it easier to style.
So why not give it a try? You may just be surprised at the results.
Don't forget to like, share and subscribe! If you have any questions, please comment below, and we will be happy to answer.
Thank you for reading, and happy hair care!
Newsletter
Sign up for Afrocurlsandcuts.com newsletter to be first notified of events, promotions and most importantly fresh blogs articles!