We may earn money or products from the companies mentioned in this post.
Are you looking for the best hair dryer for curly hair?
You've come to the right place! We've got the inside scoop on the 11 best hair dryers for curly hair in 2022.
Plus, we'll show you how to find the perfect one for your unique needs.
Whether you have tight coils or loose waves, these top-rated hair dryers will help you achieve frizz-free, bouncy curls. So what are you waiting for? 
Keep reading to learn more about the list of the 11 best hair dryers for curly hair in 2022!
Best Hair Dryers for Curly Hair (Quick Guide)
Here's an article you may be interested in 6 DIY Natural Heat Protectants for Hair [Stylist Verified].
Detailed Reviews of the Top Hair Dryers for Curly Hair.
GAMA IQ Perfetto Hair Dryer.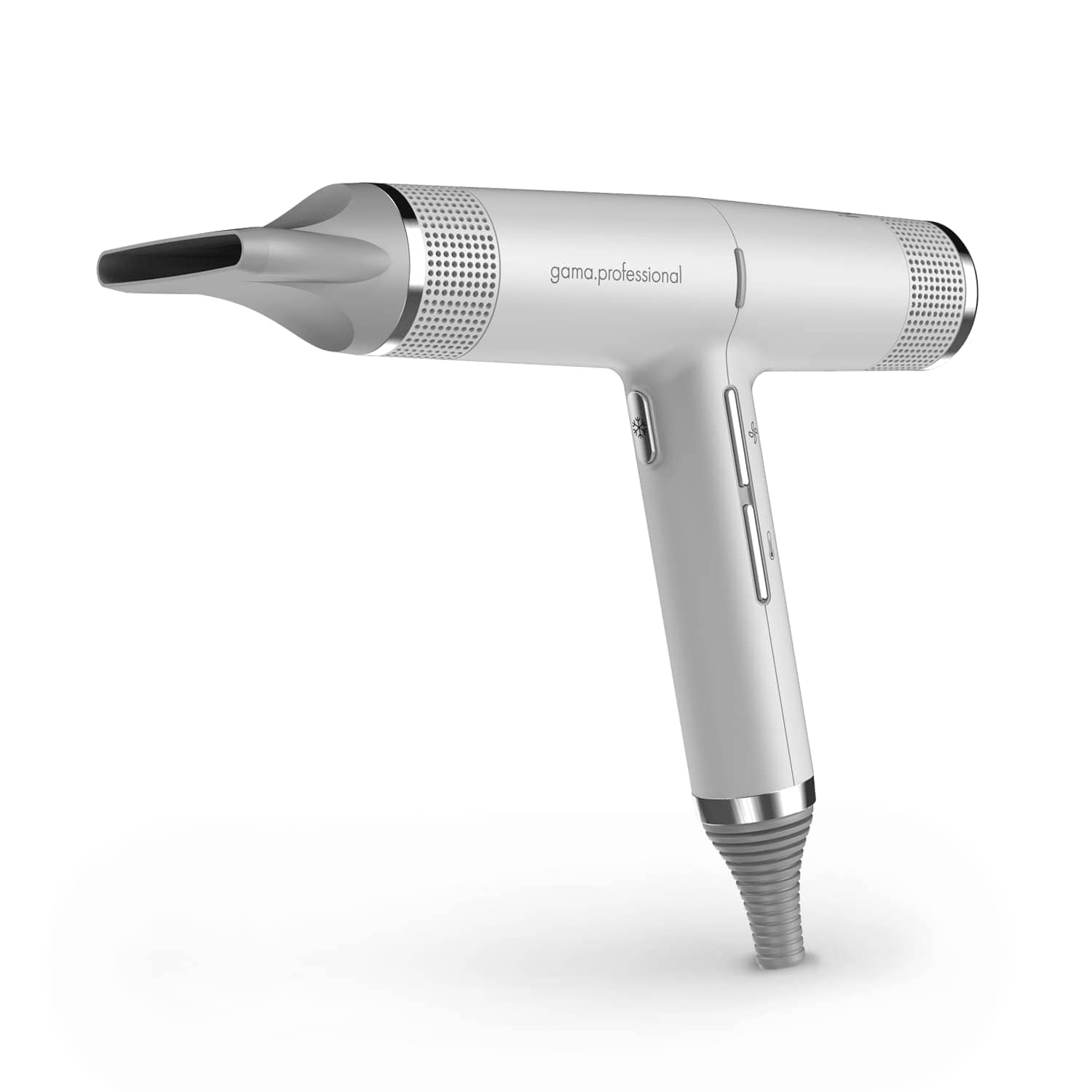 Although GAMA is not a well-known brand, the GAMA IQ blow dryer's distinctive product design deeply impressed me.
It has a very long, thin dryer body with filters on both ends, unlike conventional blow dryers, which have a relatively large drying body.
In addition to the excellent noise level, I also love how this blow dryer feels in my hands. 
Despite the product being light, you won't feel uncomfortable using it because of its ergonomic and well-balanced design.
Features.
Intelligent brushless long-life motor.

It offers three-speed and four-temperature settings.

Digital control interface.

It comes with two nozzle attachments and a diffuser attachment.

3m Salon length cord.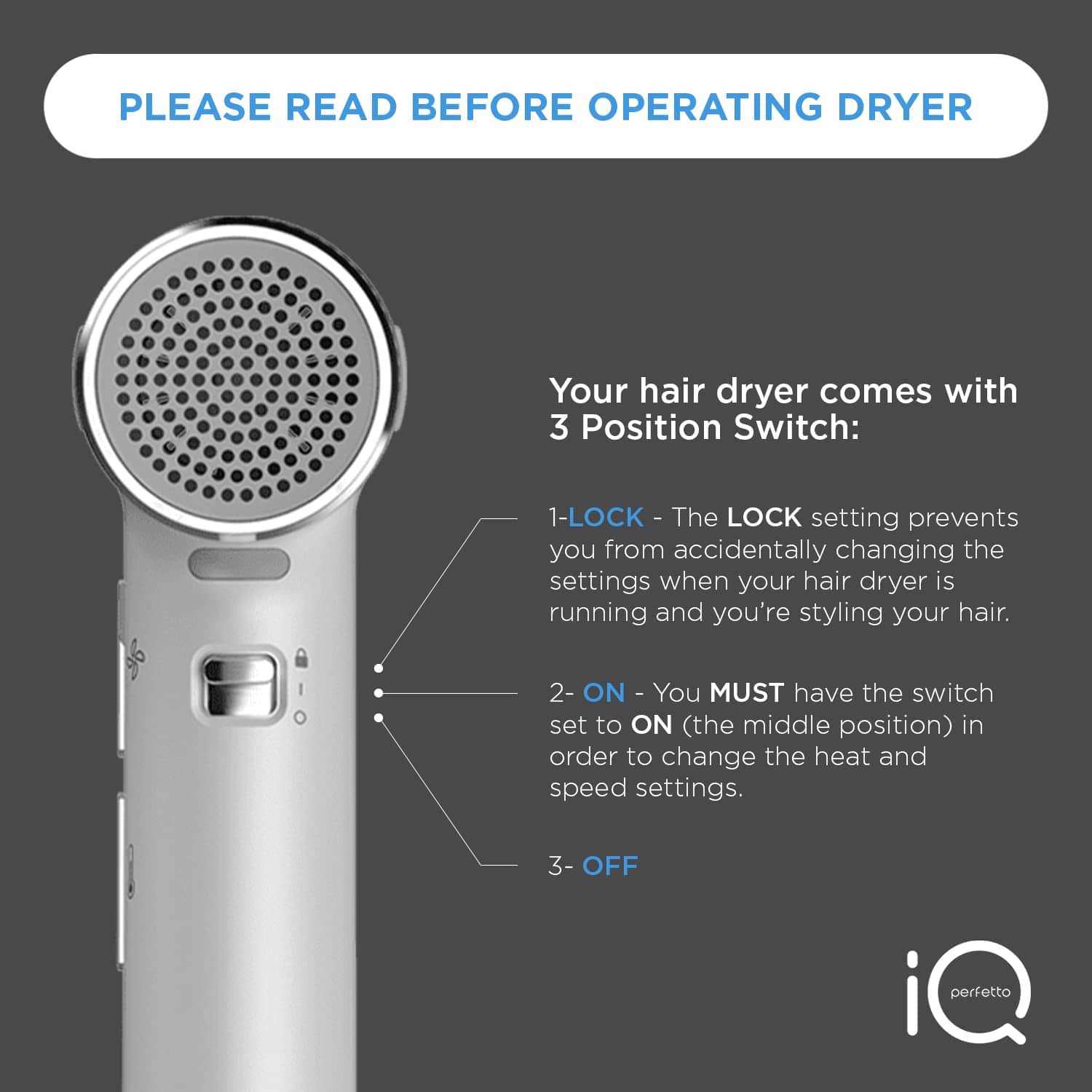 Benefits.
Its cutting-edge Oxy Active Technology takes advantage of active oxygen's antibacterial characteristics to produce healthier, shinier, and regenerated hair. 

It contains a lock feature to limit unintentional changes to the airflow or temperature.

The auto-diagnostics feature is intended to detect operational problems and stop damage automatically.

Stylists can customize the user's preferences using the memory function.
How Does It Work?
The most advanced and sought-after technologies are used in the hairdryer, including Oxy Active Technology, Auto-Clean, Memory Function, and Intelligent Brushless Motor.
All these technologies work together to keep your hair healthy and dry.
Pros and Cons.
Pros.
Sleek design.

No noise.

Decent drying capabilities.

Compact design.

Lightweight hair dryer.
Cons.
FAQs.
How many watts is the Gama hair dryer?
The Gama iQ Perfetto has 2000 watts of power and claims to dry hair 30% faster than any other hairdryer while operating at a quiet 78dB sound level.
Does Gama IQ Perfetto dryer damage hair?
Gama IQ Perfetto blow dryer has heat settings that will not damage your natural curls.
It is a good hair dryer for people with damaged or fine hair.
My Thoughts on IQ Perfetto Hair Dryer
IQ Perfetto is a great hair dryer that comes with two easily detachable nozzles to blow dry curly hair. 
I was satisfied with the performance of the hair dryer, considering my long curly hair.
Additionally, it is very comfortable to use during long operation of the handheld hair dryer.
Visit Amazon for prices and reviews (IQ Perfetto Hair Dryer)
Dyson Supersonic Hair Dryer.

The Dyson Supersonic hair dryer is the pinnacle of futuristic design.
It felt like I was holding a magic wand as soon as I pulled it out of the box.
Its sleek design and heavy-duty construction make it a must-have for anyone who values quality hair tools.
The customer-favorite Dyson dryer has received numerous awards and accolades, primarily because of its innovative ability to dry hair quickly and without hair damage. 
Features.
Magnetic styling attachments.

Air multiplier technology.

Intelligent heat control.

Diffuser attachment.
Benefits.
Dyson's strong digital motor V9, which can spin up to 110,000 times per minute and push 13 liters of air up to the amplifier per second, is at the heart of the dryer.

The device' Air Multiplier technology creates a concentrated airflow for quicker and more precise drying and styling.

In order to avoid any damage, this dryer also incorporates intelligent heat control, which measures the air temperature more than 40 times each second.
How Does It Work?
The Dyson Supersonic dryer uses intelligent heat control to maintain the ideal temperature and reduce the risk of extreme heat damage.
Pros and Cons.
Pros.
Keeps temperature under control.

It is fast drying.

The handheld dryer is lightweight.

The handheld drying tool offers various colors to keep the styling experience fun and unique.
Cons.
Requires a learning curve.
FAQs.
Is the Dyson hair dryer worth it?
The Dyson dryer is pricey, but if you want to check off boxes and make life easier, it's worth every penny.
This is especially true for those who are always on the go, want to integrate straightening and drying, or want a quieter hair-drying experience.
Why is Dyson better than other hair dryers?
It employs a cutting-edge, brushless digital motor that is much smaller and lighter than conventional hair dryer motors.
You'll enjoy a quieter but equally powerful airflow like the Dyson's Air Multiplier technology.
My Thoughts Dyson Supersonic Hair Dryer.
Overall, this hair dryer was an excellent addition for anyone who wants to make styling their hair easier.
The Dyson Supersonic dryer does an excellent job of drying and styling with minimal heat damage.
Regarding the claims that it dries faster, my cousin's hair is really thick, and it did dry fairly quickly.
If you want to invest in a good-quality hair dryer, the Dyson Supersonic is worth the money.
Visit Amazon for prices and reviews (Dyson Supersonic HairDryer)
T3 Featherweight StylePlus – Professional Hair Dryer.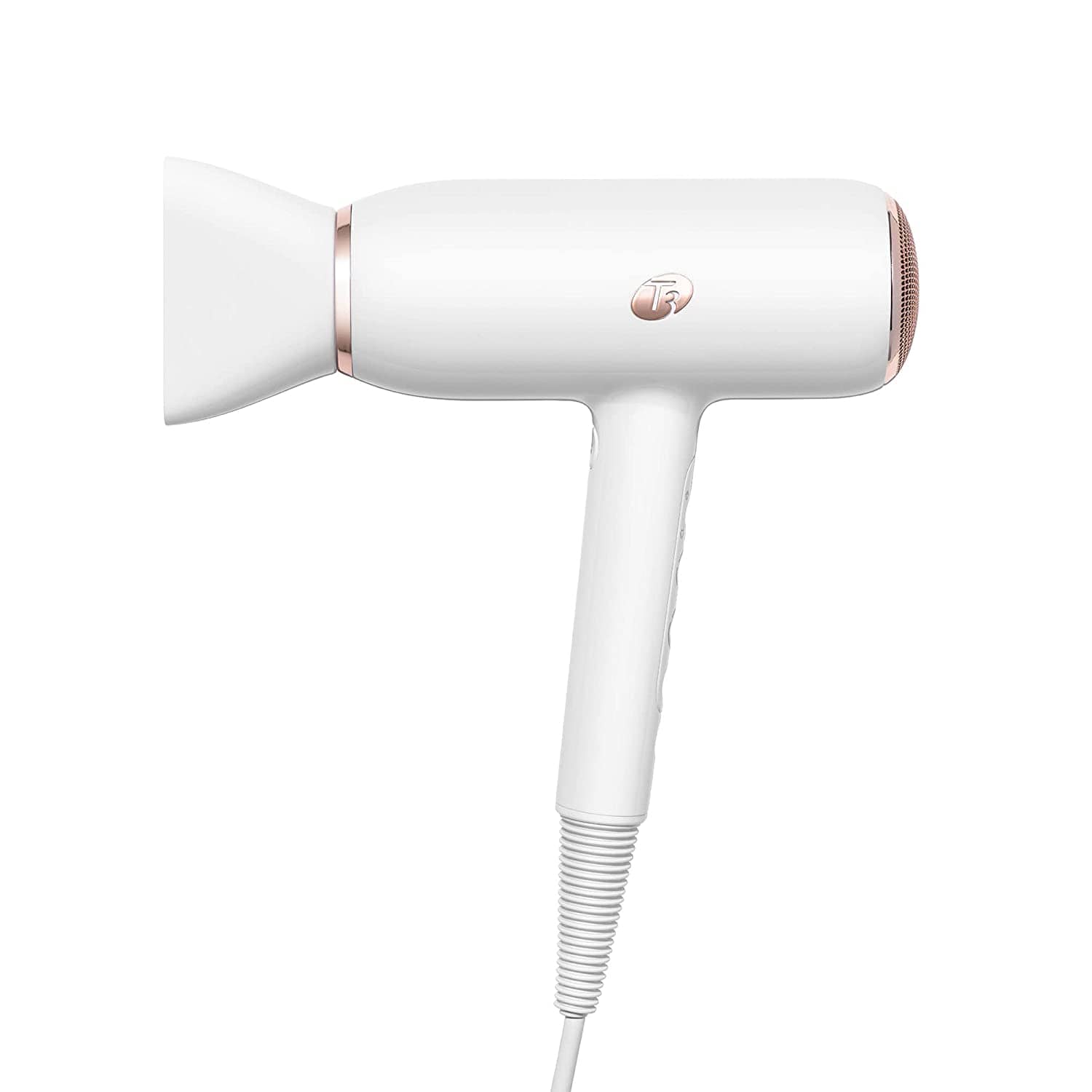 This cutting-edge dryer sets the bar for temperature control with five heat settings.
The airflow is incredibly gentle on over-treated ends, which is why we chose it for colored or processed hair.
With this tool, I can dry my thick, 3C/4A hair in 25 minutes compared to the usual 45 minutes.
Features
Customizing heat and speed settings.

Smart microchip.

Ionic technology.

Lock-in cool shot button.

Check 

diffuser hair dryer

.

Benefits
IonAir technology for a frizz-free finish and quick drying.

Thanks to auto-dual voltage and a folding handle, the ability to use the dryer anywhere on the go is ideal for travel.

Compact and lightweight hair dryer.

Features 1,800 watts of power to finish the job swiftly and SoftAire and 

tourmaline technology

 to maintain the health of your hair while heate styling it.
How Does It Work?
The dryer digitally regulates heat and air, driven by a specially created fan and a broad airstream filled with ions.
The ion generator saturates the airflow with 10 million negative ions per second to eliminate static and smooth the curly hair cuticle for a lustrous finish.
Pros and Cons
Pros
Universal auto-dual voltage.

Travel-friendly.

Sleek design.
Cons
Takes longer to dry hair comparatively.

The cord is a bit chunky.
FAQs
How many watts is the T3 Featherweight hair dryer?
There are two speed options on the T3 Featherlight: high and low.
While the low temperature and settings are perfect for short, thin, and fine hair, the high 1,800-watt output is more than enough for thick and long hair.
Does the T3 hair dryer damage hair?
The IonAir technology, which is unique to this hair drier brand, emits millions of negative ions to smooth and dry your locks without heat damage.
My Thoughts T3 Featherweight blow dryer
Keep this miniature hairdryer from T3 in your suitcase rather than taking a chance with an inconsistent hotel hairdryer.
Even though it is compact, it still boasts features that can compete with larger hair dryers, such as a lighter weight, detachable concentrator, six temperature and speed settings, and IonAir technology for quick drying and a frizz-free result.
If you are always on the go, the T3 is the best travel hair dryer choice for you.
Laifen Swift Special High-Speed Hair Dryer.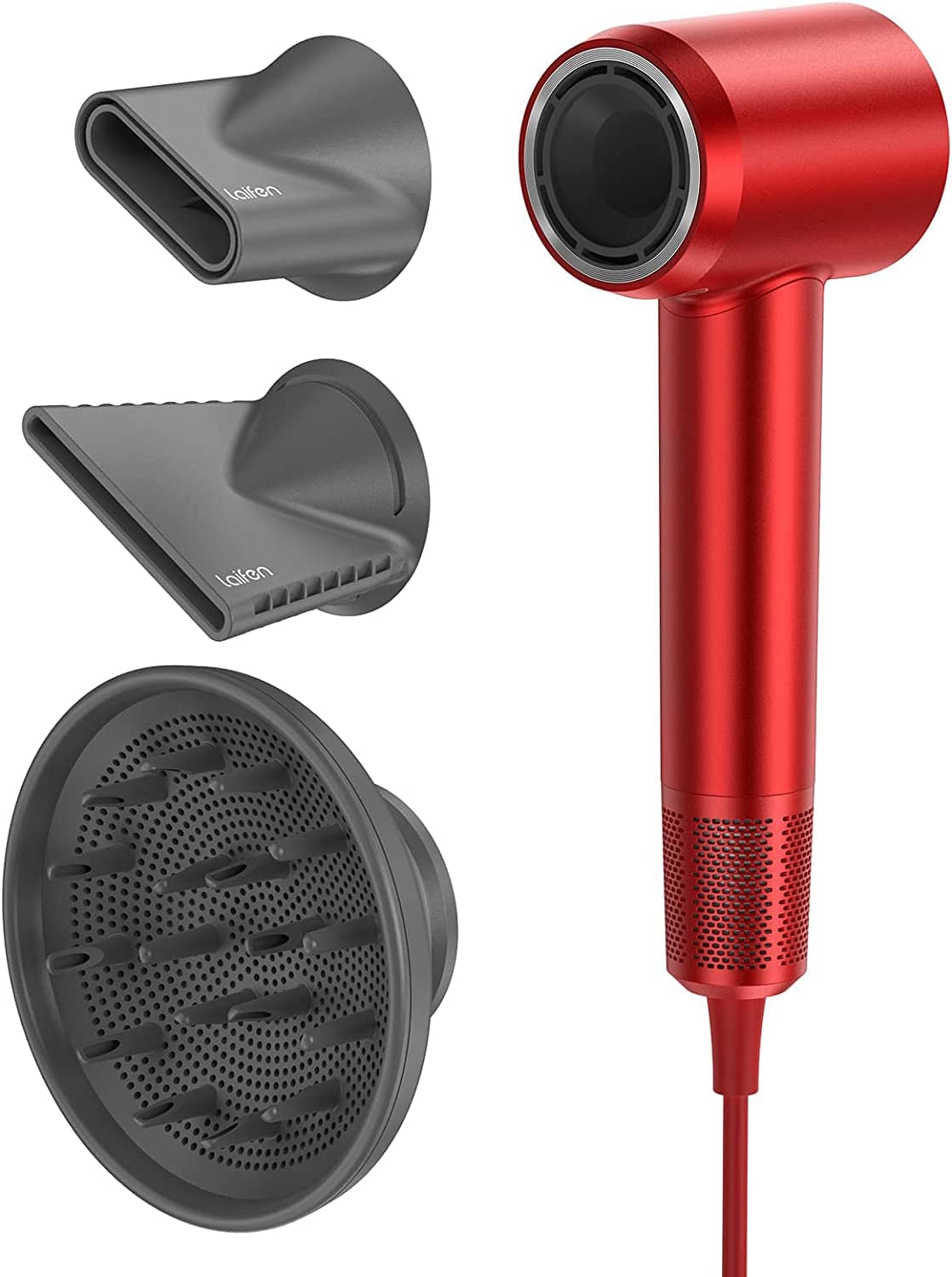 The Laifen Swift High-Speed Hair Dryer is a small but surprisingly powerful blow dryer.
Your hair won't frizz because of the built-in ionizer.
It is appropriate for any hair type or style, thanks to various attachments and settings.
Features
Minimalistic design without unnecessary curves.

Compact design for travel.

Temperature control button.

LED technology indicators.

Powerful 110,000 RPM motor.
Benefits
It only makes 59dB of sound, even on the highest setting.

The airflow is incredibly strong at more than 70 feet per second on the highest setting.

Depending on the surrounding temperature, the generated air may be hotter or cooler than expected.

The microcontroller and thermostat check the air temperature 100 times per second. 

It continuously modifies the heating element as necessary to maintain a precise temperature.
How Does It Work?
The dryer features a 110,000 RPM high-speed brushless motor with a 22 m/s wind speed.
Its powerful airflow can dry hair quickly, two times faster than conventional hairdryers.
Depending on the thickness and length of the hair, drying time ranges from 2 to 8 minutes.
Pros and Cons of the Laifen Swift High-Speed Hair Dryer.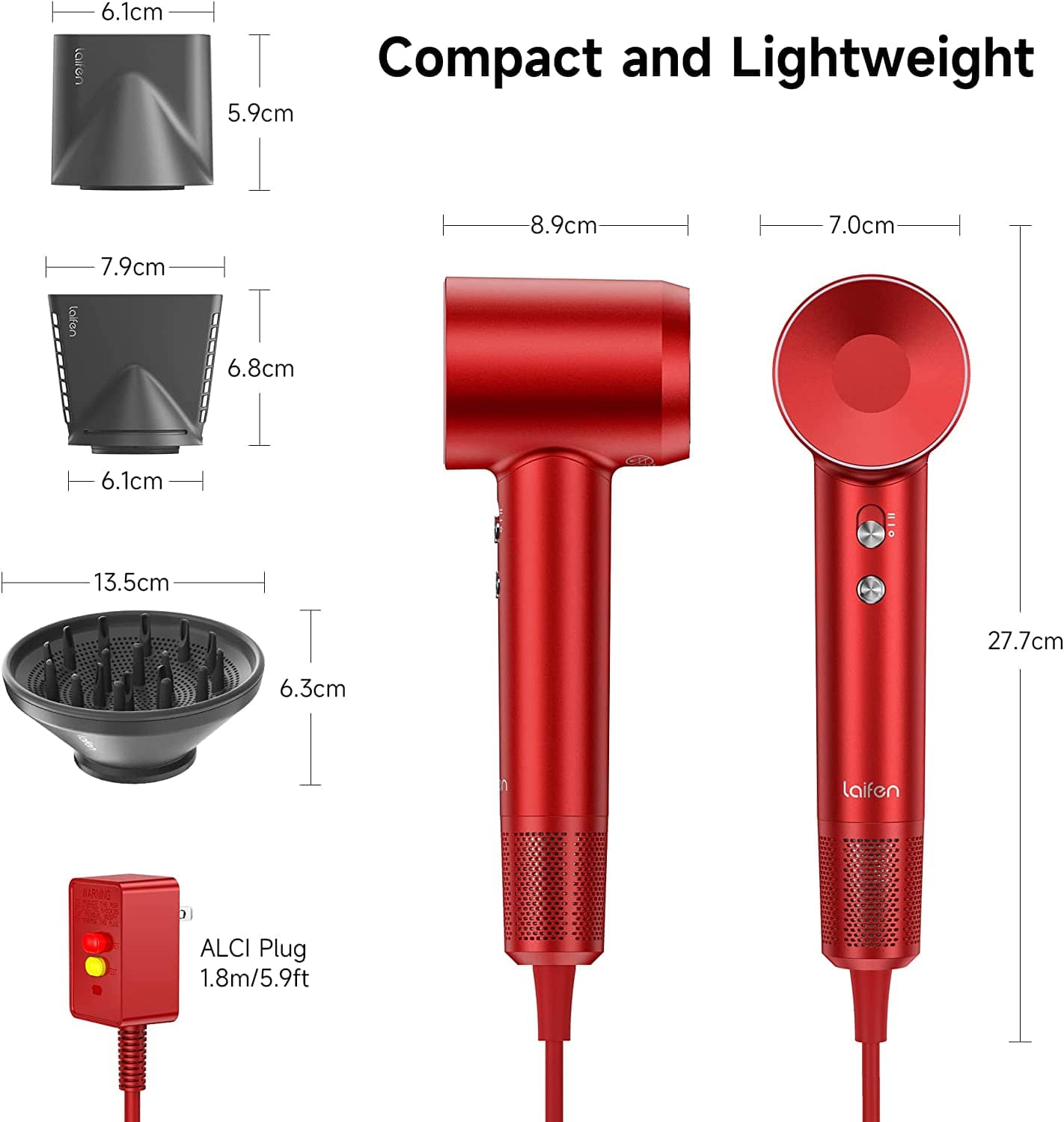 Pros
Powerful drying process.

No frizzy hair.

High-quality attachments.

Heat control.
Cons
The power cord is a bit short.

The filter cover comes off by itself sometimes.
FAQs
Is it worth investing in Laifen Swift Hair Dryer?
Laifen dryer is a must-buy because its benefits greatly surpass its shortcomings.
The only complaint was the short power cord, but the performance is ideal for curly hair.
What is the weight of Laifen hair dryer?
Laifen's hairdryer is compact and lightweight, weighing only 0.9 pounds, making it perfect for home or on the go.
My Thoughts
The Laifen Swift Hair Dryer comes in a smaller box and has twice the blowing power of a regular blow dryer.
It has a single-speed switch and a temperature button to serve as the controls.
The ionization function effectively controls fly-away hairs. You can make a variety of hairstyles with three premium nozzles.
I think a longer power cord would have been nice, but considering all the advantages, that is a minor inconvenience.
BaBylissPRO Nano Titanium Portofino.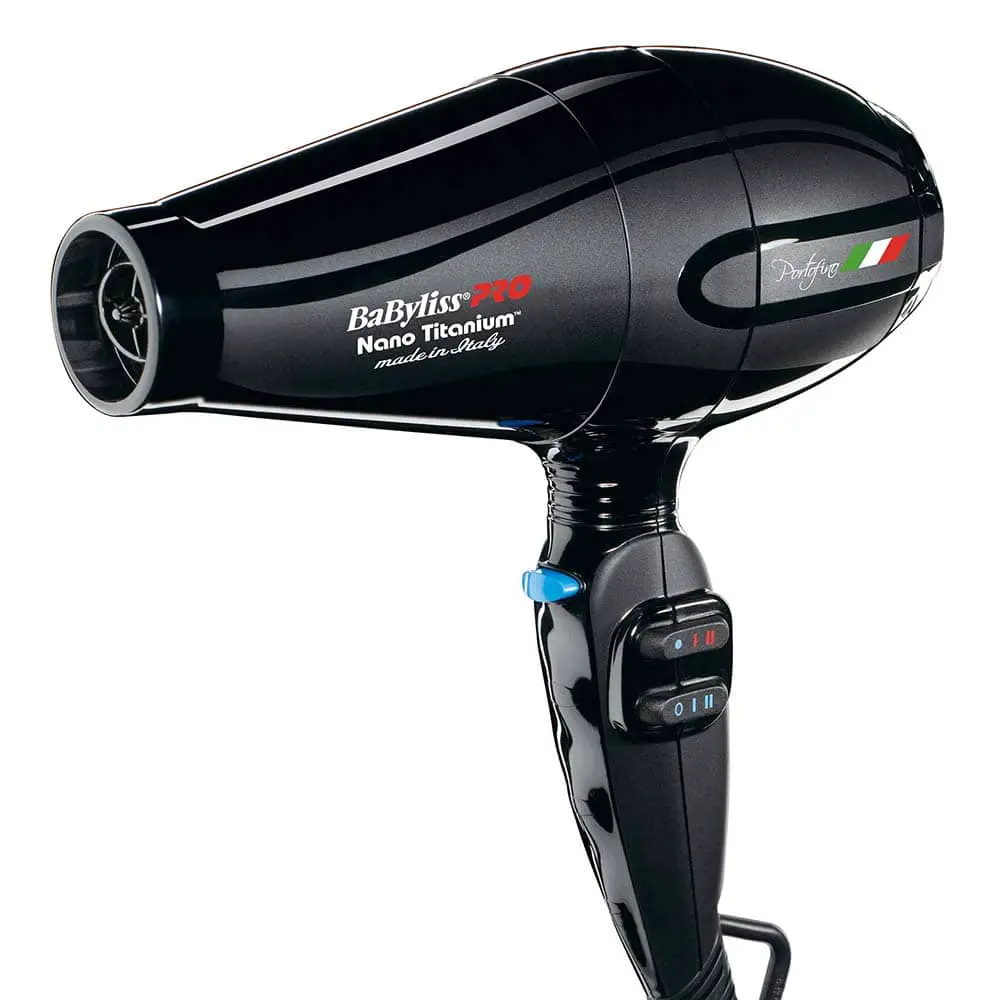 The Hydro-Fusion hair dryer from Babyliss is one of a kind heat-styling product that uses Advanced Plasma ionic technology to smooth hair, improve hair health, and reduce frizz.
Features
Ionic heating element.

Temperature and speed settings.

Cold shot button.

Includes a concentrator nozzle and a diffuser.
Benefits
Your wet hair can dry more effectively at lower temperatures thanks to its plasma technology.

The Hydro Fusion dryer has a diffuser to provide volume to natural curls and a concentrator to direct heat.

The attachments are simple to put on and secure once they are on.

The two-speed settings and three temperature settings can be changed independently, giving you a wide range of styling options.

It is a fantastic mid-priced option for curly hair because it is gentle and hydrating.
How Does it Work?
The dryer's negative ions will eliminate static electricity in the hair and seal the cuticle for smooth, glossy results.
Pros and Cons
Pros
Gives you a shinier hair appearance.

It doesn't get too hot to touch.

Comfortable for holding.
Cons
Relatively heavy.

It only offers a little variety in terms of color.
FAQs
Is it worth buying the BaByliss hair dryer?
The hair dryers made by BaByliss are of high quality and come in various designs, dimensions, and patterns.
They boast sturdy, powerful motors that enable speedy, efficient drying.
Without causing heat damage, these dryers will offer you lustrous, bouncy-looking locks.
How many watts is the BaByliss Pro Nano Titanium?
A fantastic power, speed, and design trifecta offer 2000 watts of heavy-duty performance and ergonomic handling.
My Thoughts on BaBylissPRO Nano Titanium Portofino.
Personally, I had a little trouble holding it for a long time because the speed is not as fast as its competitors, and it is not that lightweight.
But the overall performance was optimum, given the affordable price range.
Visit Amazon for prices and reviews (Babyliss pro blow dryer)
Shark HD113BRN Hair Blow Dryer.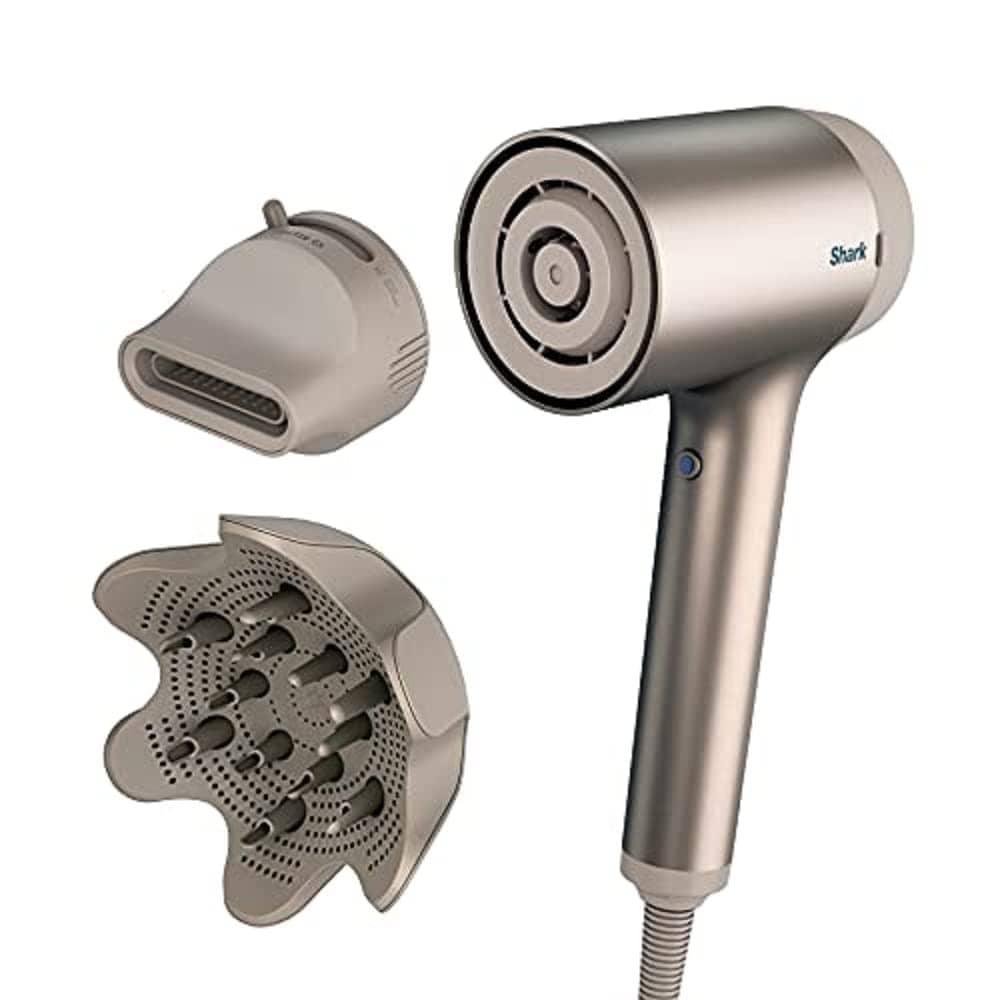 Shark is most likely known for their vacuum cleaners, but the company also unveiled a fantastic new hair dryer.
It has a myriad of technology, but what makes it most impressive is that you only need to click the included attachments into place; the dryer will then automatically regulate the temperature and airflow to give you the optimal finish.
Features
Cup diffuser attachment.

Adjustable heat settings.

Ionic and intelligent air control.

Three heat settings.

Cool shot button.
Benefits
Its IQ Technology combines warm air traveling at high speed with ionized air for incredibly quick drying.

Smart heat control ensures constant temperature and air distribution for speedy, uniform drying by measuring surrounding heat up to 1,000 times/second.

Compared to air drying, it improves smoothness and luster while reducing frizz and flyaways thanks to its negative ion generator.
How Does It Work?
HyperAIR IQ Technology cleverly blends ionized air with high-velocity hot air for extremely quick drying, no heat damage, and long-lasting styles.
Attach the IQ Curl-Defining Diffuser, and Shark blowdryer will intelligently adjust your heat and air settings.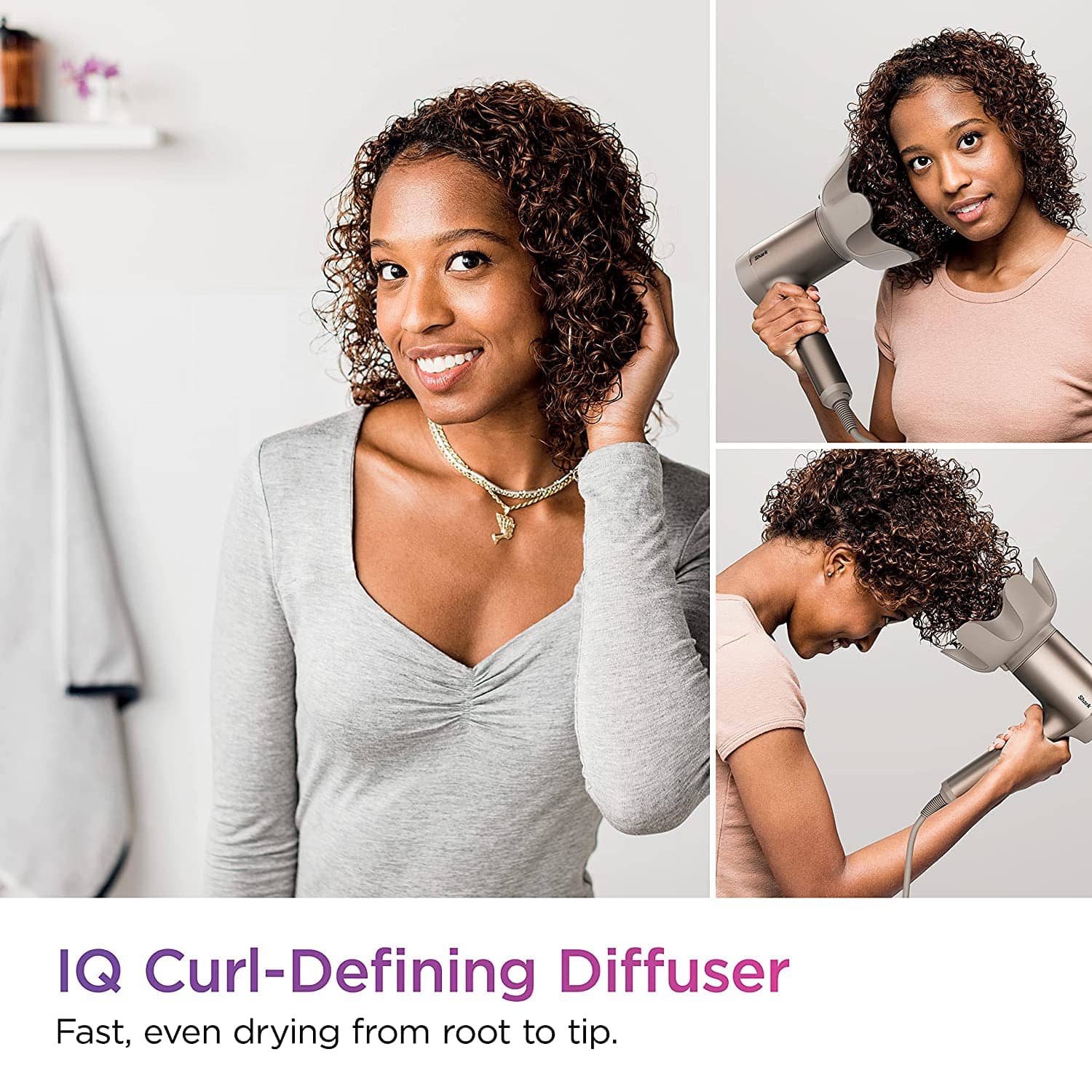 Pros and Cons
Pros
Quick drying.

Compact design.

Intelligent attachments.

Powerful motor.
Cons
Limited accessories.

Heavy compared to competitors.
FAQs
Is the Shark hair dryer worth it for curly hair?
For many people who don't have additional money to spend on performance or appearance, the Shark Hyper Air hair dryer is an affordable and practical option.
Does the Shark Hyperair hair dryer damage hair?
The Shark hair dryer does not damage your hair because it is equipped with heat protection technology.
My thoughts about shark hyper air dryer.
Although it's not as attractive as the Dyson Supersonic, this dryer is efficient. It quickly dried my hair and gave me a great, smooth blowout.
It is also portable and has a long cable. The Shar handheld heat dryer is an excellent option if you are looking for a cheaper alternative to the Dyson.
FHI HEAT Platform Nano Power Salon Pro 2000.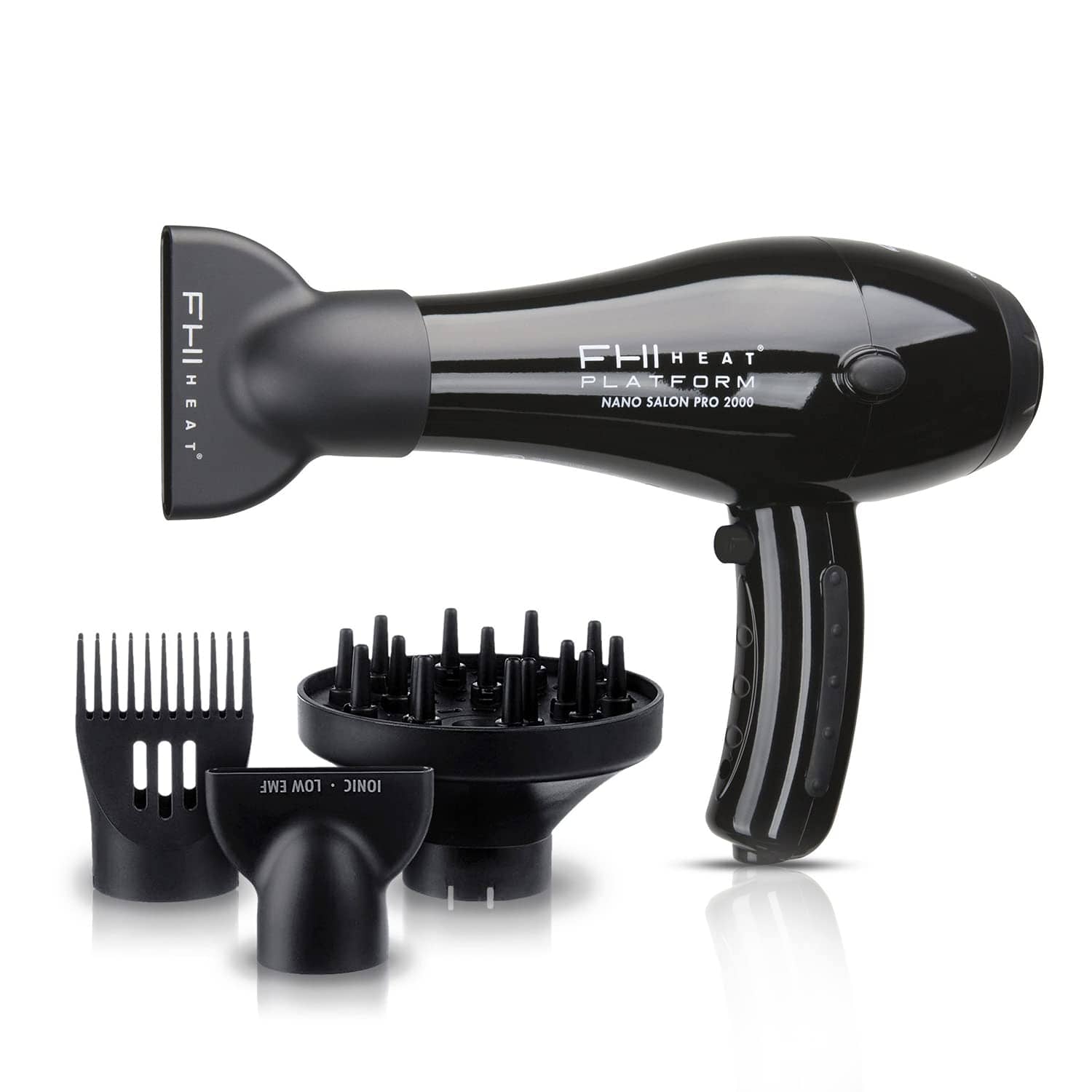 The Platform 2000 Dryer is efficient and powerful for blow drying any hair type and texture.
With its 50% faster drying time, HydraHeat Technology dries hair uniformly.
Your hair will often dry in 15 minutes, saving you time and leaving it hydrated and healthy.
Features
Triple heat setting.

Dual fan speed.

Locking cool shot setting.
Benefits
It is a Tourmaline Ceramic Professional Hair Dryer with a Super Powerful High-Velocity AC Motor.

It uniformly dries the hair and cuts drying time by up to 50%.

Moisture-locking ions keep the hair hydrated and prevent frizz.
How Does It Work?
Its unique Nano-Fuzeiona technology, mild infrared heat, and low Electromagnetic Field prevent damage to the hair to produce unmatched conditioning and shine.
Pros and Cons FHI HEAT Platform Nano Blowdryer.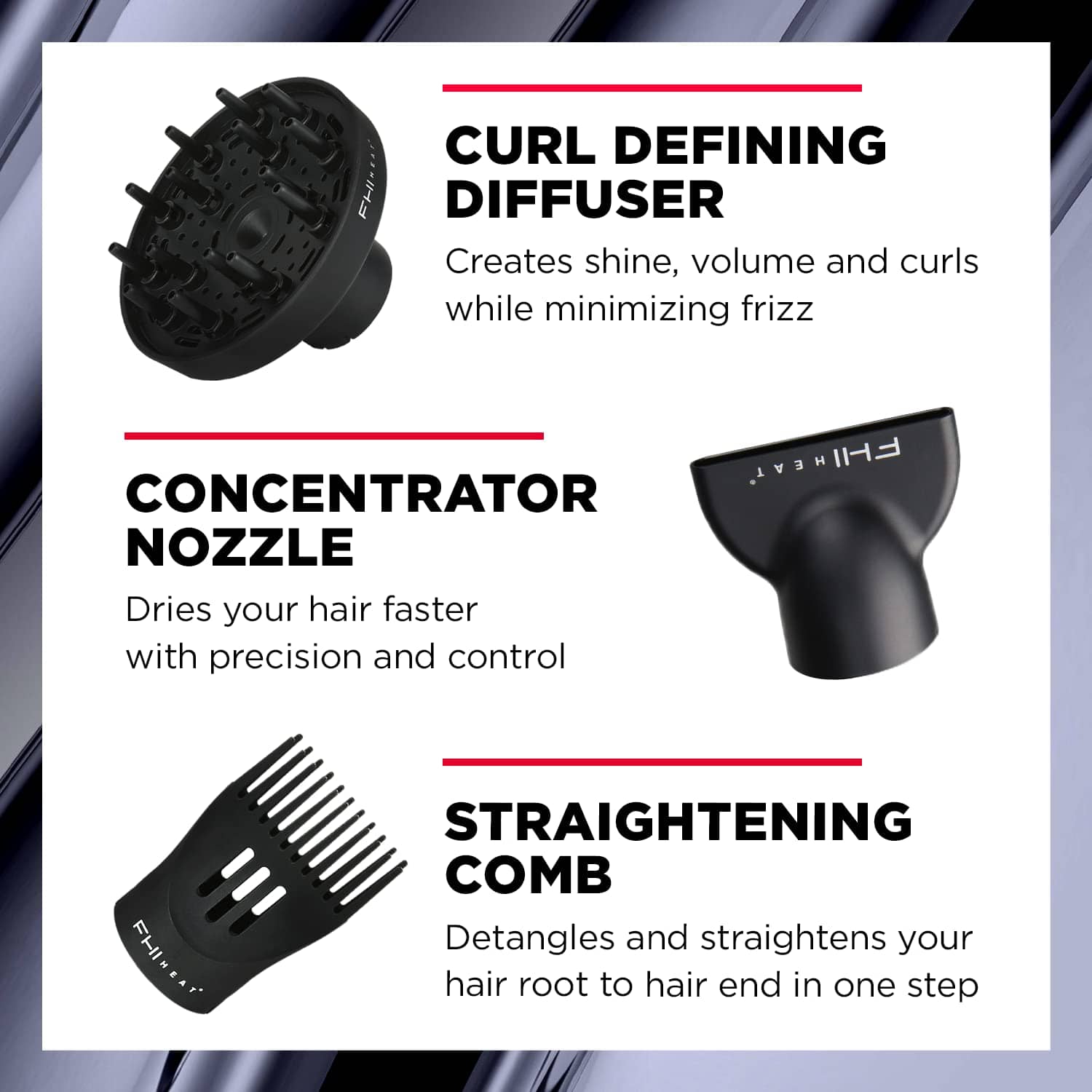 Pros
Quick drying.

It comes with popular accessories.

High-velocity motor.

Gives shiny hair.

Long cord.

Keeps the hair bouncy.
Cons
Less durable than the other featured heating hair dryers.
FAQs
Is FHI HEAT platform 2000 worth the buy?
The FHI HEAT platform 2000 is an affordable option and does a great job getting the job done.
Is FHI HEAT platform 2000 reliable?
Even though there have been very few complaints about the hair dryer, some customers claim that they experienced a short circuit while using this device.
This could be more human error than anything.
My Thoughts about fhi blow dryer
In my expert opinion, this is one of the best hair dryers for curly hair in the affordable range.
While it is not a premium salon heat dryer, it gets the job done.
Sam Villa Lightweight & Quiet Ionic Professional Hair Dryer.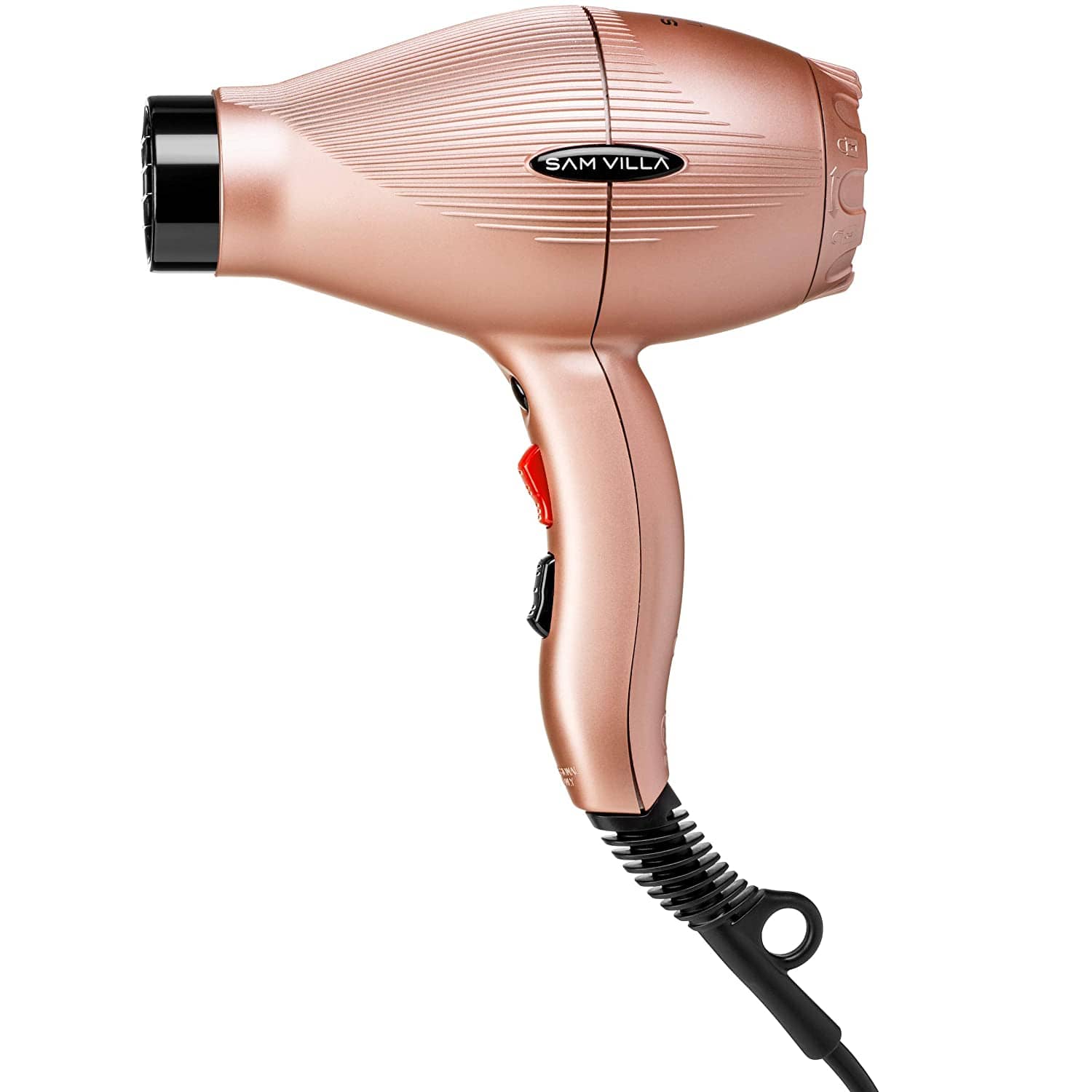 Sam Villa's ionic, professional hair dryer lives up to its name by providing salon-like professional hair.
This is a fantastic investment for anyone who uses a dryer regularly and wants their tool to survive because it has an Italian-designed motor made to outlast its competition.
Features
Two-speed settings.

Three heat settings.

Cold shot styling button.

Three attachments.
Benefits
It's compact in size and has a lighter motor.

Comes with small and large nozzles for quick drying.

You control heat and air settings with easy-to-use buttons.
How Does It Work?
Sam Villa used ionic technology to work, making the hair shinier and bouncier after a blow dry.
Pros and Cons of Sam Villa Professional Hair Dryer.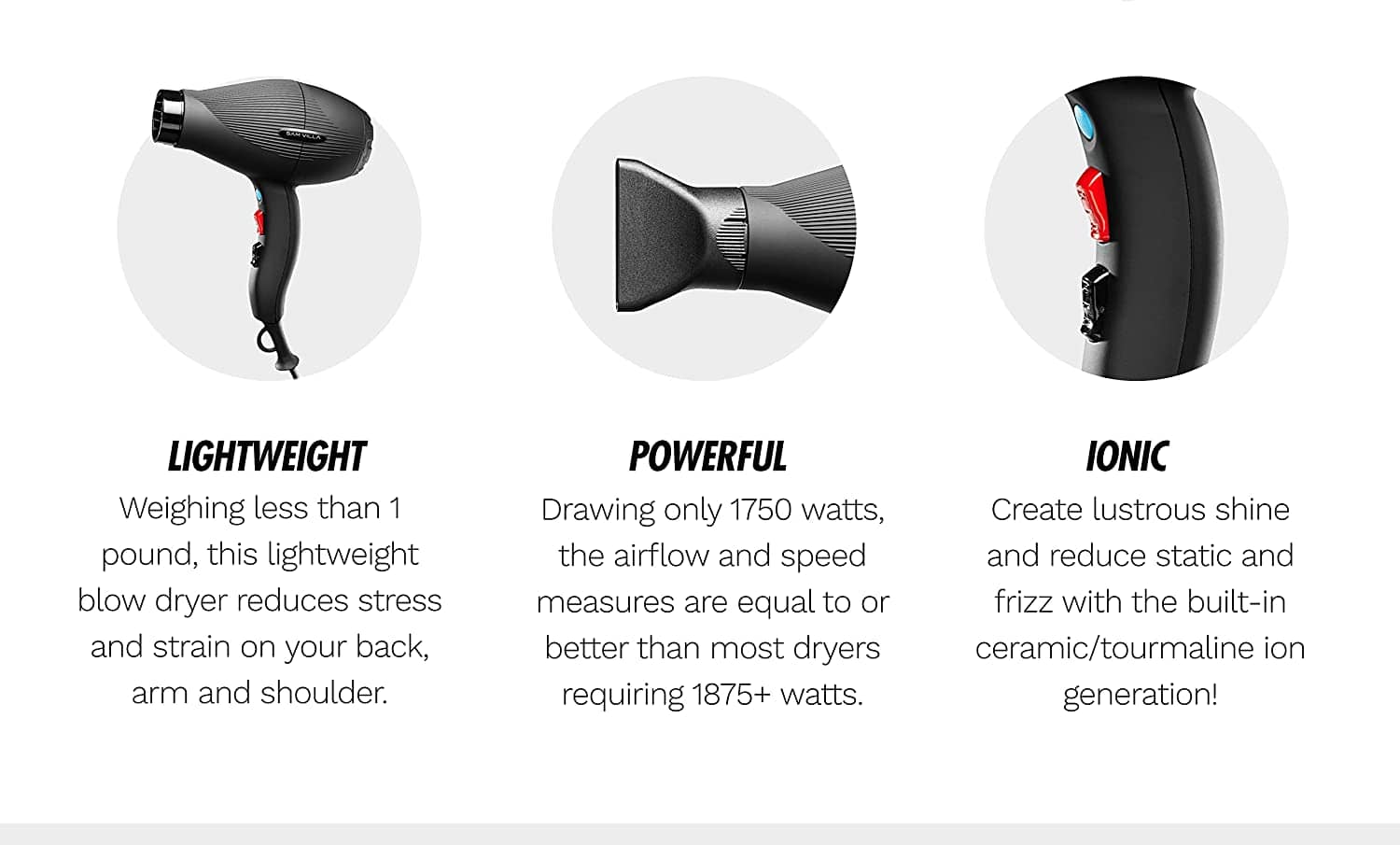 Pros
Lightweight.

Whisper quiet.

Salon-like results.
Cons
FAQs
Should you buy Sam Villa's hair dryers?
Sam Villa is a well-known brand in the hair dryer industry.
It offers hair dryers for every hair type and has an affordable range as well.
Does Sam Villa hair dryer provide heat protection?
You can expect heat protection from every Sam Villa hair dryer.
My Thoughts about Sam Villa hair dryer.
You should definitely have the Same Villa ionic professional hair dryer in your collection if you have frequent use for dryers and styling needs.
Elchim 3900 Healthy Ionic Hair Dryer.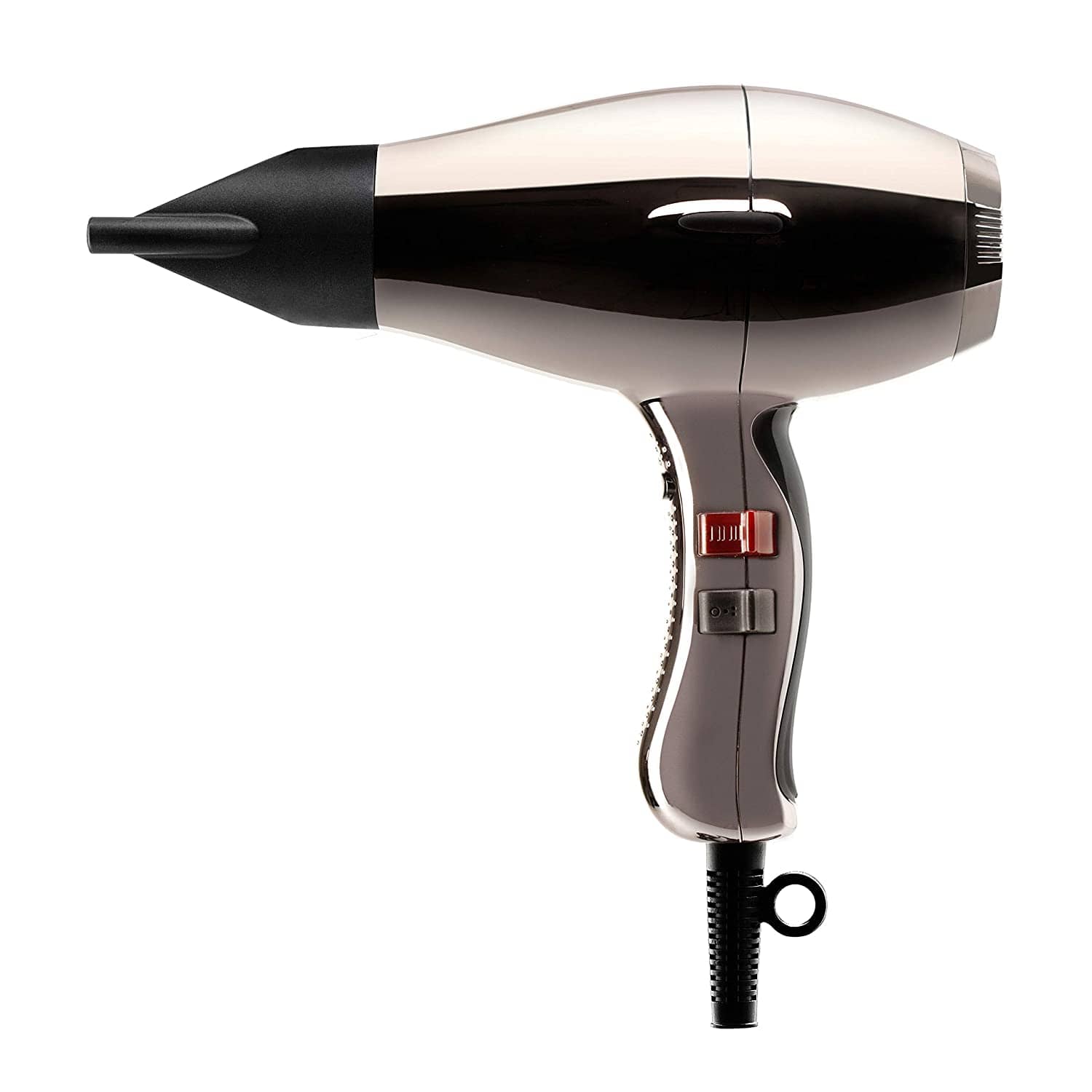 The Elchim hair dryer provides precision for styling your curly hair.
Choose this ionic hair dryer to give you instantly shinier hair and a drying time reduction of over 30%.
Features
Narrow concentrator nozzle.

Blend of hair drying technologies.

Ceramic material.
Benefits
With this dryer's 9-foot cord and two concentrators—one for precise style and the other for brushing your hair—you can get salon-quality smooth hair at home.

The built-in professional AC motor for increased durability offers various styling options.
How Does It Work?
Due to its ceramic material and ionic technology, this efficient and powerful hair drier instantly produces a smooth, glossy finish while retaining the natural moisture in your hair.
Pros and Cons
Pros
Lightweight.

Reduces frizz.

Suitable for all hair types.
Cons
It doesn't come with a hair diffuser.
FAQs
Is Elchim a good brand for hair dryers?
You can completely trust Elchim for durable and reliable hair dryers in an affordable range.
Does ionic technology provide better results?
If you have curly hair, it is best to go for a hair dryer with ionic technology for a smoother finish.
My thoughts about Elchim 3900 healthy ionic dryer.
The Elchim 3900 hair dryer comes in several fun colors, making it an ideal choice for anyone looking to style their hair without compromising on quality.
It is lightweight and allows you to dry your hair efficiently without causing any damage.
Visit Amazon for prices and reviews (Elchim 3900 hair dryer)
ghd Helios 1875w Professional Hair Dryer.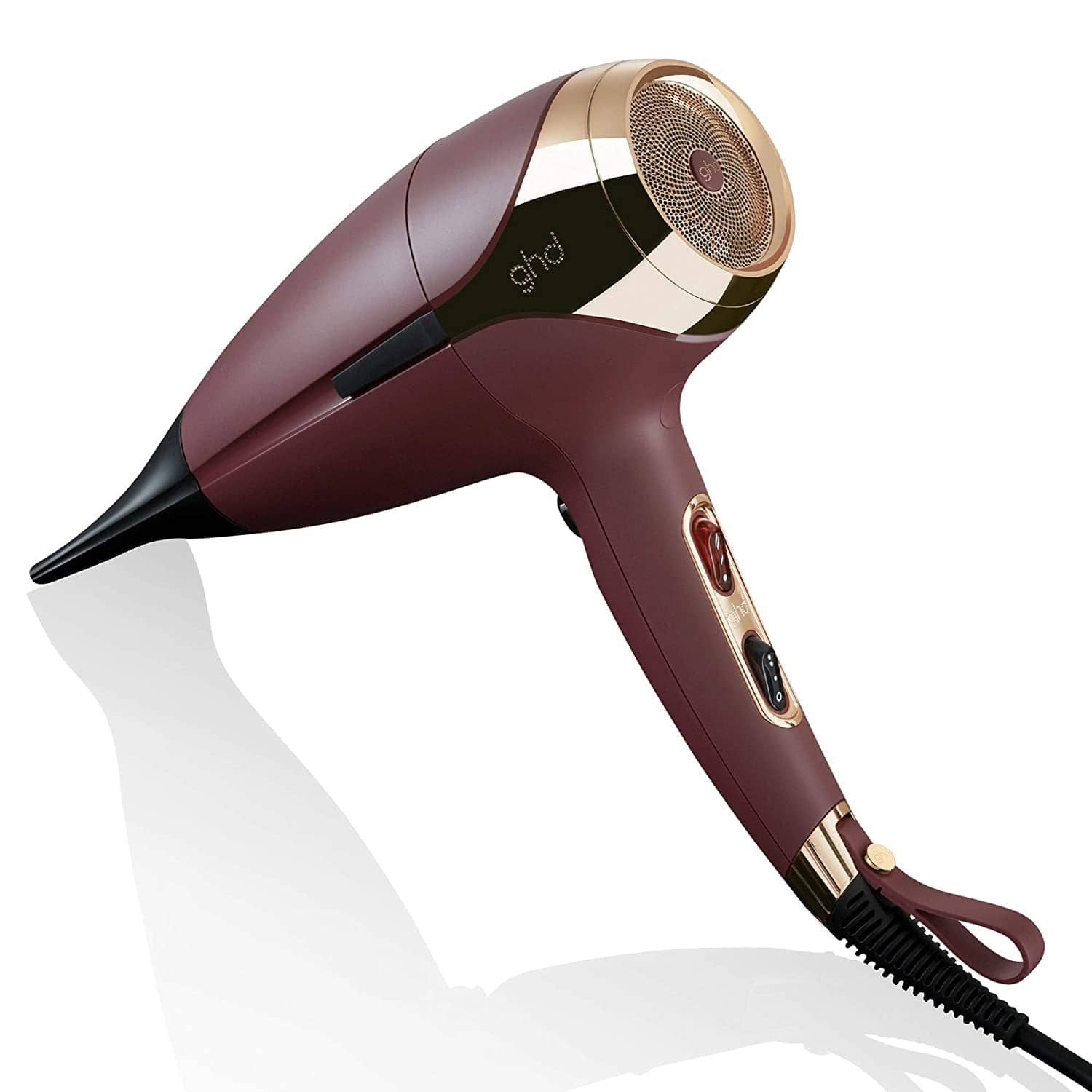 The ghd Helios Dryer feels lightweight while providing a powerful 75 mph airflow.
It also has a curved nozzle that perfectly concentrates the airflow, shortening drying time and making hair look glossier.
Features
Brushless motor.

Variable power and temperature controls.

Bespoke acoustic system.
Benefits
This dryer is designed to work with all hair types and textures.

It includes adjustable power and temperature controls that swiftly adapt to your styling requirements to prevent harm to your hair.

Offers reduced heat damage and generally shinier, healthier hair.
How Does It Work?
Features a strong 1875W brushless motor and a curved nozzle to concentrate the airflow for perfect styling, giving you 3x smoother results.
To expedite your style process, a focused airflow moves at 75 MPH.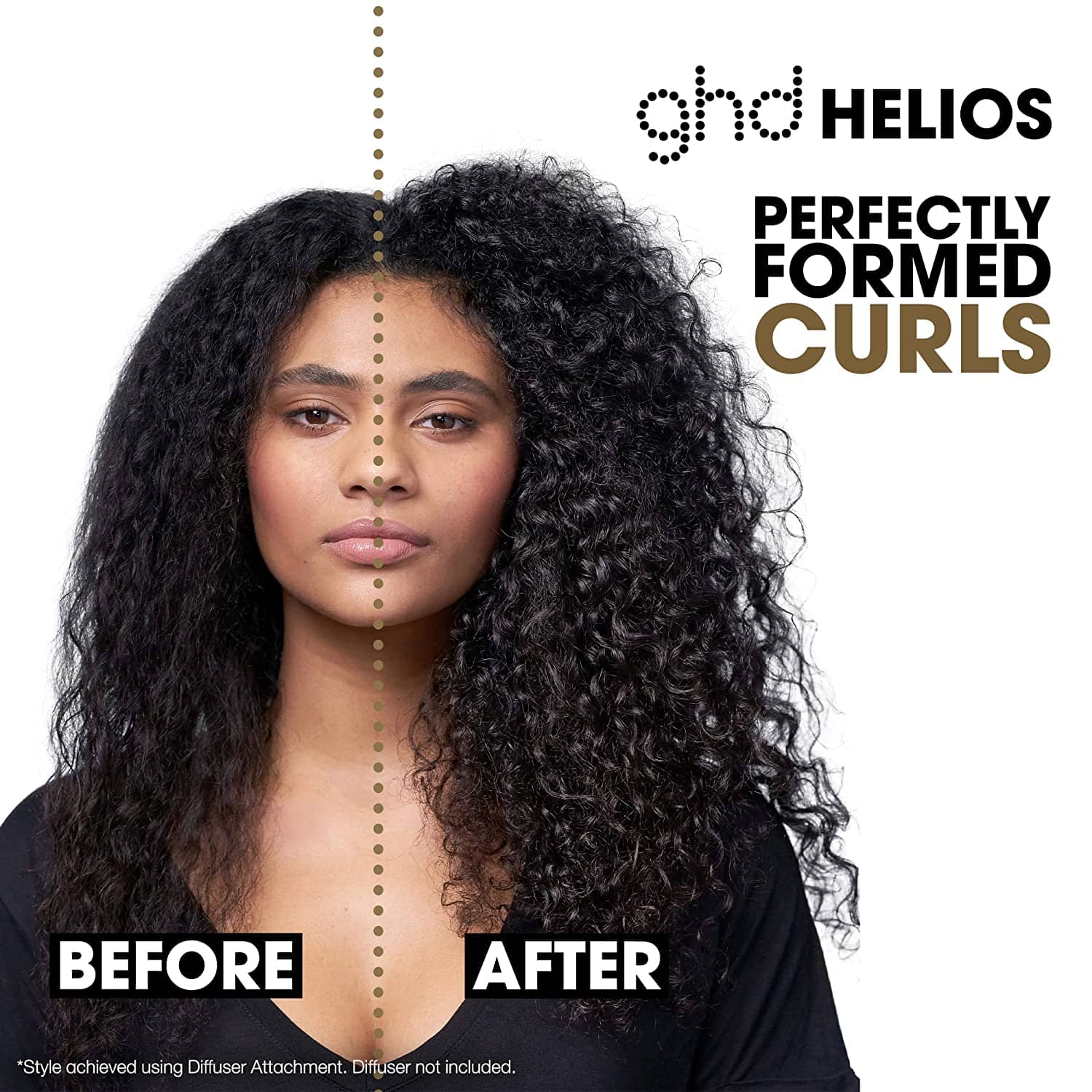 Pros and Cons
Pros
Gives natural fullness.

Professional performance.

Quick and long-lasting results.
Cons
The handheld dryer doesn't get as hot as some other dryers.
FAQs
How is the performance of Helios hair dryer?
The Helios is "faster, lighter, and quieter," according to GHD. Its lightweight has already been proven, but does it live up to the rest of the promises?
It definitely lives up to its expectations in terms of performance and speed.
Should you buy the Helios hair dryer?
Absolutely, yes! Its engine is more powerful, up from 2,100w on the air to 2,200w, and it appears that the grille's sound-reducing perforations have been changed.
My Thoughts ghd helios professional hairdryer.
When it comes to hair drying, the ghd helios professional hairdryer is one of the top choices on the market.
I recently decided to upgrade my old hair dryer and tried out this particular model, and I have been more than impressed with the results!
I highly suggest this hair dryer for anyone looking to get a salon-like blow-out at home.
Visit Amazon for prices and reviews (ghd helios advanced hairdryer)
SRI Salon Dry Pro, Infrared Light Blow Dryer with Salon Results.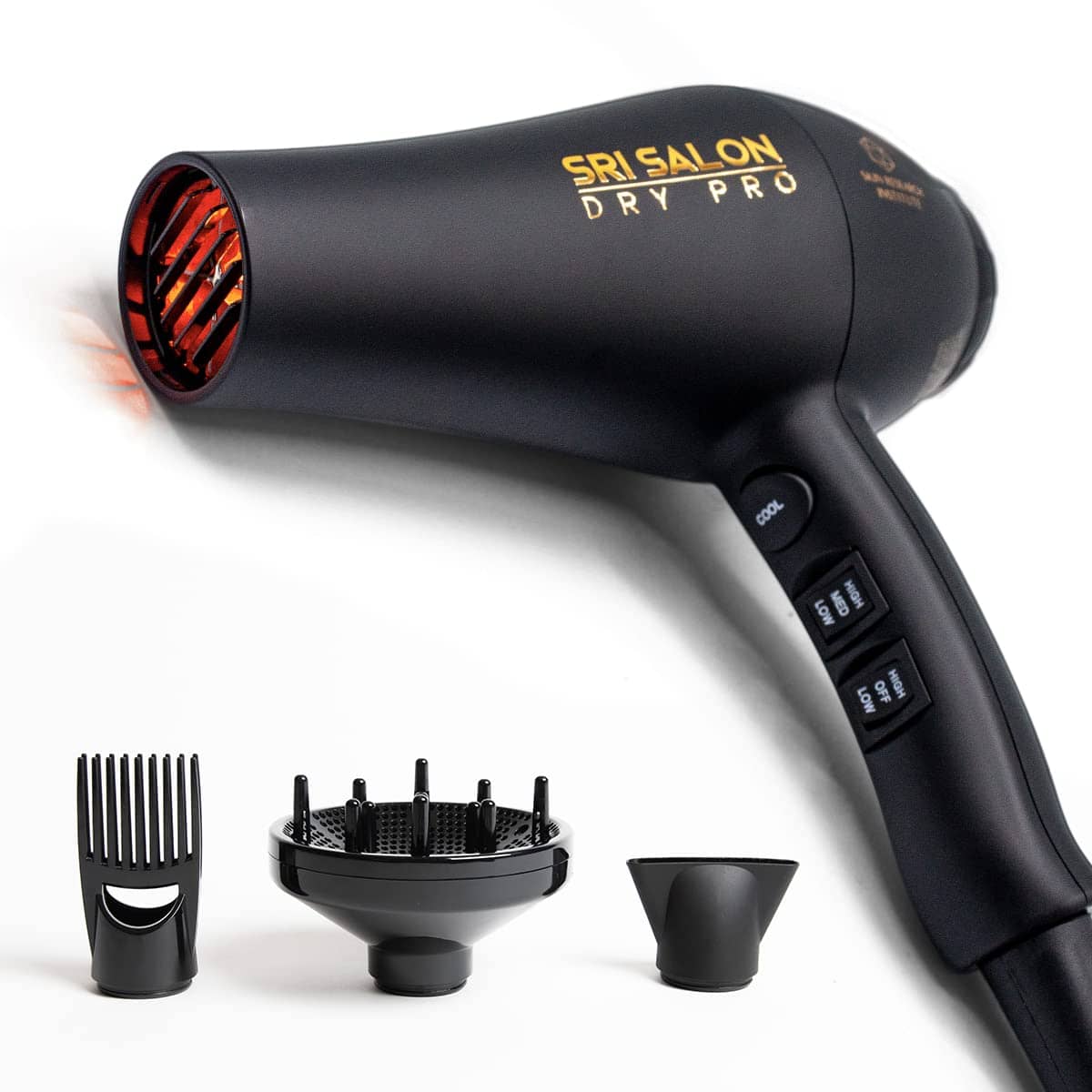 One of the top infrared hair dryers is the SRI Salon Dry Pro Infrared Light Blow Dryer, which promises excellent shine, reduced frizz, and quick drying.
Features
Infrared heat settings.

Includes diffuser and concentrator.

Ionic technology.

Benefits
It offers red light therapy, which lessens hair thinning and loss.

It also helps in repairing broken and damaged roots.

The use of infrared technology warms your hair from the inside out, locking in its moisture.
How Does It Work?
This infrared dryer produces negative ions to hasten the breakdown of water molecules and preserve your hair's moisture balance.
Pros and Cons
Pros
Effective diffuser.

5-year warranty.

Anti-static.

Shiny-finish.
Cons
FAQ
Is it worth buying the SRI Salon Dry Pro hair dryer?
Even though the price is a bit expensive, you can count on the extra features that the dryer provides, which makes it worthwhile.
My Thoughts about the skin research institute hair dryer
If you want a long-term investment in hair dryers, consider buying this dryer because it has a proven track record of durability and resilience.
It is the most cost-efficient hairdryer on this list, offering great value for the money.
Buyer's Guide: Things to Consider
When looking for a blow dryer for curly hair, you need to consider a few things, such as:
You need a hair dryer with enough force to swiftly remove the moisture from your hair but not so much force that it dries out your curls and makes them seem frizzy.

Your hair dryer's performance and noise level will be influenced by its internal components.

The best recommendation is to experiment with several models and attachments until you find the one that suits your curly hair the most.

Opt for a blow dryer with multiple heat and power settings.
Conclusion
So, this was the list of the top 11 blow dryers for curly hair that are tried and tested by experts.
You can choose the best hair dryer for curly hair per your requirements and hair type.
If you found value and enjoyed this article, please like, share, and subscribe to AfroCurlsandCuts.com!
Don't forget to check out our social media accounts as well.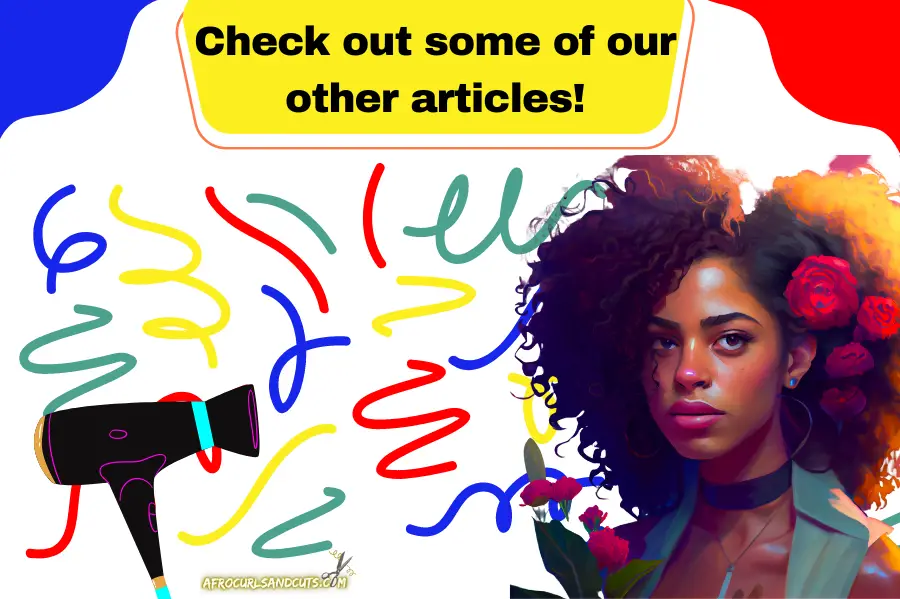 Newsletter
Sign up for Afrocurlsandcuts.com newsletter to be first notified of events, promotions and most importantly fresh blogs articles!