We may earn money or products from the companies mentioned in this post.
Barber vs Hairstylist: Which Professionals are Better Equipped to Handle African Hair Texture
It is no secret that Barber vs Hair stylist can be a heated topic in the African American community. For some, it is an important debate about who has the best skills and who should handle your hair texture. For others, it's more of a cultural and personal decision.
In this post, we are going to explore the key differences between barbers and hair stylists for males with afro hair texture and help you make the right choice!
Do you know the difference between a barber and a hairstylist?
Most people understand hair stylist and barbers are in the hair industry, however, the common misconception is one styles hair and the other cuts it.
While it's true they do different things, both require a lot of talent. Hair stylists style your hair while also keeping up with fashion trends to make sure every haircut is up to date. On top of this responsibility, they're always learning about new techniques to keep their clients looking fabulous!
Barbers have an equally important job as well – not only do these professionals cut everyone from babies' buzz cuts all the way down to men's burly beards but they offer tons more than just haircuts too: for example, hair washing, hot lather face shave or trimming neck hair off can help give people that much-needed confidence boost!
The difference between a barber and hair stylists
The difference between a barber and a stylist is that a barber specializes in cutting hair whereas the stylist is more focused on styling. The job of a hairstylist may sound easier than being a professional barber but they are not!
A salon's stylists receive different training and certification to be able to handle their clients' hair, whether it's curly or straight. They have to be able to know what hair products are best for the client's hair texture and how long it will take before they use them.
Hairstylists specialize in cutting, styling, coloring, and balayage techniques which is a new technique where you apply dye on sections of your hair not all over if you want highlights.
The stylist's technique differs from the barber's when cutting hair. When a salon hairstylist cuts black men's hair, they tend to cut less of the hair off than a barber does for their afro textured hair.
Barber vs Hair Stylist
When it comes to the topic of which hair establishment is better equipped to handle 4c hair type… The choice between going to a barber shop or salon makes for an interesting debate. Barbers and stylist have specialized skill sets that are different from one another but have advantages and disadvantages over each other.
Because barber shops and salons exist in different ecosystems for different needs, they both have key benefits over the other when it comes to handling African hair types.
Barber and salon professionals specialize in different lengths of hair. Barbers learn to cut shorter styles with clippers, while stylists are trained for longer men's hairstyles with scissors.
Though barber's primary focus is cutting men's hair, they can also provide other services that hairstylists don't offer, such as specialized shaving and trimming beards and shaping hairlines with straight razors. Hairstylists, on the other hand, tend to offer a wider variety of hair options for men than barbers.
The key to determine which hair professionals are best suited for your needs is to identify your styling needs. From there you'll need to then find a barbershop or salon with stylists who specialize in African textures.
When selecting between these two, it is crucial to know what each of them does and their duties.
What is a Barber and what are their duties?
Barbers are professionals in the trade of cutting and styling hair, as well as shaping beards. In most states, a licensed barber is expected to finish an apprenticeship or certificate programs to practice their trade.
The history of American Barbery dates back all the way from when our country was founded– which means it has been around for quite some time now (which makes sense)!!!
Barbers are required to provide exceptional services, quality hair cuts, and unofficial therapists. Most barbers understand the importance of their responsibilities.
Master barber duties
A barber is also required to keep their shop clean and alcohol sterilization to prevent diseases from spreading. They can use disinfectants or sterilizers as well to make sure their barber chair, haircutting tools, and work area is clean.
A major responsibility of a barbershop stylists generally is to provide their customers with hair style they want. Barbers are expected to be able to perform a wide variety of haircuts on both short and long hair.
Barbers also have other responsibilities such as shaping the hairline, cleaning neck hair, and beard trim. Most barbers offer shaves with a straight razor or clippers for a closer shave than an electric razor.
Skilled barber take industry trend to a new level
Traditional wisdom and modern machinery come together in today's barbershop with unmatched entertainment.
Modern barbershops have come a long way from the old-fashioned traditional style shops. In today's day and age, it is not uncommon to see modern technology in these establishments such as flat-screen TVs showing ESPN or other channels. Many upscale barbershops believe that keeping their clients happy while they wait is part of great men's haircut experience.
What are salon stylists and what are their duties?
A hairdresser is a professional who works with hair to create face-framing styles, change the personal image, or maintain it. Salon stylists receive training to offer services, which primarily focuses on women's hair but can also service men with a variety of textures as well.
The salon stylist is trained to cut or trim all types of hair including curly, wavy, frizzy, or straight hair. They also receive training in hair color services using a variety of techniques and tools including permanent dyes, semi-permanent colors, multi-tonal toners, natural tones with highlights or lowlights to give the hair depth and dimension.
Some salon stylist receives training with extensions pieces or hair units… This is beneficial for males who want fuller men's styles like locs or cornrow braids. Licensed cosmetologist offer additional hair treatments such as scalp massage, chemical services, and specialized hair style for both men and women.
What are salon stylists and what are their duties?
A hair stylist is a professional who specializes in fine-tuning the style of one's hair. Technically, these people can be called as "hairdressers" or "hair artists". They will offer advice on which hairstyles would work best for your face shape, hair length, and texture.
A hair stylist duty is to make the customer feel better about themselves by giving them a new hairstyle.
They offer color blending and hair cutting services for a variety of hair types and textures.
They can expertly blend the various lengths in men's styles like locs or cornrow braids
Licensed cosmetologists offer additional hair treatments such as scalp massages, chemical services, and specialized hair style for both males and females
Traditional style haircut shifting towards hair stylists
The industry trend moving away from traditional barbershops cornering male haircut market and have open doors for salons to get a cut of the action. More and more haircuts and styles for men are being done by stylist… This is because barbers are unable to do highlights and color fades or an undercut.
Many licensed hair stylists recognized the opportunity and spent money on ads promoting and targeting men's style cuts to attract more African American males to their shops. Which was bold, innovative, and as o result worked!
The targeted hairstyles were generally reserved by only barbers, however, more black men were shifting towards colored waves, locs, and braids… This presented an opportunity for hair stylists to merge into the male hair grooming business.
This shift has also led many barbershops to embrace the change and offer haircuts by professional stylists part-time or full-time. The move was an effort to keep up with demands for styling services requested by dyed and or longer hair male customers.
The move has given urban men more options for hair cuts, and it's a win-win situation for both the customer and salon stylist.
Pros & cons of going to the barber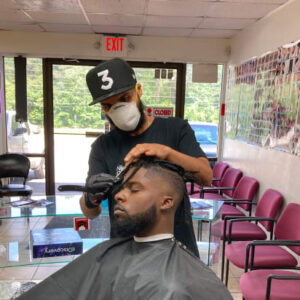 There are benefits and disadvantages to getting a haircut from a barber. More and more upscale barbershops are popping up all over the country.
Benefits
Many barbershops offer more than just a haircut, they also sell men's fashion products like hats and ties as well as grooming services to help you look your best.
Barbers are trained in traditional techniques in clipper work and scissors as well as cutting straight razors for shaping the hairline, beards and mustache trim. They offer full services such as hot lather face straight razor shave, military style cut, and even skincare treatments!
An advantage barbershop has over beauty salon is the pricing… Barber hair cut are generally cheaper than getting hair twisted or braided by a licensed cosmetologist.
Disadvantages
Most barbers do not offer as many options for males with long locs, or braids. This is most certainly a disadvantage when dealing with clients with longer hair style.
Barbers usually require extensively more training to cut children and women's hair.
Pros & cons of going to a hairdresser
Benefits
The benefits of going to a hair stylist for haircuts and hair styling is that they are more geared towards artistic innovation. This means you can try new cuts, colors, styles with more creativity as compared to a barber who specializes in only one or two haircuts like buzzcuts or fades.
Hair stylists also offer personalized customer service which includes consultation about your desired style before the haircut takes place
Disadvantages
The downside of getting your hair done by a hairstylist is that they typically take more time than barbers. While it may not be the most important factor for everyone, waiting in a hair salon can be uncomfortable and stressful.
There is still a cultural stigma that discourages some black males from going to a salon. African American males may find barbershops more comfortable and less awkward moments between stylists and them.
Many people find that barbers cut is more affordable as well.
Both barbers and hair stylist have benefits and disadvantages when it comes to male afro hair texture. The key to finding the right hair professional for your hair needs is to know exactly what you want in your desired hair style.
How much does it cost for each service, including tip?
Barbershop prices
You can expect to pay upwards of $40 or more for a haircut and that's without any other services offered.
If you want the full experience, expect to spend an additional $20-$30 on products every time you go in as well as tip your barber at least 15% when they are done with your service.
Salon styling prices
The pricing for a haircut can vary depending on hair style, location, and other factors.
Most salon pricing can range from $150 or more. Often color services can cost an additional $65 and $200, depending on the products used and or the reputation of the stylist.
FAQ for barber vs hair stylist
Is it better to go to a barber or a salon?
The million-dollar question is which hair professionals are better equipped to handle male afro hair texture. Well, it depends on what your needs are and what you're looking for.
Barbers are cheaper than hair stylist and can work with any type of male afro hair texture, but barber shops often don't provide other beauty-related services like hair twisting or braiding.
Stylists may be more expensive, but they provide more for your money. Hairdressers compete with not only barber but stylists who also offer hair color and styling treatments.
Hair salon experts are better at handling longer protective hairstyles than barbers because of the experience that is required to do this type of hairstyle.
Whereas, in barbershops, the focus is on haircuts. Barbers are able to work with any male afro hair texture and provide a variety of cuts ranging from fades and buzzcuts to shape ups and beard trimming.
Once you identify your needs, it should be easy to decide which type of hair service is best for you.
Is a barber a hair stylist?
It's a real treat to answer whether barbers are hairstylist… The short answer is no. Although barbers are experts in hair blending, haircuts, and cuts – they're not technically considered hairstylists since their focus is on men's grooming services such as shaving and beard treatment.
Hairstylists, on the other hand, are professionals that focus on hair upkeep and styling for people with longer hair. Salon stylists also provide services such as coloring, perms, and other beauty treatments on top of cutting, curling, or straightening the hair.
What do you call a female barber?
A female barber is commonly called a barber. She has the same qualifications as male barbers. The only difference in this case is their genders… Female barbers are just as capable as their male counterparts.
Often female barbers clients are other women… However, some female barbers will also cut the hair of men.
The reason female barbers clientele is majority women is comfortability… Often women rather their hair cut by another rather than a male. There are various factors for this.
The company of another woman is more comforting than a man, especially in the case where she has no experience with male barbers or hairstylists.
A female barber may be less intimidating and easier to talk to than a male barber.
Some women believe that female barbers are better equipped to cut and maintain their hair.
Can barbers cut ladies hair?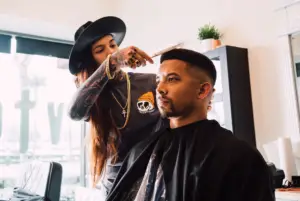 Master barbers are able to cut men's hair as well as women 's hair. Barbering is an art that requires years of practice and attention to detail, barbers expertly blend cut any type of hair texture with ease.
The difference between a barber cutting a woman's hair and a barber cutting a man's hair is the style. Barbers often cut women 's hairstyles like bob-cuts, buzz cuts, pixie cuts, or layers. For men, they usually do fades, tapers, shaves, and undercut styles that are popular with African American males.
Conclusion
In conclusion, it is important for African males to understand that the two are different professions. Both can cut hair and both have a long history of being in the industry but they each specialize in what their job requires them to do.
Though barbers and stylists paths may intertwine at times, it is important to recognize that they are in fact different.
A stylist specializes in hair color and cuts while a barber only specializes in cutting hair. A barber will cut the hair of men just as well as women but does not specialize in anything else besides cutting. However, at the end of the day, both professions are equally good at their respective jobs.
Newsletter
Sign up for Afrocurlsandcuts.com newsletter to be first notified of events, promotions and most importantly fresh blogs articles!